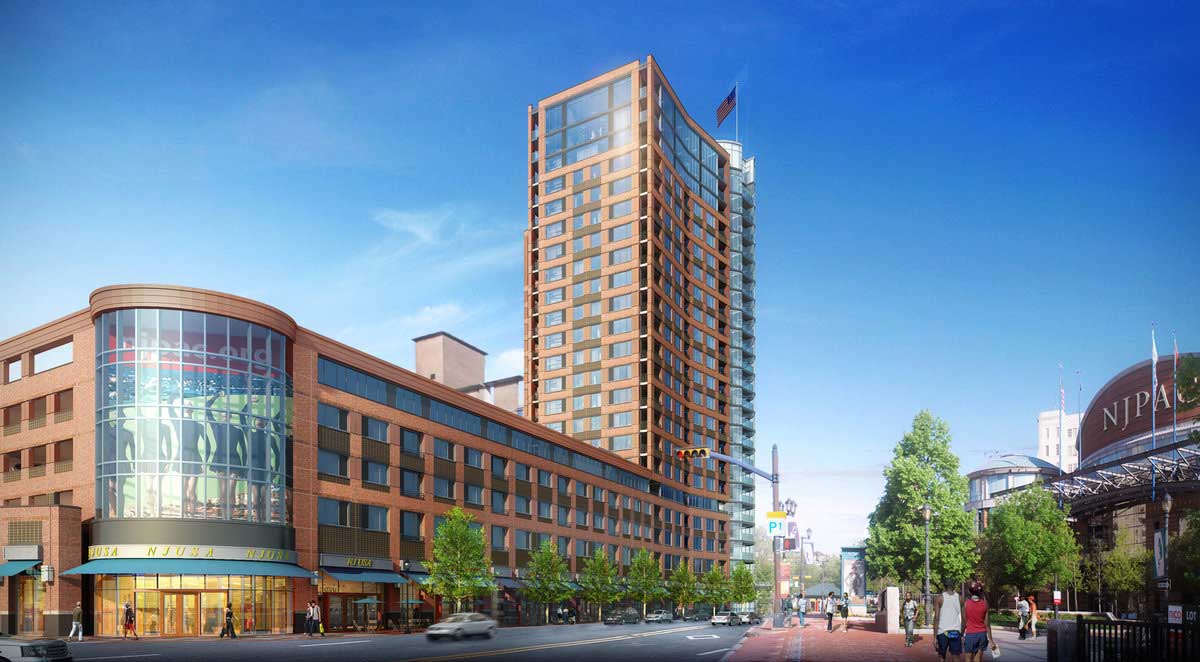 A new building coming to Newark will tower over the city's Downtown. Named, One Theater Square, it will be the city's first new residential high-rise since the 1960's.
One Theater Square will rise along Center Street, between Park Place and Mulberry Street, just across the street from the New Jersey Performing Arts Center (NJPAC) and the recently rehabilitated Military Park. The 22-story building is being developed jointly by NJPAC and Philadelphia's Dranoff Properties.
"It's a complete game-changer for Downtown", Dranoff Properties CEO Carl Dranoff told Jersey Digs, adding that "it will add glamour and glitz and be a perfect compliment to the New Jersey Performing Arts Center".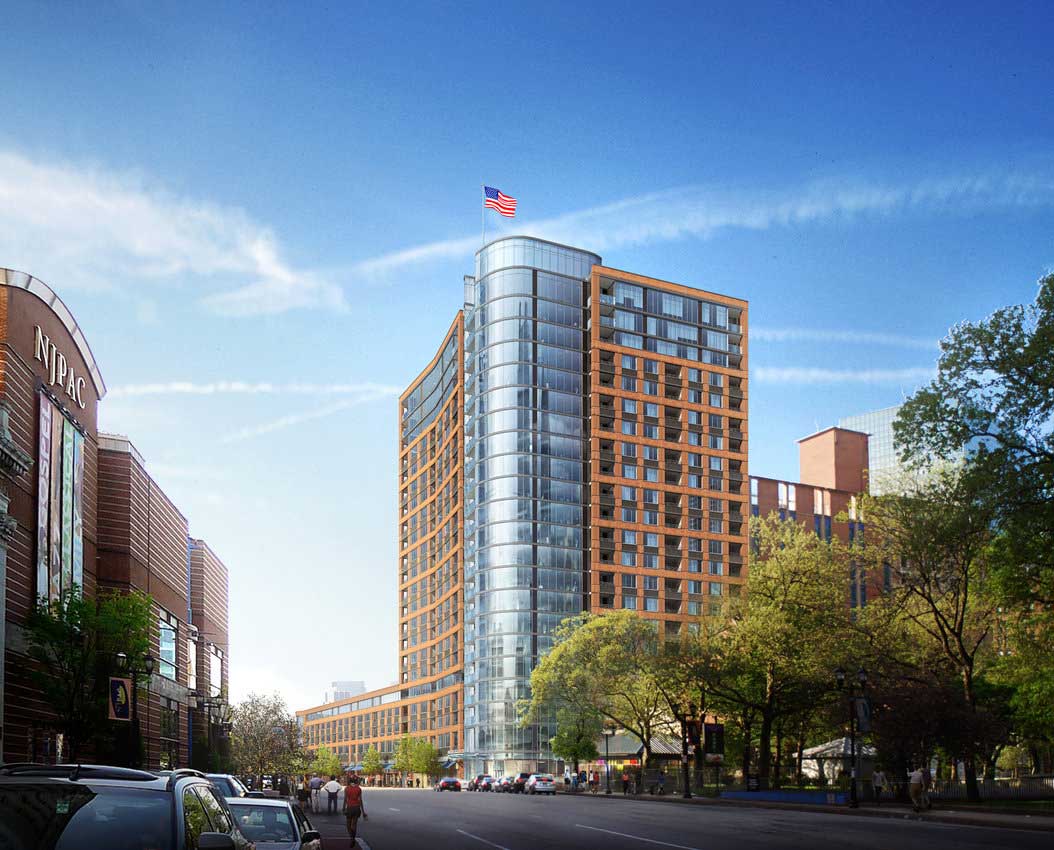 One Theater Square was designed by BLT Architects and will cost an estimated $116 million to construct. Once completed, the tower will contain 245 apartments, ranging in cost from $1,250 to $4,500 per month. All will include balconies, and there will be 285 parking spaces for residents.
"We're going to market to everybody", said NJPAC President and CEO John Schreiber in an interview with Jersey Digs. "The tenant mix will be quite diverse", he added.
On the building's ground floor, there will be 12,000 square feet of retail space, though tenants have not yet been announced. "There will be a combination of retail resources for tenants in the building as well as restaurant venues that will be destinations for folks outside of the city", said Schreiber. Dranoff stated that possible businesses could include a sandwich restaurant or coffee bar. Plus, the Newark Police Department will operate a substation in the building.
"What was missing (in Newark) was a brand new high-rise building", said Dranoff, adding that potential residents "want that urban experience of living in a downtown area and they don't want a garden apartment in the suburbs".
The project was actually first proposed near a decade ago. However, the site, which currently consists of a small building and a parking lot, has not seen any development since.
"We did not know that there would be a financial abyss in 2008", said Dranoff, and according to Schreiber, the recession "put a damper on a lot of construction that was intended for the market".
Now, development is finally slated to begin at the site. Demolition of the building at the property is expected to begin in less than 30 days, the building is scheduled to open by spring of 2018, according to Dranoff.
One Theater Square may not be the only new development coming near NJPAC. Schreiber stated that the surface parking lots on the NJPAC property could potentially see development soon.
"There has always been the intention that NJPAC be part of the residential development of the city", Schreiber explained. "Our goal is to be one of the catalysts for Newark becoming a 24/7 live, work, and play destination".
Also, although he would not elaborate, Dranoff stated that his firm has other plans for the Newark area.
"Every city and every region has their time when all the stars are aligned", said Dranoff, who feels that "Newark's time has come."
[gmap height="250px"]8 Center St, Newark, NJ 07102[/gmap]
2-8 Center St, Newark, NJ 07102