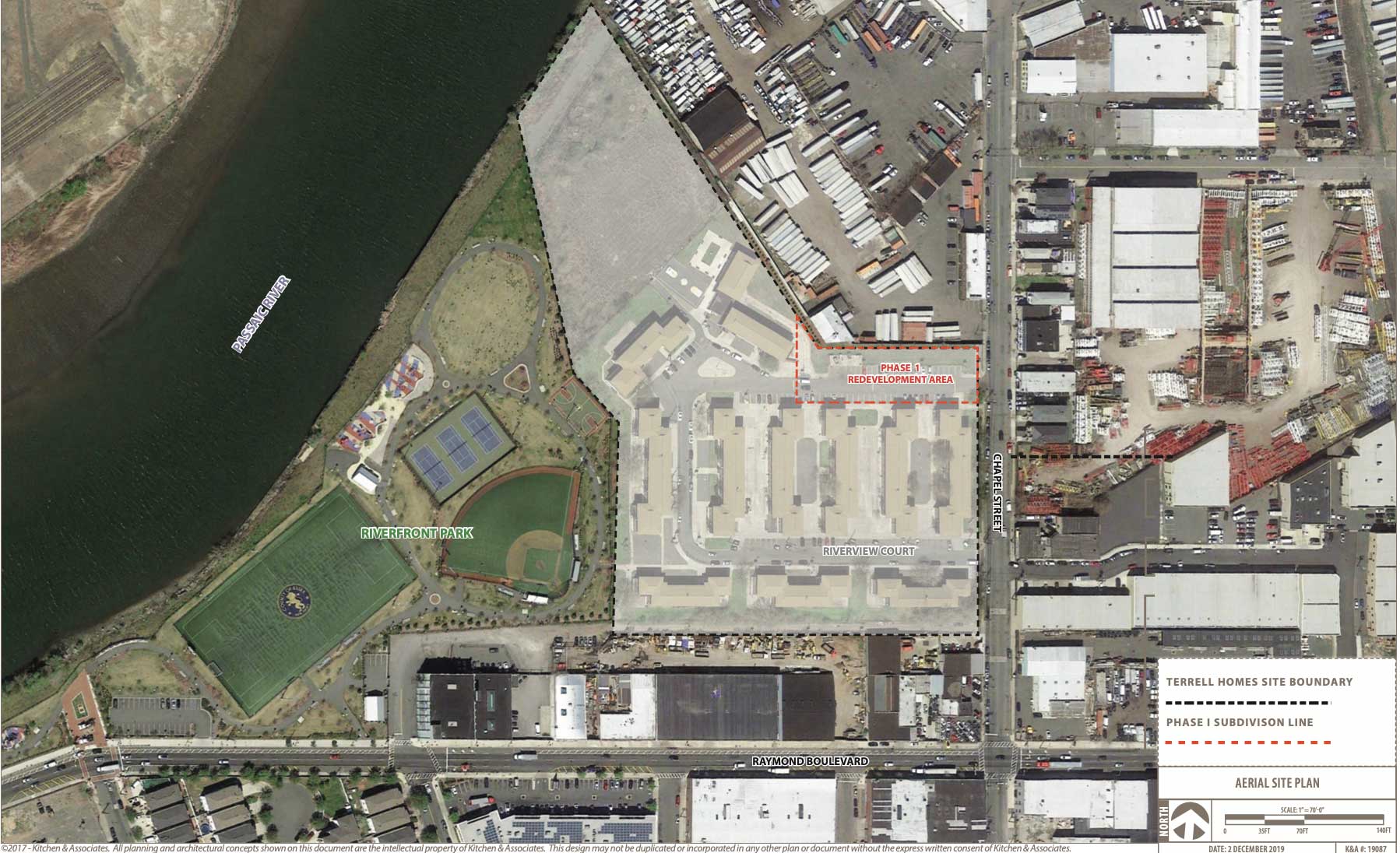 New information has been released about the preliminary stage of a proposal that would bring changes to a public housing complex near the Passaic River in Newark's East Ward.
An application was submitted earlier this month to the City of Newark involving the first phase of a project on the premises of the Millard E. Terrell Homes at 59-97 Chapel Street. The plans by the Newark Housing Authority (NHA) and Terrell Redevelopment Partners Urban Renewal, LP call for a 34,070-square-foot subdivision in order to create a five-story senior housing development.
The materials released by the municipal government are inconsistent regarding the precise number of residential units that the development would include.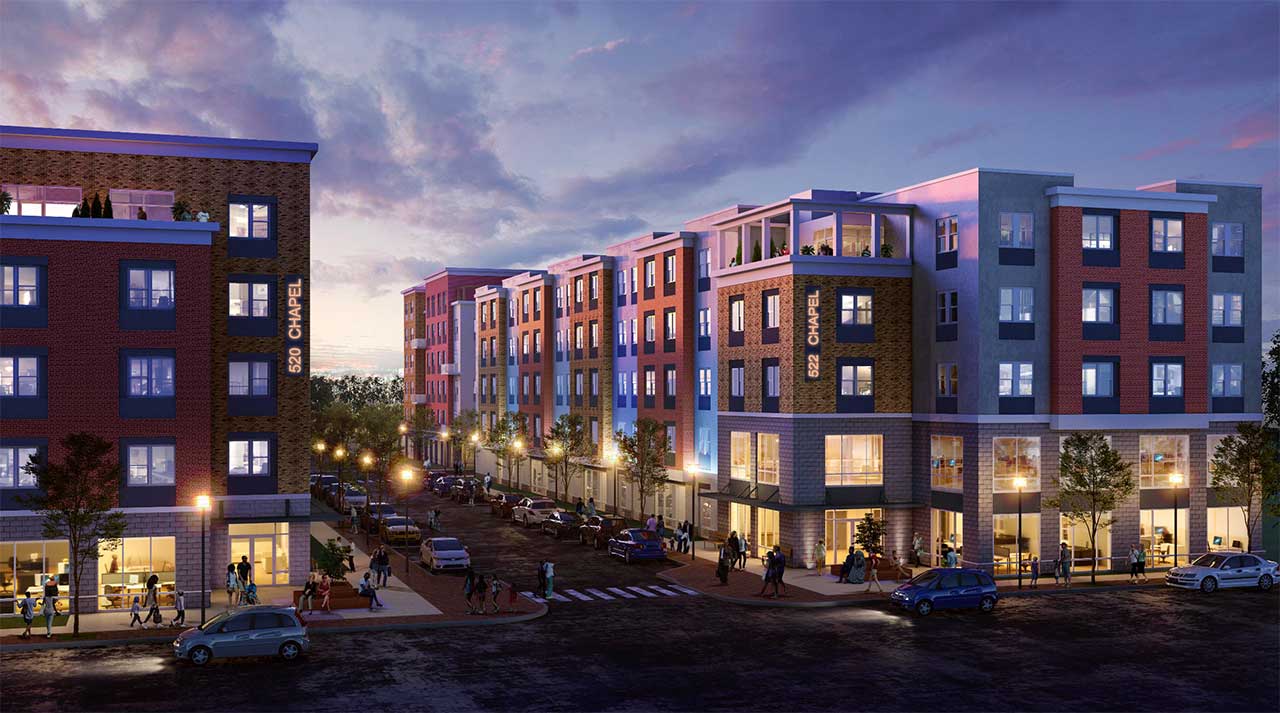 A proposed site concept document mentioned plans for 69 units as did the Newark Central Planning Board staff report on the matter. The report noted that "the building will provide 66 one-bedroom units and 3 two-bedroom units for seniors." However, the application stated that 70 residential units are planned.
"The proposed new building will occupy an area that formerly contained 53 parking spaces," according to the staff report. "The new building will provide 28 parking spaces for 69 units."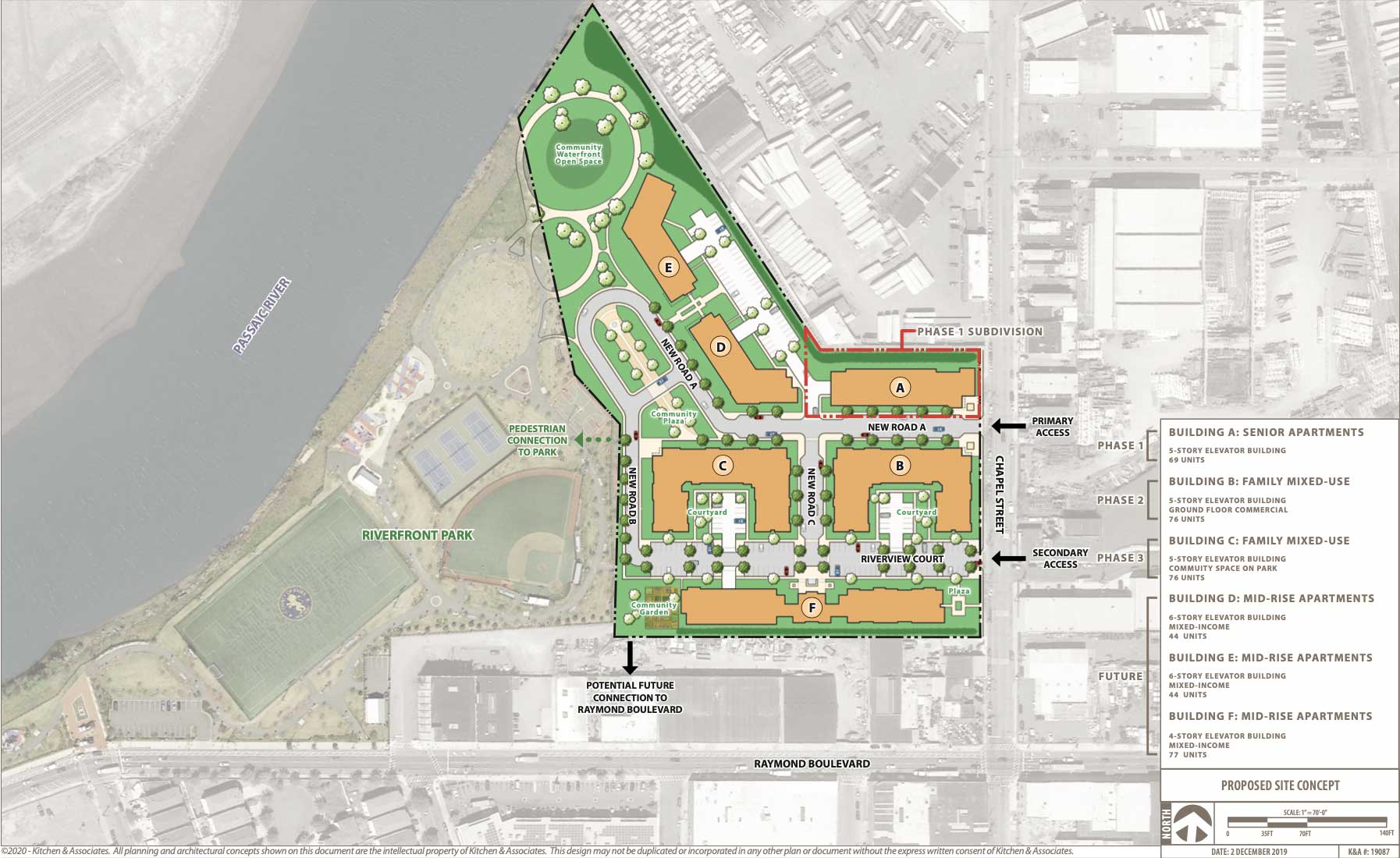 A disclosure statement indicates that Terrell Redevelopment Partners Urban Renewal, LP is associated with The Alpert Group of Fort Lee and the Building Believers Trust Corporation. Internal Revenue Service filings show that the Building Believers Trust Corporation is registered out of the same address as the NHA and that NHA Executive Director Victor Cirilo is the principal officer of the corporation.
The proposed site concept, which references The Alpert Group and Kitchen & Associates, illustrates the location of this five-story proposal and also highlights community waterfront open space, a community plaza, a potential future connection to Raymond Boulevard, and several mid-rise and mixed-use buildings on the premises of Terrell Homes.
This application was scheduled to go before the Newark Central Planning Board on August 17 as part of a section 31 review hearing.
"This is a courtesy review of a subdivision and site plan application," the staff report explained. "The applicant, being a governmental entity, is exempt from formal zoning review. The authority of the Board in this case is only to provide comments and suggestions."
A memorandum issued on the date of the hearing by the Newark Department of Water and Sewer Utilities stated that the department does not approve of a site plan prepared by Grant Engineering & Construction Group, LLC "and considers them incomplete, as the applicant's plans do not indicate any proposed water, fire, sanitary or storm utilities."
Public comment regarding development in this area was accepted by the City of Newark in the spring. At the time, a legal notice said that "the specific redevelopment plan is unknown and qualifications and proposals have been solicited from private development teams to act as the developer, in partnership with the Newark Housing Authority and various other stakeholders."
Related: