While the novel coronavirus has forced many companies to implement work-from-home policies, one developer is preparing for post-pandemic life by spearheading a commercial project in one of New Jersey's most walkable towns.
Just before Thanksgiving, SJP Properties held a groundbreaking ceremony to officially commence the buildout of M Station at Morristown. The endeavor will replace the Midtown Shopping Center strip mall and surface parking lot at 74 Morris Street, just steps from Morristown's NJTransit train station.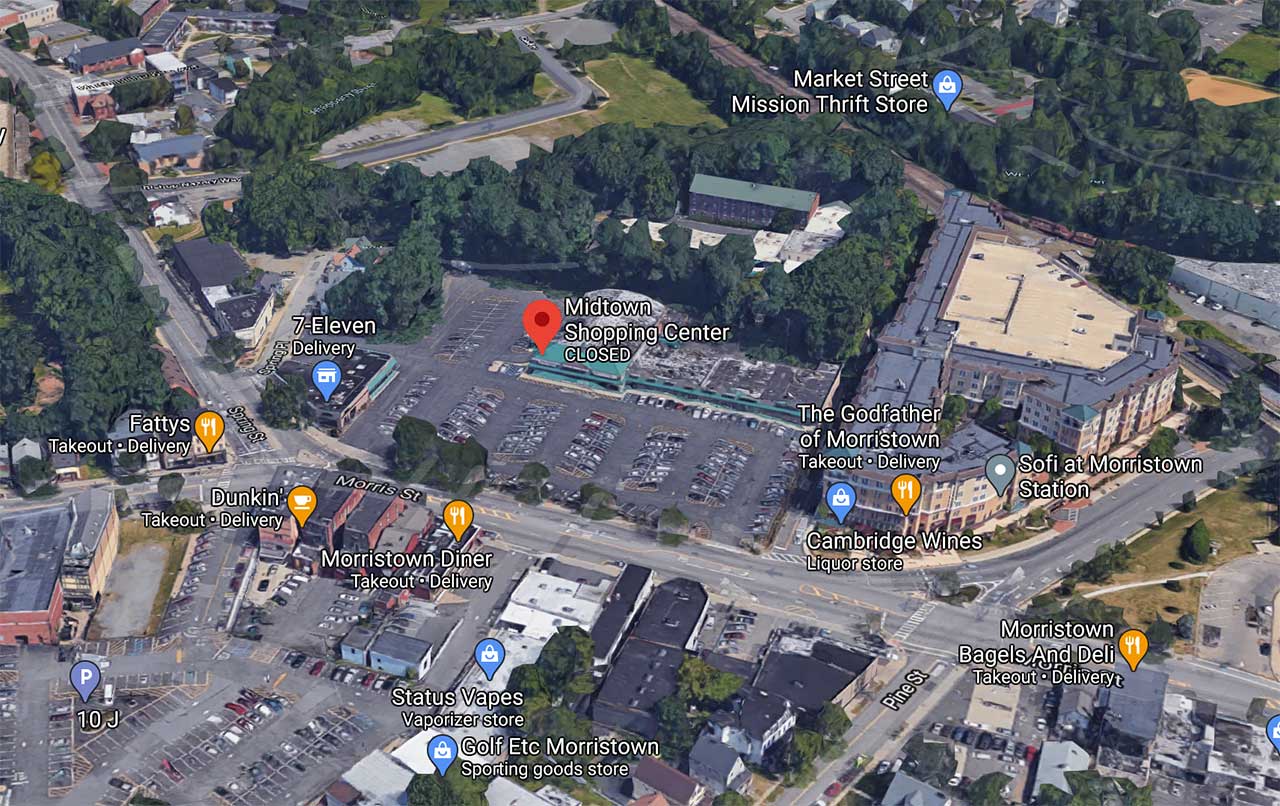 Several businesses moved out of the strip mall earlier this year to make way for the development, which will consist entirely of office and retail space. Drawn up by a firm headquartered in San Francisco named Gensler, M Station been designed to be contextual to its surroundings and will incorporate a contemporary interpretation of Morristown's historic industrial loft architecture.
The two-building development will add a total of 275,000-square feet of Class A office space and 33,000-square feet of retail space to the neighborhood. Each building will include large outdoor terraces on the penthouse floor and a 1,000-space parking lot will be constructed behind the structures in an effort to conceal them from the view along Morris Street's corridor.
Both buildings are slated to be LEED Certified and M Station will construct some public improvements and amenities at the property. New service roads and a roundabout designed to ease the flow of traffic will be created, as will a linear park to enhance pedestrian walkability.
The project was granted a 30-year Payment in Lieu of Taxes agreement by Morristown's council in September. The development is expected to generate over $1 million for the town annually and SJP Properties will be contributing $2.5 million to the town's affordable housing trust fund as part of the deal.
The first phase of the project, M Station East, will be built along Morris Street next to the SoFi at Morristown Station development. The initial portion includes 120,000 square feet of office space and 10,130-square feet of retail.
Expected to be completed by the fall of 2022, financial and consulting giant Deloitte will be taking approximately 110,000 square feet in M Station's East building. Cushman & Wakefield will be leasing the project's remaining phase, which does not yet have a timeline for construction.
Related: