A hospitality project that has been discussed for many years looks like it will finally start construction soon as one of the project's last remaining hurdles has been cleared by local officials.
Philadelphia-based KMS Development formally unveiled a plan to bring a 20-story Hilton to a waterfront parcel along Sinatra Drive way back in early 2017. Approvals were granted the following year for the development, which will rise 270 feet at a property behind Hoboken's Frank Sinatra Post Office.
Designed by Cooper Carry Associates, the 349-room hotel will feature a second-floor restaurant and bar overlooking 1st Street plus a 959-square-foot ground-floor retail space fronting Sinatra Drive. The hotel's top floor will boast another public bar and event space that includes a 2,899-square-foot outdoor terrace, while the 18th and 19th floors will host meeting space plus a ballroom.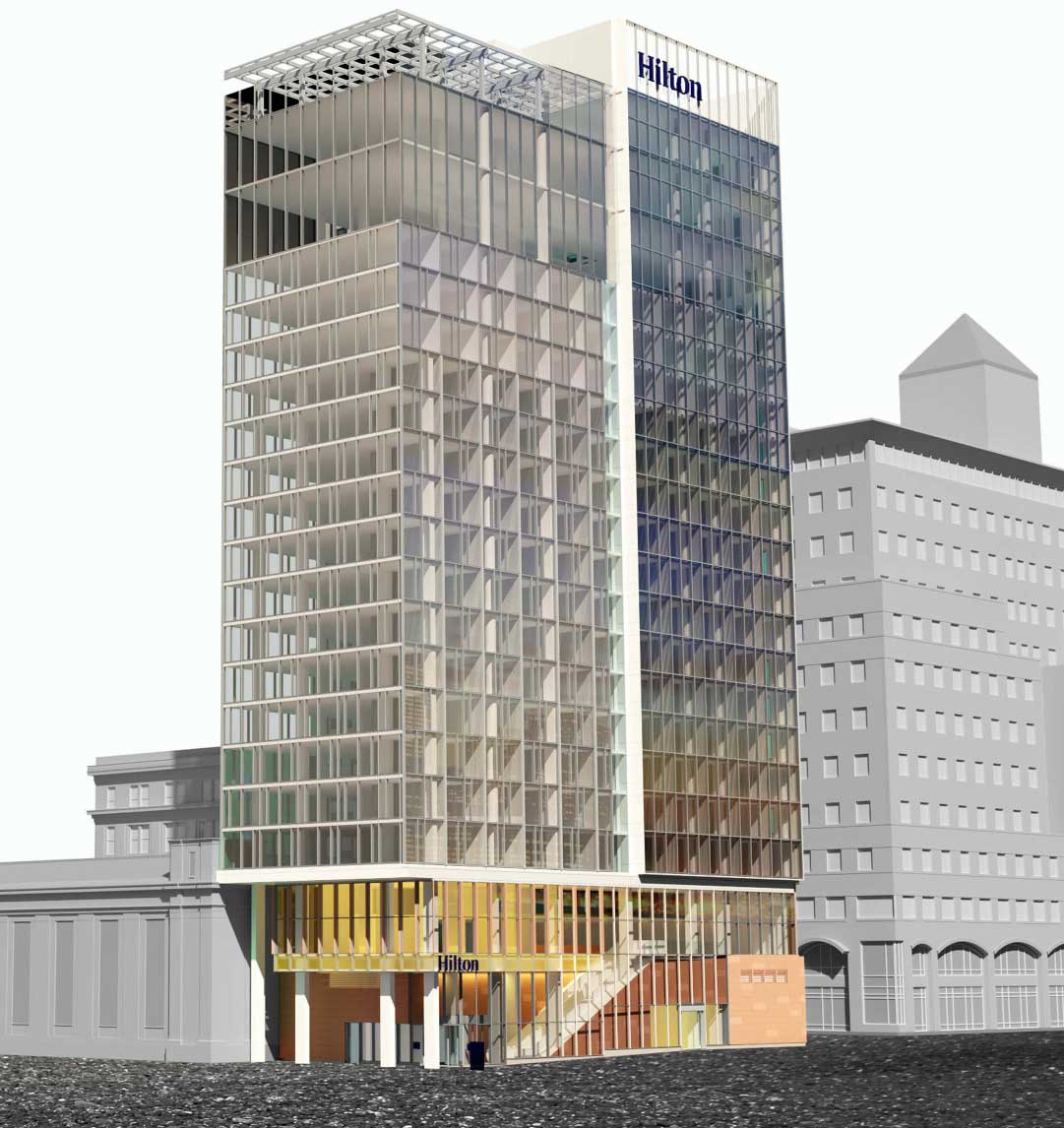 The COVID-19 pandemic had all but silenced news on the project, but an important milestone was quietly achieved this month. During their July 7 meeting, Hoboken's city council unanimously approved a lease agreement that will clear Post Office vehicles currently parked at the Hilton development site.
Per a plan attached to the approved ordinance, a new dedicated entrance will be added to a section of the city-owned Garage D at 215 River Street set to house the USPS fleet. The agreement represents the last approvals KMS Development will need to build the hotel, which has been subjected to a seemingly endless number of setbacks over the years.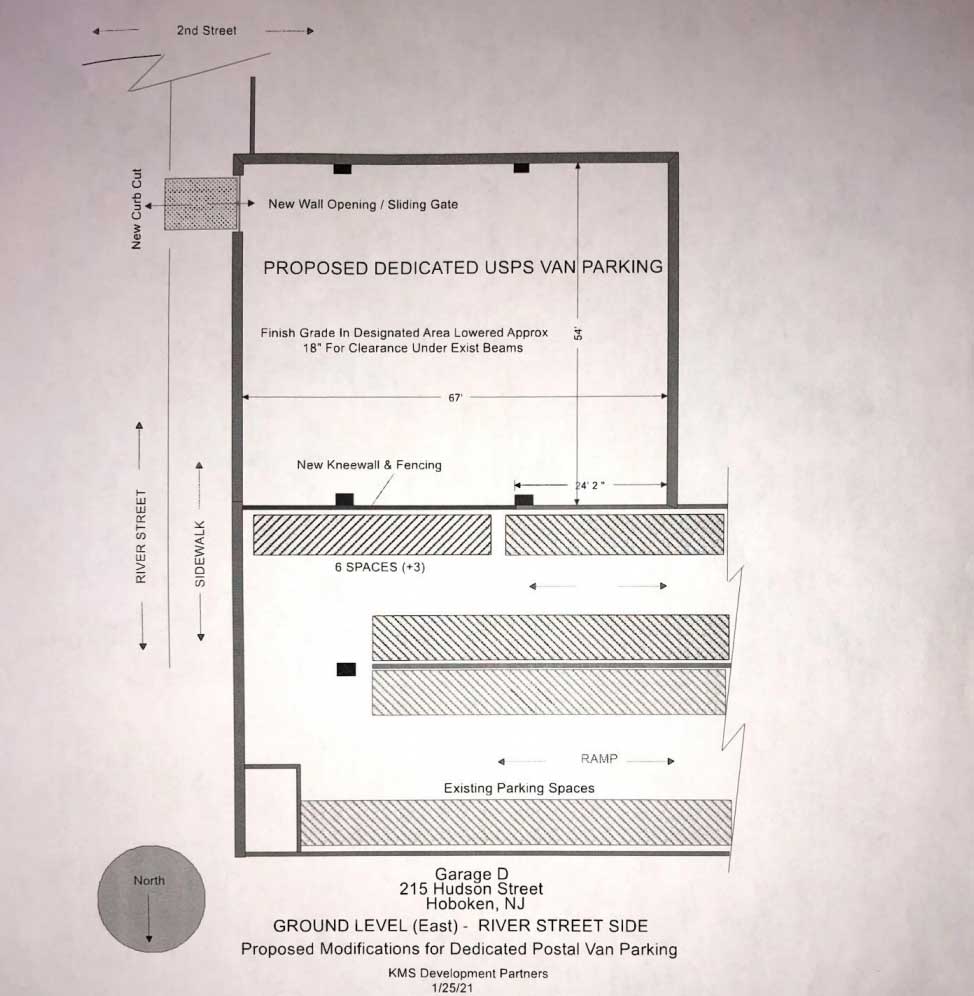 Two nearby landowners had initially filed suit against KMS and the city over the redevelopment agreement from 2018, claiming that community givebacks included in the deal represented a "blatant quid pro quo." Superior Court Judge Anthony D'Elia agreed, ruling that "permitting a municipality to require givebacks…would create unacceptable possibilities for abuse and fraud and cannot be permitted for reasons of public policy."
Hoboken's city council then voided that agreement and approved a new pact just weeks later that included a $3.2 million payment from KMS towards infrastructure improvements. The same two landowners again sued over the second agreement, claiming that the payment from KMS amounted to a "slush fund for the city to use in the future as it deems fit."
That case was eventually dismissed, as was a third lawsuit filed by the same property holding companies against Hoboken's planning board. That unsuccessful complaint alleged that approvals granted to the Hilton application were "arbitrary and capricious."
Despite the litigation brigade, the Hilton project does include several community benefits. Besides the $3.2 million payment, KMS will be investing $1.5 million in streetscaping, paving, sidewalks, lighting, utilities, landscaping, and stormwater control in the vicinity of the hotel in addition to contributing $165,000 towards First Ward improvements chosen by the city.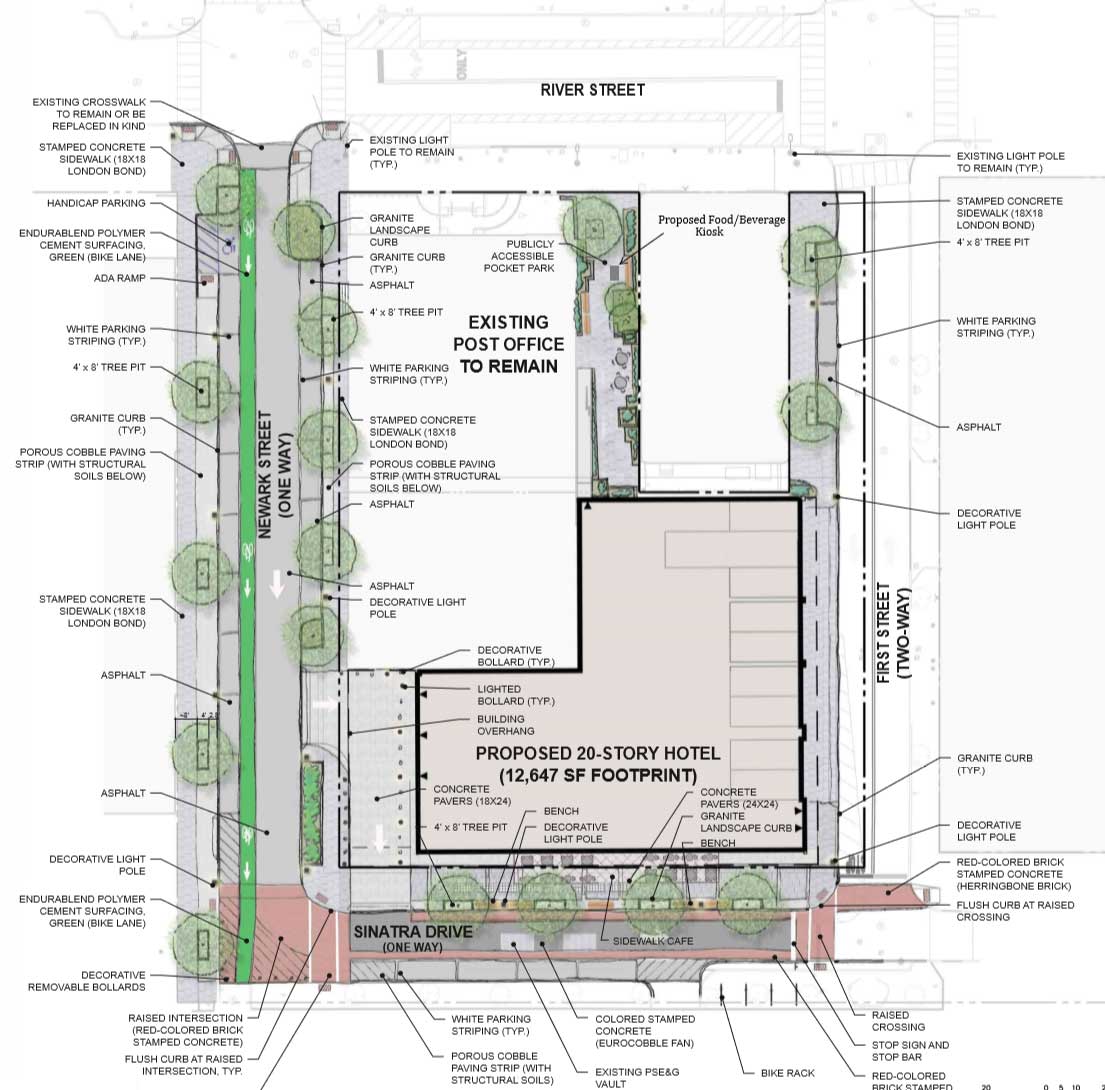 The redevelopment agreement also includes a renovation to the existing Post Office and calls for a new public pocket park along River Street, which will back up to the Hilton and include a possible kiosk food vendor on-site.
A rep for KMS has not responded to an inquiry we placed as to when a formal groundbreaking might take place, but the parking agreement is a clear indicator that the company intends on moving forward with the project.