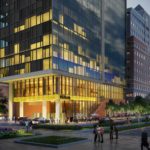 KMS Development Partners will finally be building their long-planned Hoboken hotel just a block from the city's PATH station.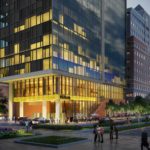 The Hoboken City Council recently approved an agreement that will house Post Office vehicles at the site in a nearby garage, a move that will clear the property for construction.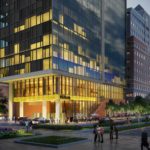 The same two landowners that derailed the first Hilton agreement have sued the city again, this time claiming a giveback payment from the hotel's developer "amounts to a slush fund."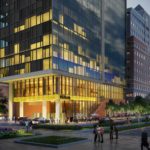 The reworked pact, which no longer includes a renovation of the city's YMCA, clears the way for Hoboken's planning board to hear the application and move the project forward.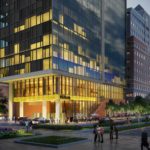 A lawsuit over community givebacks has officially killed an agreement that would have allowed a 20-story hotel to rise along the Hudson River.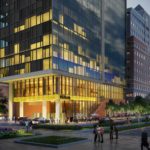 Landowners near the future hotel site have filed suit against city officials and KMS Development Partners, looking to block an agreement they claim is a "blatant quid pro quo."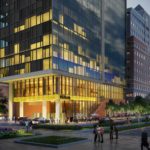 New renders have been revealed for the 20-story hotel, a project that will now include almost $5 million in community givebacks.
Pending council approval, a hotel development deal now includes funds to renovate a post office, restore a decaying community center, and create new educational spaces for public use.
After a long process, a deal to build a hotel and revitalize the city's post office has officially kicked into high gear and is slated to go before the city council as early as next month.
A proposed Hilton along the Hoboken waterfront took a step forward last night, although some City Council members voiced a few concerns about the current plan.