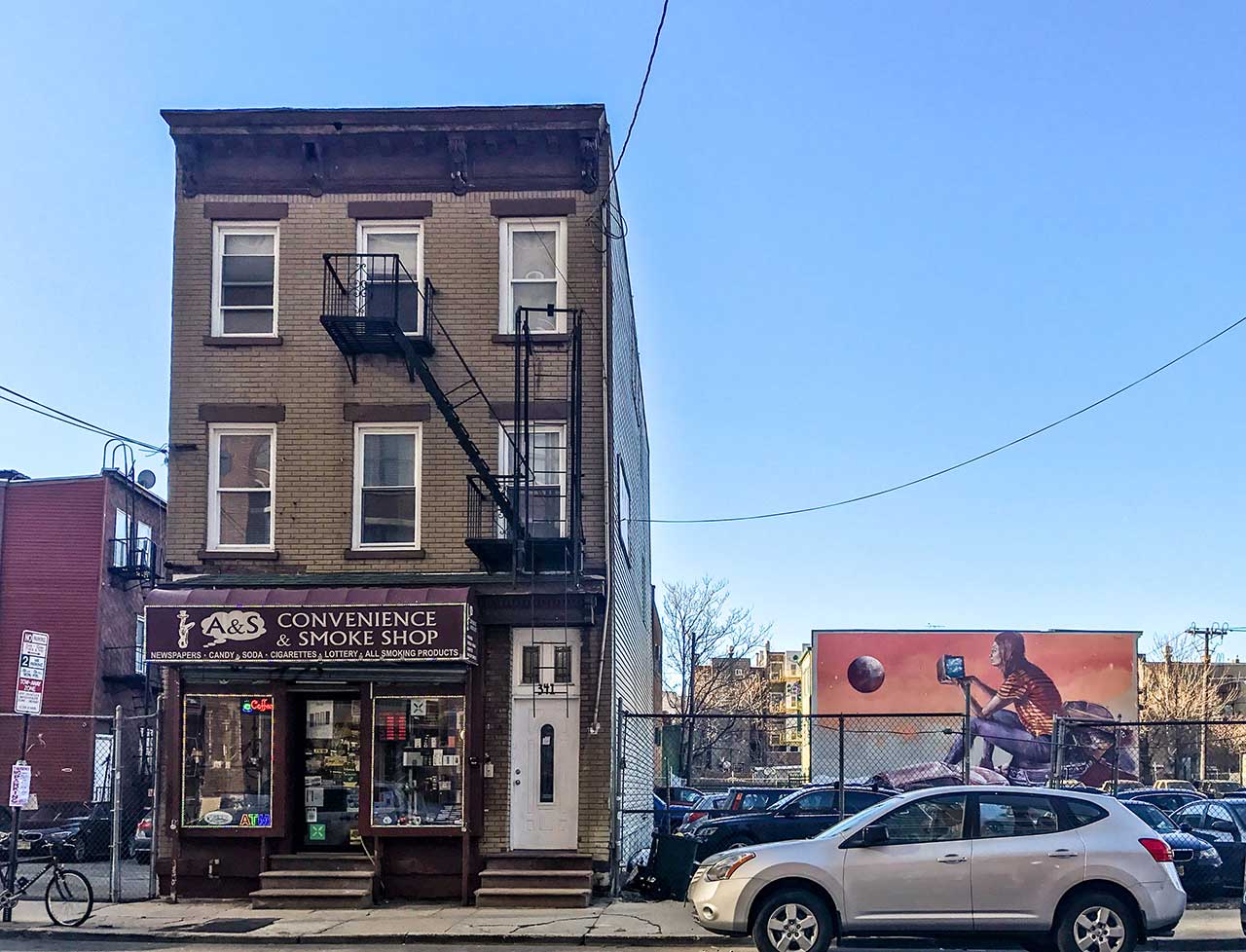 Running parallel to downtown Jersey City's historic neighborhoods, Marin Boulevard is one of the city's main arteries. The heavily trafficked street feeds into the Holland Tunnel and connects to the Grove Street transportation hub. Given its strategic placement in the heart of downtown, Marin Boulevard is undergoing one of the fastest transformations in Jersey City, quickly becoming a corridor of luxury high-rises and rental units.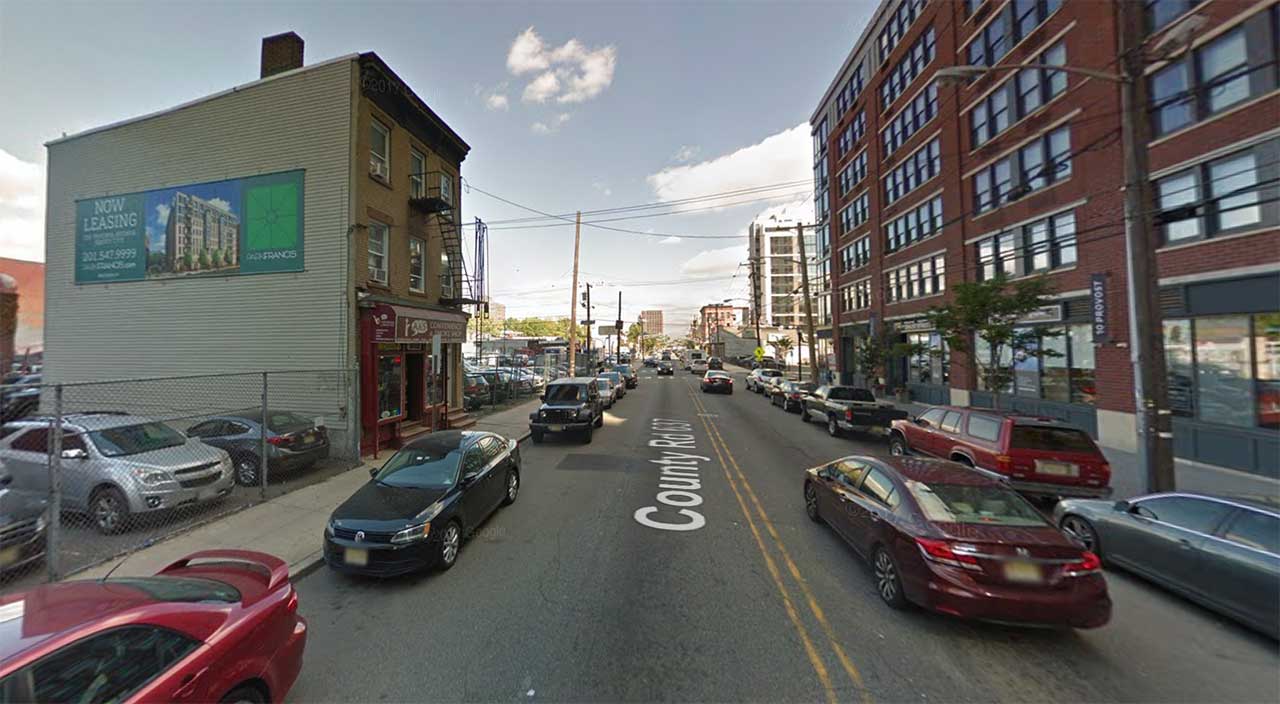 A&S Convenience & Smoke Shop (341 Marin Boulevard), located across from The Morgan, is the last standalone building on Marin Boulevard. The building is in a visually striking, sometimes claustrophobic location, with constant traffic and busy construction sites congesting the area. Recent developments such as KRE's Marin Residences, and Shuster Development's The Oakman have sprung up in the immediate vicinity.
The smoke shop sits adjacent to a commuter parking lot that fills to capacity on weekdays. In evenings and on weekends, the lot is empty except for a mural, "Cars/TV," that fills the dead space. This lot is the next stage of Marin Boulevard's transformation. In less than two months, A&S Convenience will close and the building will be demolished to make way for SILVERMAN's proposed mixed-use 41 story tower.
A&S Convenience and Smoke Shop owner Mohammad Aqeel, who immigrated from Pakistan as a child, grew up in downtown Jersey City. He worked in his family's convenience stores that have been part of Jersey City's business community for more than 25 years.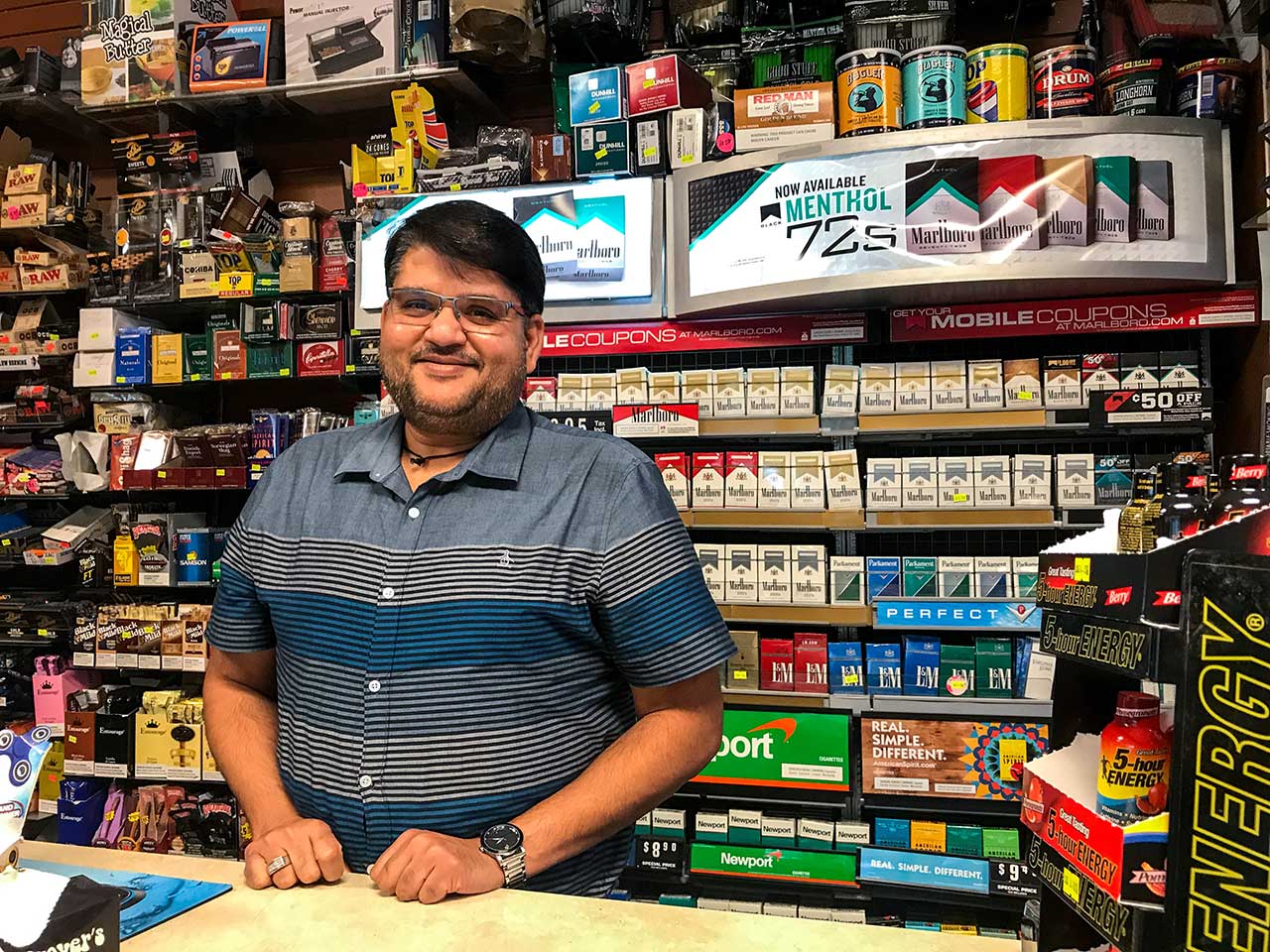 "I've seen this city changing right in front of my eyes," says Aqeel, sharing stories of when his family managed the newsstand in the Grove Street Path Station. "I was age of 12, 13 years old. Newspapers used to come at 4 o'clock in the morning so me and my brother used to get up. We had to pick up the newspapers. At that time we were selling about 3000 papers a day." Aqeel and his family's businesses have also included a convenience store, where Grove Pointe sits today, and a bagel shop, where Downtown Yogurt is now located.
Aqeel opened A&S Convenience and Smoke Shop in December 2001 and feels fortunate to have operated at that location for the past 15 years, knowing that the smoke shop would have to close eventually. He owns three additional businesses, including Jersey City Vape and Smoke Shop (344 2nd St) and a smoke shop in Newark. The locations of his businesses have given Aqeel a front row seat to Jersey City's development boom. "We've seen the worst part of the city," explains Aqeel. "When we used to work downstairs [in the PATH station], it was really bad. But it's totally changed. If you look out at Jersey City 20 years ago, you will never be able to picture what Jersey City is right now."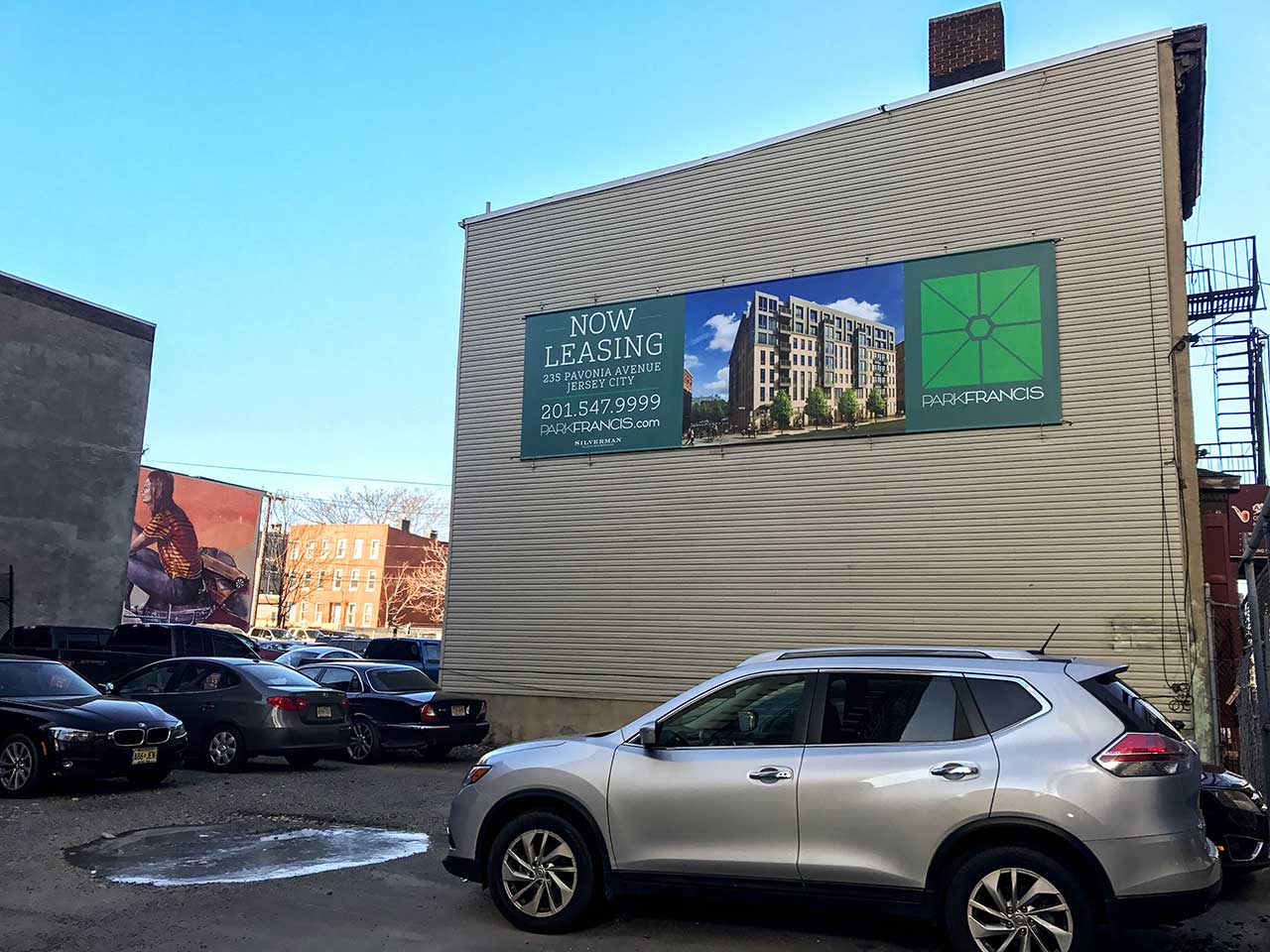 Aqeel, who recognizes that his outlook speaks exclusively to downtown Jersey City, considers the city's growth as positive."What I believe," says Aqeel. "We are right next to New York. This is the second town after Brooklyn. We have to get built up the same way too."
Aqeel expects to be at the Marin Boulevard location until the end of January 2018 at the latest. His landlords, Historic Downtown Property Management, helped Aqeel relocate to a new storefront in Paulus Hook.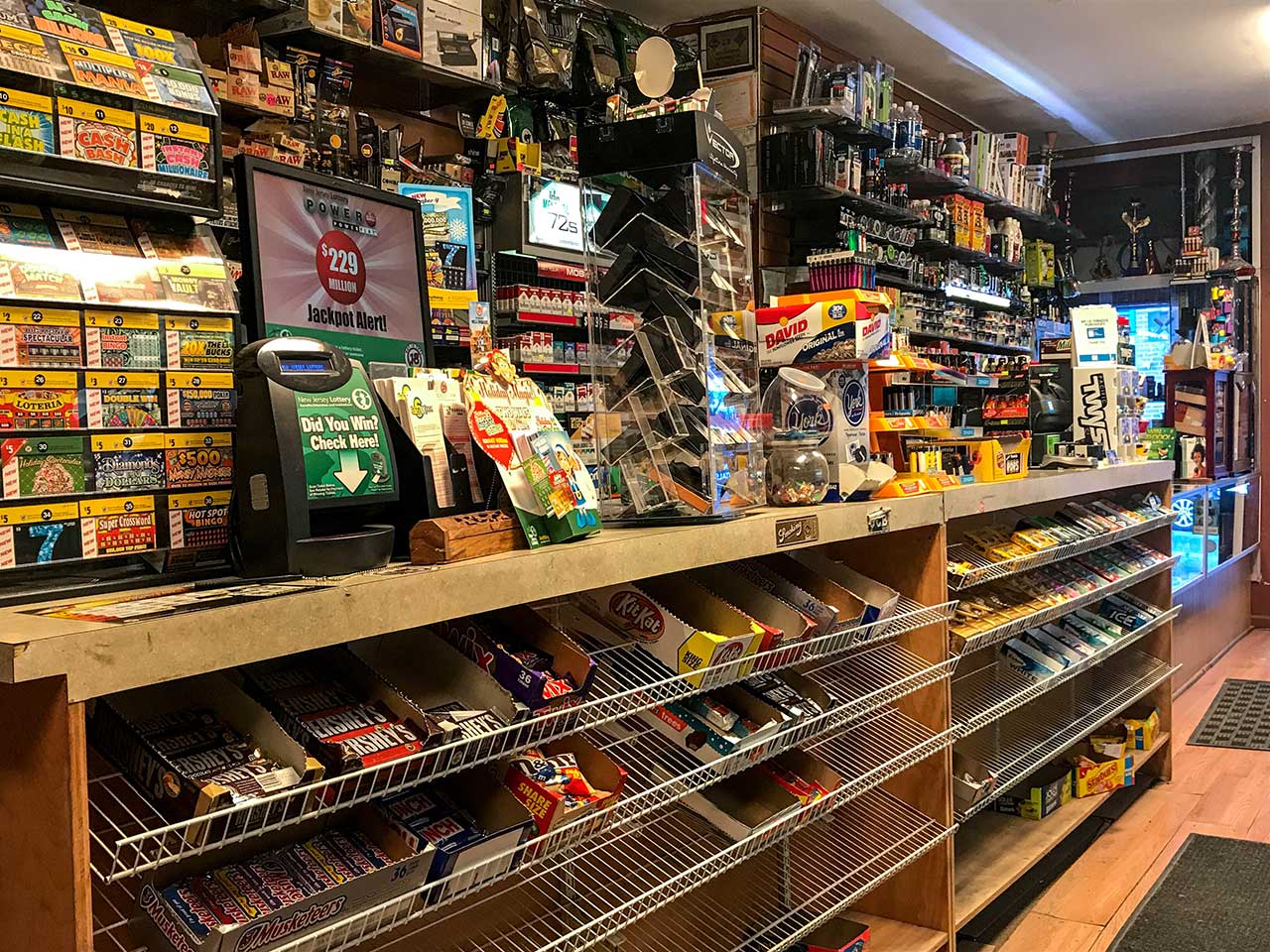 "I have about 10 to 12 people who work for me. They have families also. So if this place [A&S Convenience] is out of the business — I have other locations also. I was going to squeeze everyone in, but we were going to cut hours," explains Aqeel. "But this way, they're all happy. Nobody's stressed out that they're going to lose their job. That's the blessing."
In spite of the challenges that came with trying to find the new storefront, Aqeel is looking forward to the new opportunity. "I love Jersey City," Aqeel says. "I've been around the whole world but I never find a place better than Jersey City in my whole life."