It's very difficult for a building to be both beautiful and an eyesore at the same time, but Hoboken Terminal somehow manages to pull it off. The structure, first built in 1907, has a gorgeous waiting room complete with stained glass ceilings and a cast-iron double staircase, a refurbished ferry terminal, a restored clock tower, and an old-school charm that harkens back to a simpler time.
However, it also has downtrodden sections including the terminal's second floor, which passersby can get a glimpse of near the station's PATH entrance if they care to look at peeling ceiling paint and a closed stairwell. The main waterfront gateway of the building, known as Warrington Plaza, has historic cobblestone roads that play host to NJ Transit's parked vehicles, trailers, a fence, and little else.
In an effort to jumpstart both the Terminal and surrounding area, Hoboken's City Council passed a plan in 2014 that allowed NJ Transit, through redeveloper LCOR, to build 2.2 million square feet of residential, office and retail space over the railyards on Observer Highway. Part of the agreement included plans to revitalize Warrington Plaza and activate the space into a market, which about 60,000 commuters pass through every day.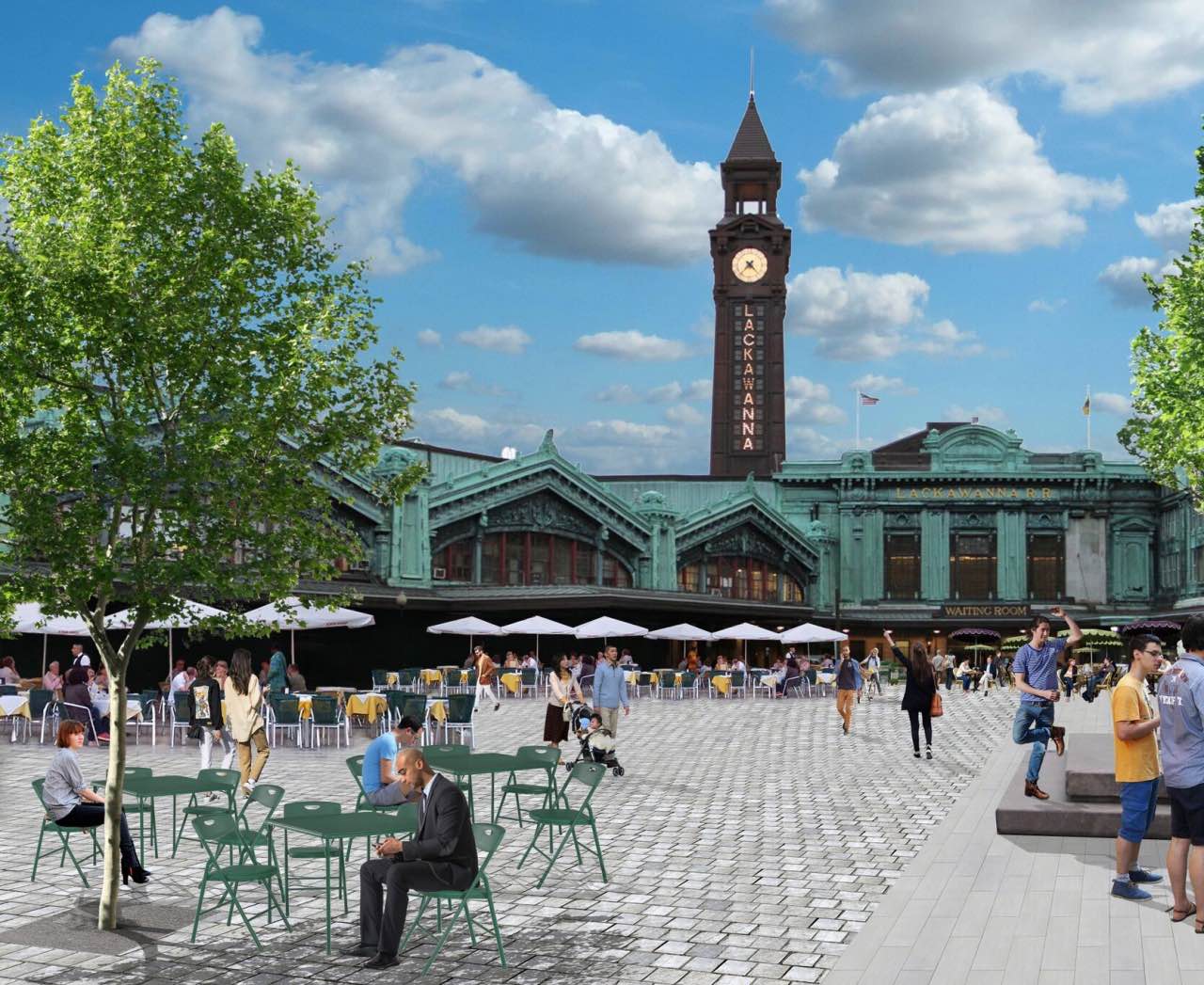 Despite all that, almost nothing has been done regarding the project in just under three years. However, Councilman Michael DeFusco did spearhead an ordinance last year that would allow a marketplace to operate at the Terminal while the redevelopment plan gets worked out, and his mayoral campaign has released some renderings of what he envisions at the space.
DeFusco's plan calls for three distinct areas in the 100,000-square foot facility – railside, harborside and what he dubs a "grand hall" on the building's second floor. In the short term, he says he has helped secure a commitment from the terminal's operator for an outdoor French-inspired marketplace at Warrington Plaza, which is being planned with the goal of opening in Spring 2018.
The city did confirm to Jersey Digs that LCOR is still the designated redeveloper of the Terminal project, but the company has not answered several of our inquiries about a Warrington Plaza market agreement.
Any plan for a market at the city level could face several obstacles, as NJ Transit, a state entity, owns and has jurisdiction over the entire terminal and plaza area. Hoboken has admittedly not had a great relationship with the transit company going back several mayors and more than a decade, and some significant infrastructure problems NJ Transit has probably require more immediate attention. It's also worth noting that damage from a train crash last year at Hoboken Terminal has been temporarily fixed, but won't be fully repaired until Summer 2019.
Nonetheless, an outdoor market at the Terminal would be a great first step and a welcomed clean up to the Hoboken waterfront, which otherwise has been heavily revitalized in the surrounding area despite Warrington Plaza sitting fenced off.