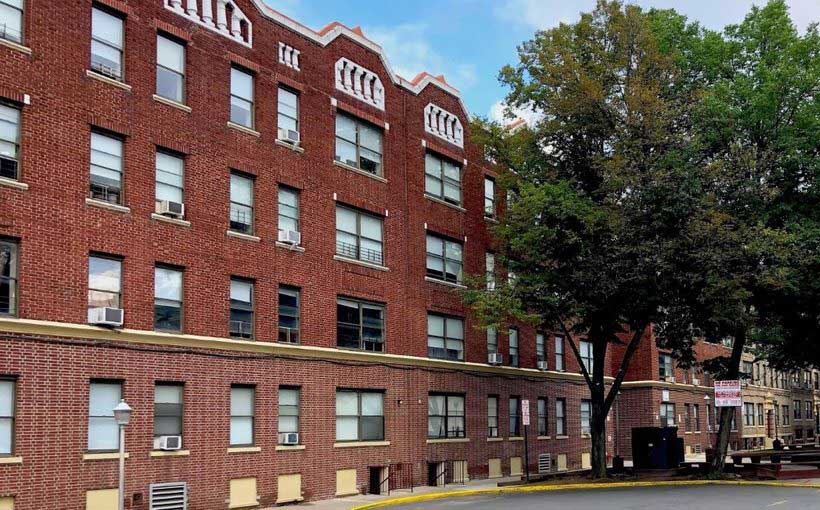 Two companies have teamed up to purchase a sizable chunk of affordable units throughout four buildings that will see some upgrades in the coming years.
New York City-based Hudson Valley Property Group (HVPG) and Chicago's Nuveen recently announced their acquisition of 412 units of affordable housing in Jersey City. The properties in the deal are located on the city's west side; they include two buildings dubbed the Van Wagenen Apartments that total 347 units, a building called Bergen Manor that features 40 affordable apartments, and a final 25 units inside Kennedy Manor.
The housing is subsidized through the Department of Housing and Urban Development's project-based Section 8 contracts. No residents will be displaced as a result of this sale and all current Section 8 income-qualified residents will continue to pay 30% of their annual income in rent following the deal's finalization.
"The previous owners and their dedicated team took great pride in providing much needed affordable housing for families throughout New Jersey," said HVPG's Managing Partner Jason Bordainick. "We look forward to working closely with the City of Jersey City, the New Jersey Housing and Mortgage Finance Agency, HUD and the management staff to maintain each of the properties as quality affordable housing for these New Jersey communities."
The acquisition is the first phase of a long-term preservation plan that will include upgrades to the properties like reimagined entryways, lobby rejuvenations, elevator modernization, and complete boiler upgrades. A New Jersey-based property management company, Community Realty Management, has already assumed operations at the buildings while retaining most of the existing management staff at each of the sites.
Cincinnati-based SVN Affordable Leventhal Realty was the listing broker on the deal, which will total a $145 million investment. HVPG and Nuveen claim that their financial commitment at the properties demonstrates a substantial social impact investment aiming to preserve New Jersey's aging supply of affordable housing without relying on the limited public funds from the state.
"We look forward to continuing our mission of preserving affordable housing while investing in these units by improving services and implementing energy efficiency in an increasingly high cost area," said Pamela West, Senior Director of Real Estate Impact Investing at Nuveen.
Related: