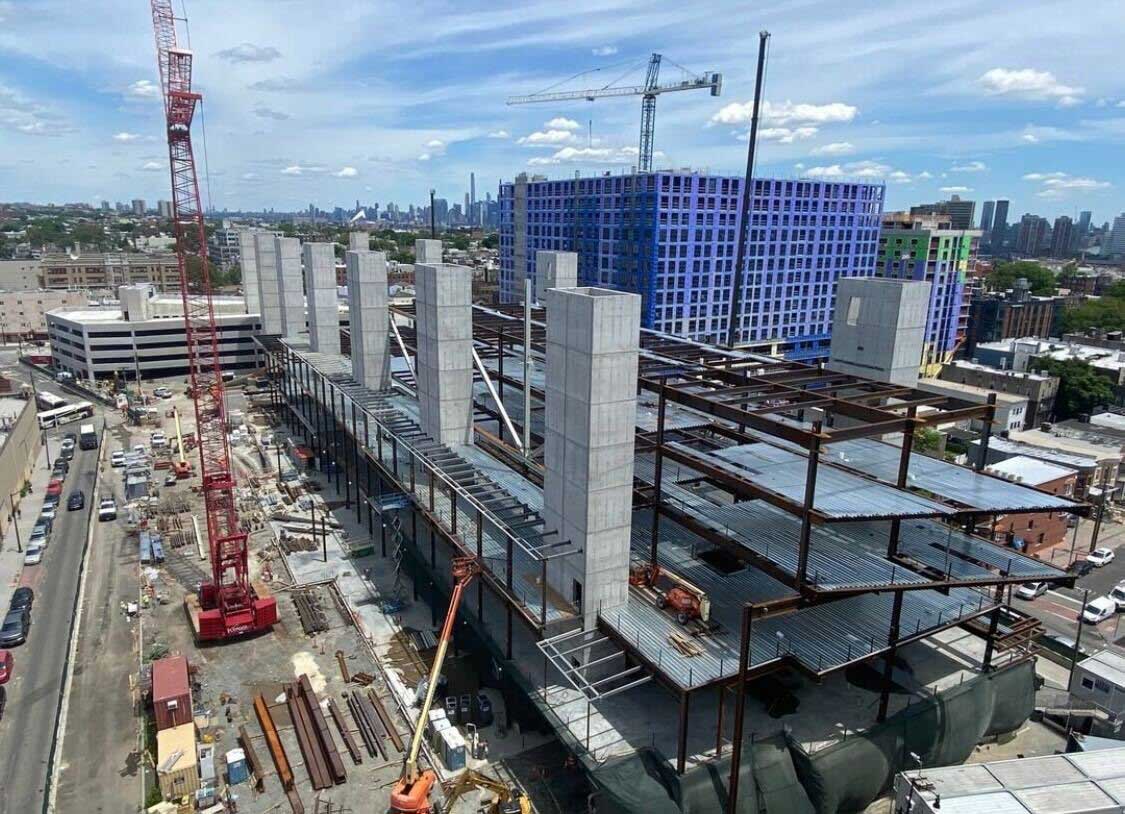 Significant progress has been made on the future Frank J. Guarini Justice Complex in Jersey City as construction at one of New Jersey's largest public revitalization efforts continues to hum along.
Set to replace the outdated Hudson County Administration Building at 595 Newark Avenue, a new five-story justice complex spanning an entire block across the street has been in the works for almost a decade. Jersey Digs was the first outlet to publish renderings of the complex back in 2020 after county officials started taking bids to construct the complex.
The $345 million plan will replace the Administration Building with a modern structure set to feature 24 courtrooms, jury assembly spaces, various offices, and the Sheriff's Department. New York City-based Rafael Viñoly Architects drew up the master plan for the facility, which will be certified LEED Silver and include a 75-seat public food court, a self-help law library, a children's play area, and training spaces. Netta Architects of Mountainside, New Jersey is the Architect of Record for the project.
Hudson County has already completed work reconfiguring the surrounding roadways, eliminating what was Cook Street, and realigning several local roads to allow Central Avenue to connect with Newark Avenue. A 459-space parking garage that backs up to Route 139 is included in the new courthouse complex and that portion is essentially completed.
In terms of the new courthouse itself, work pouring concrete elevator shafts is completely finished and steel has begun to rise at the site. The entirety of the Frank J. Guarini Justice Complex is scheduled to wrap construction by the end of next year.
The courthouse revamp also included a now-completed renovation to the existing Brennan Courthouse that reworked space on the ground floor for Civil Division administrative use and overhauled 9,600 square feet on the third floor into two new courtrooms and judge's chambers.
Locals no doubt look forward to the completion of the courthouse for several reasons, as work wrapping at the property will result in one less construction site in a neighborhood that has so many it's becoming tough to keep track of them all. But the new complex will also allow for the removal of the vacated structure at 595 Newark Avenue and Jersey City has big plans for that parcel.
Officials are looking to create a new public park that would span about three acres bounded by Central Avenue and the Brennan Courthouse. If deadlines for the Frank J. Guarini Justice Complex are met, demolition of the Administration Building and planning for the eventual park is expected to begin in 2024.