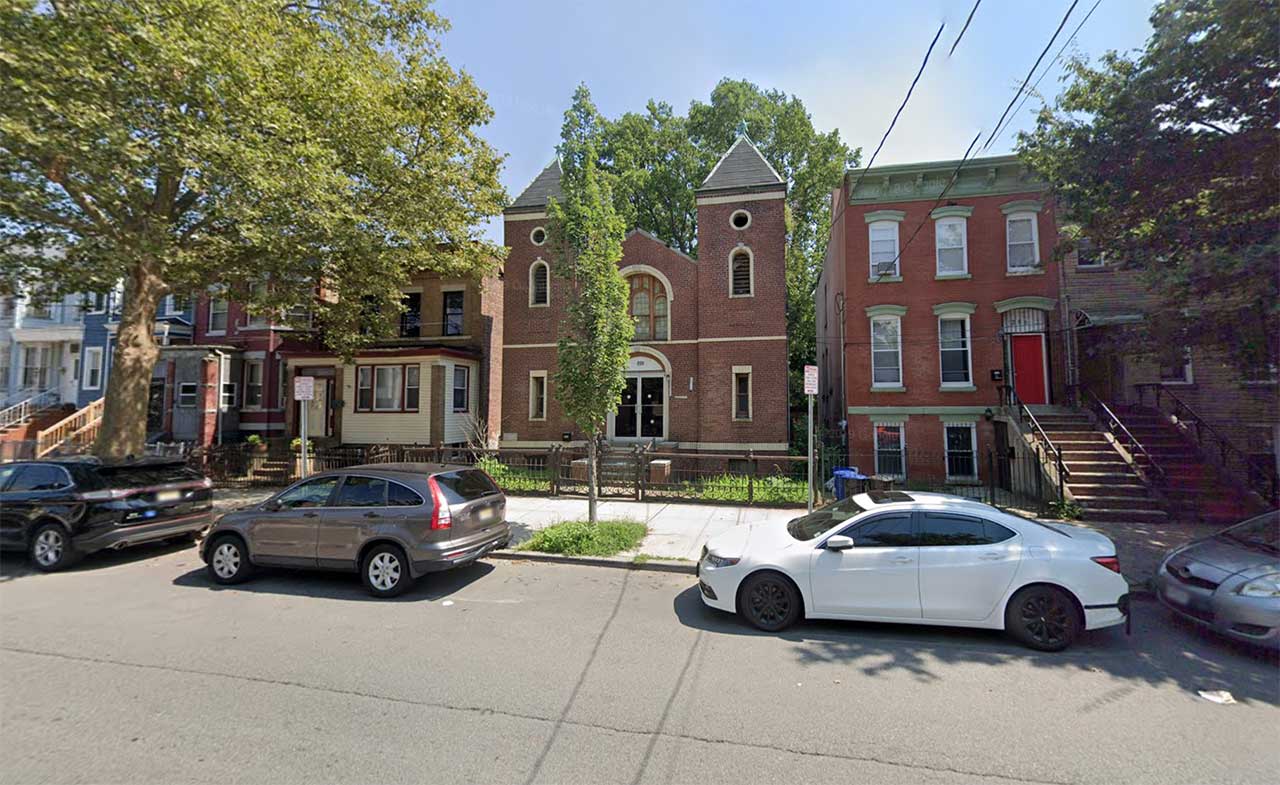 A residential development project has been proposed for another former church in Jersey City.
The old home of the Gethsemane Baptist Church at 260 Pacific Avenue in Bergen-Lafayette's Morris Canal Redevelopment Plan Area is the subject of an adaptive reuse plan by its current owner. A company simply named 260 Pacific Ave, LLC submitted an application to the Jersey City Planning Board that calls for bringing seven residential units to the two-story structure.
The proposal also calls for a one-story addition to allow "for a new roof apex," according to a Jersey City Division of City Planning interdepartmental memorandum from August 7.
The memorandum also noted that "on October 23, 2019, the City Council approved the amendment to the Morris Canal to expand the adaptive reuse overlay area to include 260 Pacific Avenue as an effort to preserve the site and permit minimal density and bulk."
One residential unit would be a studio while the rest would contain one bedroom, though it is not yet clear if the units would be offered for rent or for sale. The application did not indicate that any "affordable housing" units would be created as part of this project.
The development firm is registered out of a P.O. box in Lodi. An affidavit of ownership associates Dhanbir Singh with the company. The project architect is Williams Avenue-based Hampton Hill Architecture
This matter is scheduled to be discussed by the Jersey City Planning Board during its meeting this Tuesday, August 11 at 5:30 p.m. The hearing will be held over Zoom.
260 Pacific Ave, LLC's proposal for the Gethsemane Baptist Church building is not the only recent application that has called for repurposing a former house of worship into residential units in the region. In fact, it is not even the first adaptive reuse plan for an old church on Pacific Avenue in Bergen-Lafayette.
The former St. John's AME Church at nearby 326 Pacific Avenue was the subject of three adaptive reuse proposals in five years, the most recent of which called for 36 residential units.
Note to readers: The dates that applications are scheduled to be heard by the Jersey City Planning Board and other commissions are subject to change.
Related: