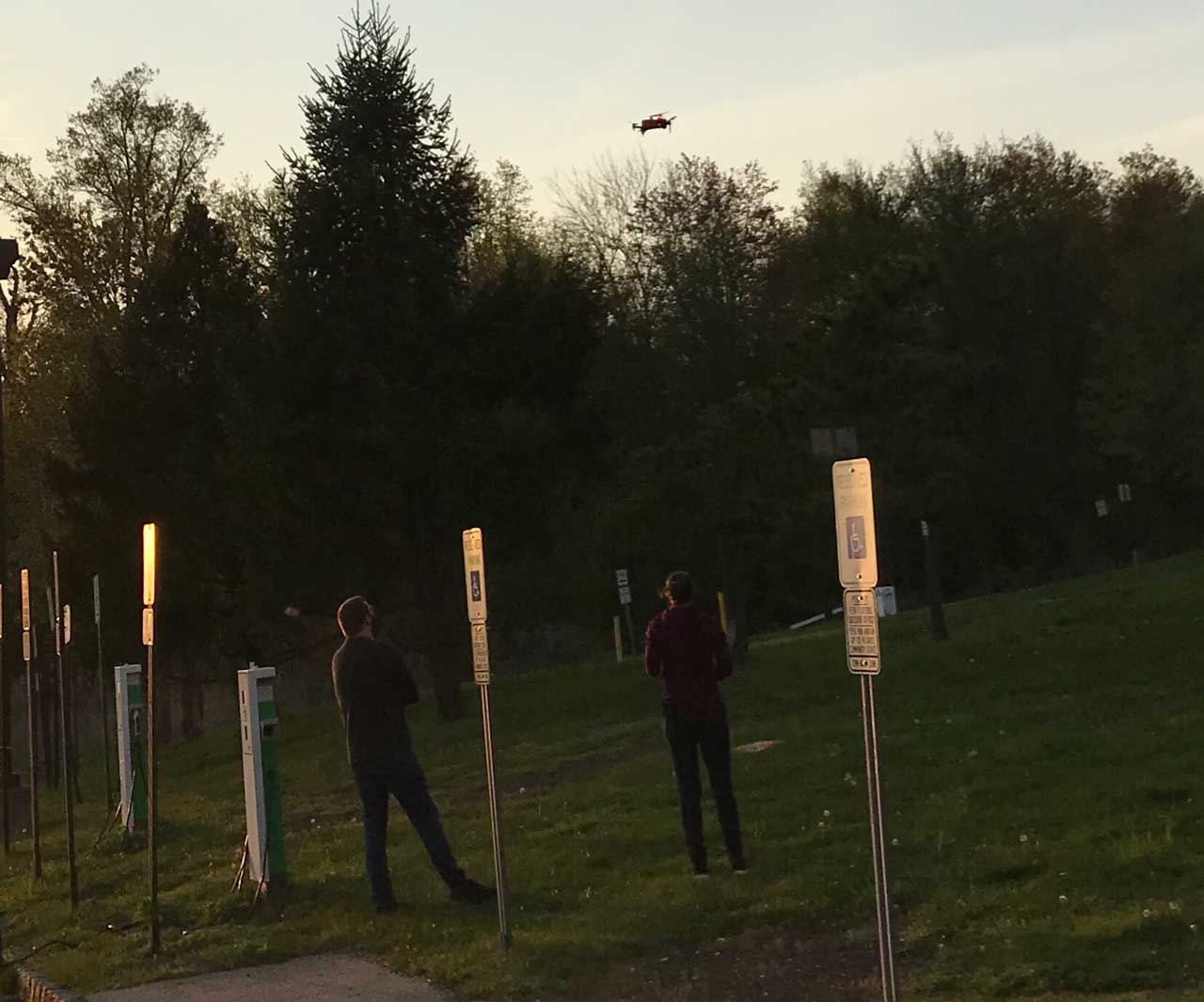 A strange blinking object has been whirring over the treetops at South Mountain Reservation. No, the flying robot is not an escaped aircraft from Area 51, but a drone that scientists are using for the first time to count the deer there.
The annual deer census at the reservation is important because an overpopulated forest, according to prevailing theories, can deplete the ecosystem. The magic number is usually 15 to 28 deer per square mile — though officials recommend even less at South Mountain. Any more requires "culling" — usually hunting — to bring down the population.
Drone technology is a breakthrough at the South Mountain Reservation, which is densely wooded and large enough to border five towns. This environment has troubled foresters since the annual census began in 2008. The 2,100-acre park doesn't have a through road, which is crucial for surveying deer with traditional methods.
Before drone technology became available, researchers had to rely on road surveys, in which a three-person team drives a slow-moving car at night with a spotlight shining into the forest. But counting deer has so many variables that can make road surveys difficult. Cold or windy weather can cause animals to flee deeper into the forest for warmth. Certain terrains can also stand in the way of an accurate count.
"Drones are much more accurate and make it less likely deer are double-counted," said Jessica Ray, staff scientist at Raritan Valley Community College, which is conducting the drone survey at South Mountain Reservation.
Accurate data is critical to a well-managed forest because the numbers determine if, when, and where hunting is allowed. Drones also allow scientists to perform surveys in a wider variety of conditions because the machines can penetrate the forest where deer hide during severe weather.
The first high-tech equipment used for the deer count was fixed-wing aircraft, but they have limitations. For instance, when deer huddle together, it is sometimes difficult to tell them apart. Without a drone's ability to hover, scientists can't confirm what they are seeing.
Animal-rights activists are paying particularly close attention to this year's census because the last hunting season was canceled due to the pandemic. They are trying to test a theory, claiming that hunting isn't necessary because deer populations naturally balance out.
"What they assume in New Jersey is that the deer have to be removed, however they do it," said Susan Russell, wildlife policy director at the Animal Protection League of New Jersey. "If there are too many deer, they're going to stop breeding anyway, because they're not going to be healthy — there's not going to be enough food."
But this year's drone survey alone won't allow activists to confirm their theory because this is only the first time this method has been used at South Mountain. 
"If you were using road-based surveys and you're switching over to drones, it's going to be hard to relate the two data sets because they're taken with different methods," Ray said. "We're going to wait another three to five years to collect enough data."
The use of drones is part of a long-term study to decide the best forest management techniques and to determine the margin of error of census methods, Ray said.
Meanwhile, residents of nearby towns have been witnessing more deer sightings in backyards. Scientists are trying to figure out this and other strange anomalies happening in and around the reservation, according to Jay Kelly, co-director of the Center for Environmental Studies at Raritan Valley Community College.
"We suspect that it is a result of the cold temperatures and deep snow cover that persisted through February," Kelly said. "It is likely that many deer left the reservation to take refuge in the surrounding lowlands, where there were milder temperatures and more abundant food in the suburbs."