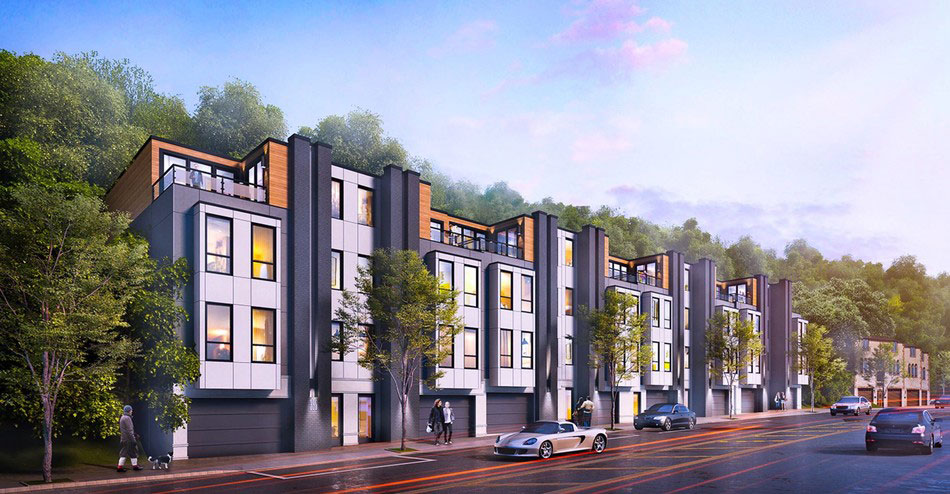 Construction is continuing to advance on a new development in Weehawken that differs from other ongoing projects in the Hudson County township in its size and location.
Eight single-family townhouses are coming to 355-369 Park Avenue, a site consisting of two properties near Weehawken Stadium and the New Jersey entrance to the Lincoln Tunnel. The hillside premises are owned by 47th Street Group, LLC, a firm that is registered out of the same Englewood Cliffs address as Premier Developers. Renderings posted by the development company show that units will include three bedrooms, two-car parking garages, and a rooftop deck. Elevator access is expected to be provided, according to the website of Premier Developers.
Previously, the site contained a metal fabrication facility that was used by the H. Cross Company, which has since moved out of Hudson County to Moonachie. The Weehawken Department of Public Works also used to park vehicles on part of the premises.
Unlike some other projects in the area, this development does not consist of dozens of rental units and is not situated within close proximity to retail space and the Hudson-Bergen Light Rail. However, New Jersey Transit's 89 bus to Hoboken runs along Park Avenue.
The project was previously given Preliminary and Final Site Plan approval by the Weehawken Zoning Board of Adjustment, but a recent application by 47th Street Group, LLC calls for some amendments to the original application. A legal notice states that the company is planning to reconfigure two of the townhouses "by reducing the ground floor to accommodate the natural rock formations and redesign of the retaining walls." A hearing was scheduled for Tuesday, June 11, at 7:00 p.m.
Note to readers: The dates that applications are scheduled to be heard by the Weehawken Zoning Board of Adjustment and other commissions are subject to change.
Related: