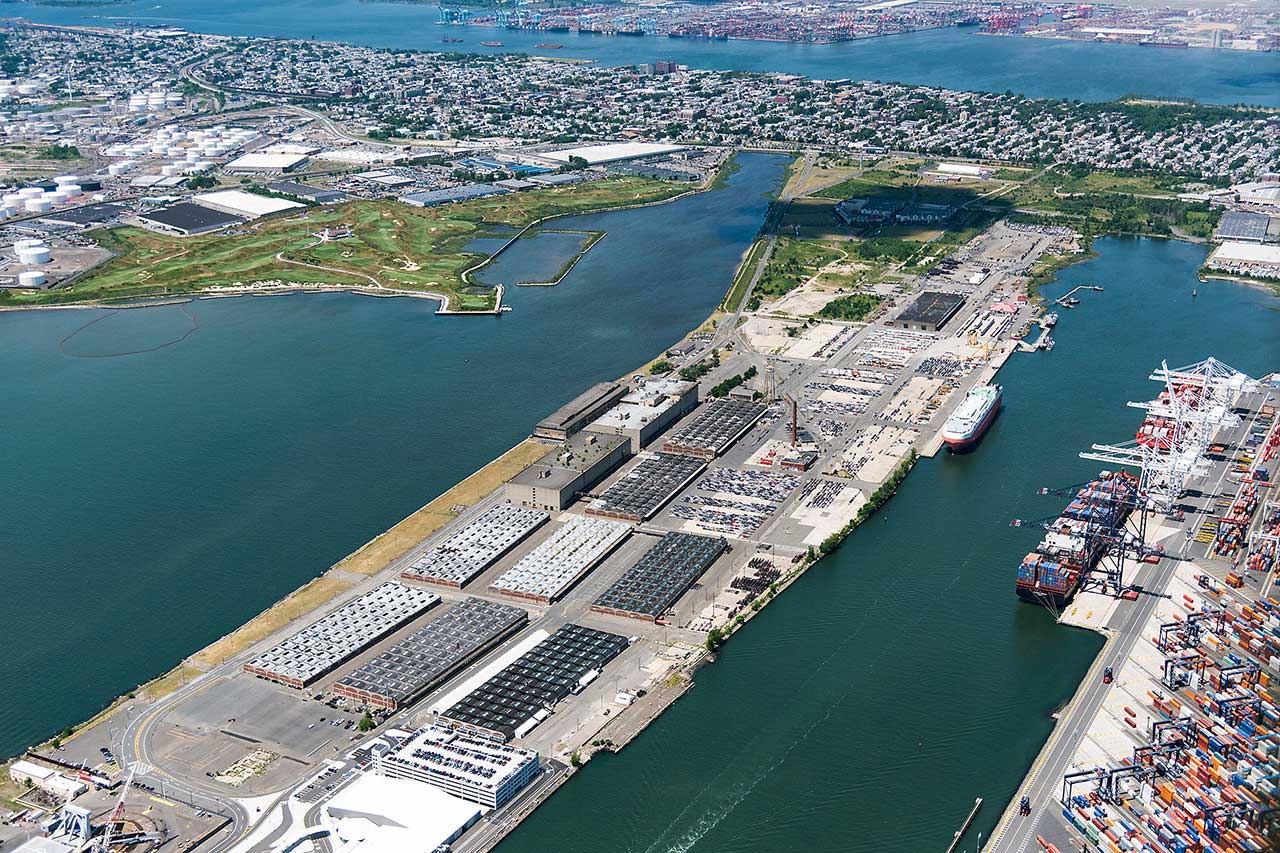 A significant step forward was announced yesterday for the redevelopment of Military Ocean Terminal in Bayonne. Development partners RD Management LLC and JMF Properties officially broke ground on Harbor Pointe Marketplace and announced a lease deal with Costco Wholesale to anchor the new retail center.
Located along State Route 440 and directly across from the 34th Street Light Rail Station, the site has long been ripe for development. But after years of false starts, its next chapter is finally being written. Harbor Pointe Marketplace is the first part of what will eventually become a lively residential and commercial center with plans for 651 multifamily residential units, walking paths, and 92,000 square feet of additional retail space.
In this first phase, RD Management LLC and JMF Properties are constructing a 240,000-square-foot retail center. Costco is slated to take 150,000 square feet of the new building along with an 18-pump Costco Gasoline gas station. Shoppers will also benefit from a reduced sales tax rate as it's located in an Urban Enterprise Zone. The companies are targeting a fall 2018 opening.
"Bayonne has always catered to families and renters looking to take a break from the city, and with this comes a need for an innovative commercial real estate development where the community can live, work, and play," said Richard Birdoff, principal and president of RD Management. "Harbor Pointe Marketplace will fill this void with Costco as the anchor tenant and the addition of new retail and residential offerings, and surely attract local and transient visitors to the center. We are excited to be a part of the enormous change happening in this town, and look forward to working with JMF Properties to see this dynamic development come to completion."
The lease with Costco is a major win for the development partners. The wholesale club operates 727 warehouses worldwide and employs more than 200,000 people with annual sales well over $100 billion.
UPDATE: The Costco Bayonne opening date has been announced.
"We're delighted to have a signed lease in hand with Costco Wholesale which is the perfect anchor retail tenant of our Harbor Pointe Marketplace development," said Joe Forgione, founder and principal of JMF Properties. "A proven job creator and one of the most respected brands in retail, Costco will play a critical role in the overall transformation of this site into a vibrant lifestyle destination. We will shortly announce another significant retail signing within the development as we continue to work with the City on a collective vision for Bayonne."
Long a proponent of the site's redevelopment, Bayonne Mayor James Davis lauded the announcement, saying:
"We're excited that JMF Properties and RD Management have delivered on their promise to bring such a quality retailer like Costco to Bayonne as part of their redevelopment efforts on the former Military Ocean Terminal at Bayonne site. The entire center will be a valued asset to the City, serving all of our residents and attracting shoppers from Staten Island and Jersey City all the way to Bayonne."
The former military terminal has a handful of other projects in the works too including a $50 million expansion of Cape Liberty Port, the second-largest cruise ship terminal by passenger volume in the Northeast and Mid-Atlantic regions as well as plans for a direct ferry line to Manhattan which would greatly reduce commute times for residents.