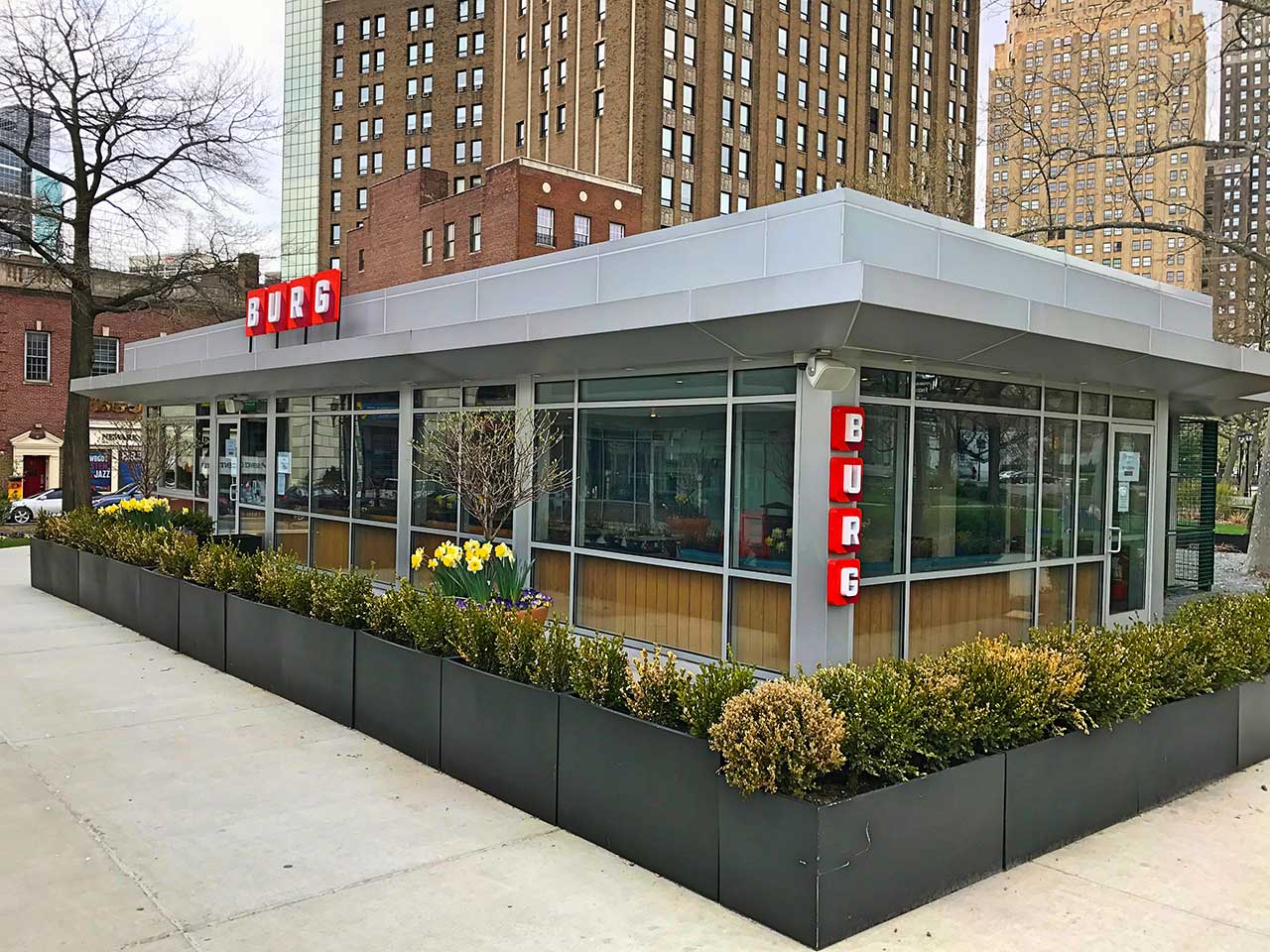 Nearly two years after Burg shut its doors, the restaurant's old space within Downtown Newark's Military Park will soon be occupied by a burger joint again. However, at a time when an increasing number of out-of-town food chains are expanding into the central business district of the state's largest city, the owners of the upcoming business at Military Park are already familiar faces in the neighborhood.
Jersey Digs has confirmed that Burger Walla, a fixture on nearby Halsey Street for the last several years, will be taking over the venue at 55 Park Place. Unlike Burg, the new restaurant, which will be known as The Yard, is expected to be open on weekends.
"Military Park has the unique opportunity to become a central focal point for the entire city," said Kai Campbell, the co-owner of Burger Walla.
There will be three separate versions of the menu at The Yard, including one for weekdays, one for brunch on weekends, and one for Friday nights and weekend evenings, according to Campbell, who explained to Jersey Digs that the new restaurant's menu will have some similarities to the existing offerings at the Halsey Street location.
"Customers will recognize some of [the] standouts from the original Burger Walla menu, as well as a couple of all-time favorites that were seasonal in the past," Campbell added. "The brunch and dinner menus will see the addition of new items, while the weekday menu may be completely new to Burger Walla's faithful customers."
A soft opening is planned during the holiday season. Burger Walla is in the process of preparing some aesthetic changes for the interior of The Yard and the company recently filed an application for a concessionaire liquor license that would be used by the new outpost.
The sole previous occupant of the space also had a liquor license and was operated by the owners of Jersey City's Maritime Parc. Burg opened in 2015 after a major renovation and redevelopment of Military Park that included the construction of the one-story restaurant space opposite WBGO and the New Jersey Historical Society. In the fall of 2017, Burg announced on social media that it would reopen during the following spring, but the restaurant ended up closing permanently.
Meanwhile, although The Yard might be arriving, just a few months after concerns were raised over Military Park's condition and funding, another stakeholder at Military Park is apparently departing.
Biederman Redevelopment Ventures (BRV), the Manhattan-based company that was involved with the rehabilitation of this public park and remains involved with its operations, will not have such a role for much longer. The firm's responsibilities are expected to be given to the Military Park Partnership Board of Directors, a group with a dozen members representing Essex County, NJPAC, the MCJ Amelior Foundation, the Trinity and St. Philips Cathedral, Rutgers-Newark, and companies such as Prudential, Goldman Sachs, Boraie Development, and The Berger Organization.
Jessica Sechrist, who serves as the park manager, told Jersey Digs that "BRV is turning day to day operations back to the board in 2020."
Related: