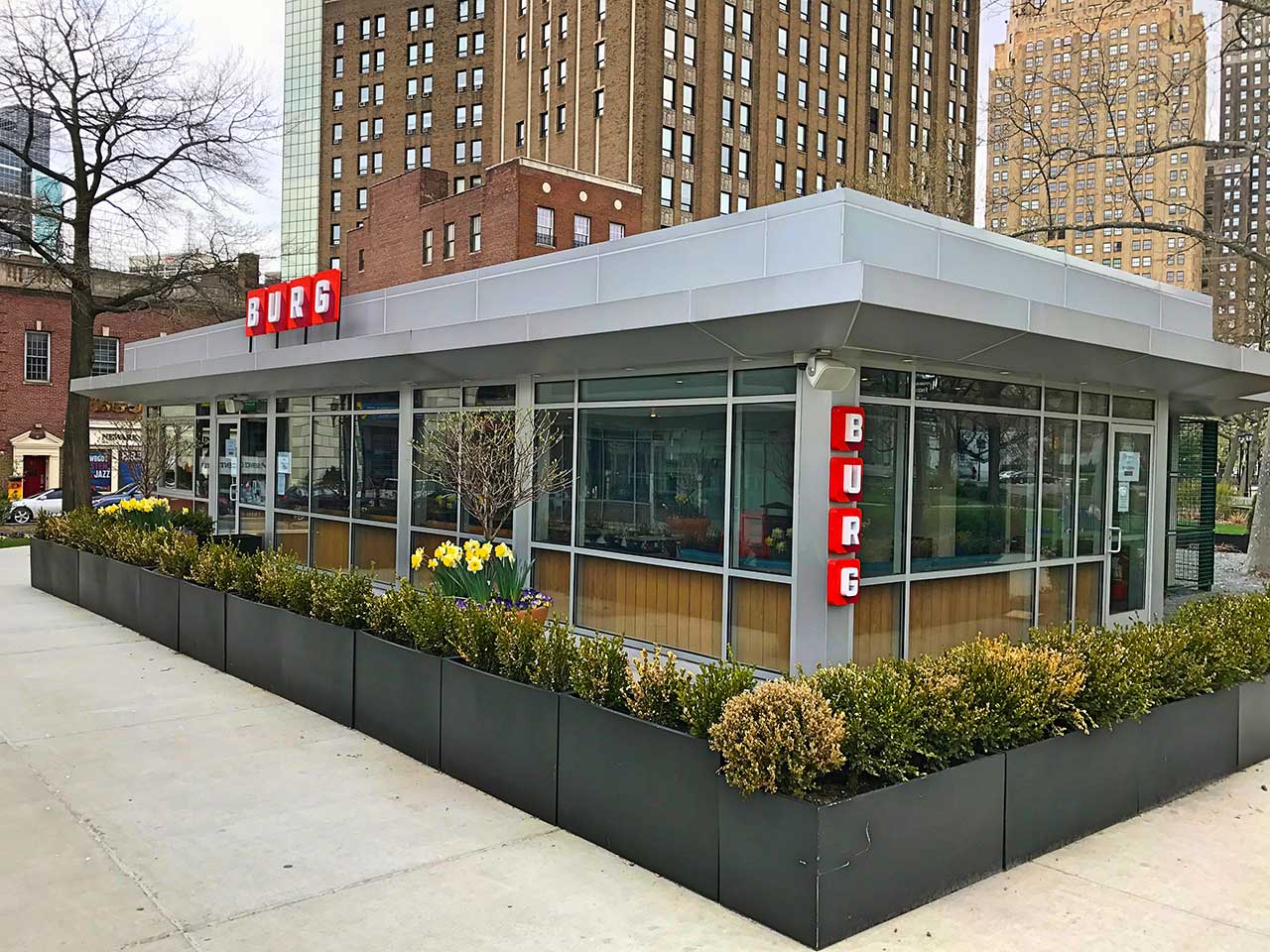 As the official start of summer nears, more people will be heading to Military Park in Downtown Newark during their lunch break. However, at least for the time being, park-goers will have to bring their own meals or take out from a nearby business.
Burg, the only restaurant within the park's boundaries, revealed last month on its Facebook page that it would not be reopening for the 2018 season. Operated by Chris Siversen and Marc Haskell from Maritime Parc in Jersey City, the establishment not only served traditional items for a burger joint such as chicken sandwiches, salads, and fries, but also sold beer and wine, which was rare for a restaurant of this sort in New Jersey.
Prices at Burg were higher than similar restaurants in the neighborhood, with a classic burger and fries costing $12, but the restaurant and outdoor bar at the eastern end of the park near Park Place regularly attracted a lunch crowd. Although the business was initially slated to be open daily for lunch and dinner, it ended up only being open on weekdays during the warmer months. The restaurant posted an announcement to customers in November 2017 that it would reopen in the spring, but a post last month said that this would not happen.
In a statement to Jersey Digs, Siversen thanked customers and stated that "we've gotten a charge out of being in Newark these past two years and look forward to the future."
However, it is not exactly clear what the future will hold for the space, which currently remains vacant in the heart of the park.
"We are still winding down the operation and can't comment further at the present time," said Siversen, adding that "we hope to share more soon."
Burg's highly publicized opening in 2015 came following a major renovation of the city-owned Military Park by Biederman Redevelopment Ventures of Manhattan. The renovation included a transition of the park's management from City Hall to the Military Park Partnership, an organization staffed by Biederman employees and largely directed by business leaders. A carousel, new signage, and an outdoor reading room were installed, and a new building was built for use as a restaurant
Now, more than seven months after the last burgers were served inside, the restaurant space awaits new use. The closing of Burg comes after the Broad Street Cafe, a longtime diner just a stone's throw away from Military Park, shut its doors, and as more chain restaurants like Dunkin Donuts, BurgerIM, and Elevation Burger are expanding into the neighborhood.
Jersey Digs reached out to the Military Park Partnership and Biederman Redevelopment Ventures for additional information, but no one was available to comment. A statement on the partnership's website tells visitors to "look out for a new restaurant opening this summer," though the name of the proposed business is not listed.