Like all great art, architecture relays secrets of centuries past and offers a window into the culture and history of those who came before us. Renowned for its rich history, Jersey City's most iconic buildings, and the people who dwelled within, provide a unique insight into how the city we've come to know and love has evolved over the years.
Dixon Leasing understands that every historic property contributes to Jersey City's story. That's why we make every effort to restore or recreate the architectural elements that make each home unique. Join us as we take a trip through history and look behind the facades of some of Jersey City's beautiful buildings in an ongoing collaboration with Jersey Digs.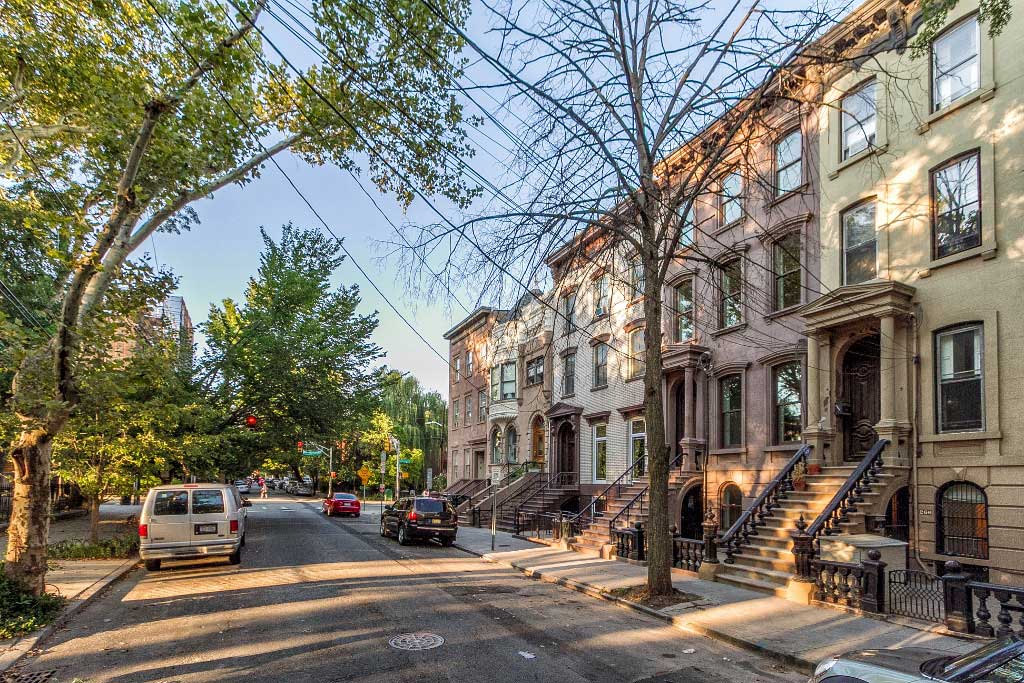 Today we take a look at two beautiful park-facing homes emblematic of the style and grandeur of Van Vorst Park in the late 18th century.
The Van Vorst Park section of Jersey City is a coveted residential enclave known not only for its delightful centerpiece park, but also for its abundance of intact row houses that line tree-lined streets. The gorgeous blocks in the area are so revered that their restoration and preservation is overseen by not only the city's Van Vorst Park Historic District, but also by designation among the National Register of Historic Places.
Today, we examine two archetypical Van Vorst brownstone row houses situated on Barrow Street along the park's western edge.
When the Township of Van Vorst was formed in 1841 from an area previously known as Harsimus, the residents chose their name from the influential Van Vorst family that had resided in the area since 1636. Nine years later, once Van Vorst Park was graded and planted (thanks to support from the Van Vorst family themselves), residential construction in the area grew exponentially and continued to do so over the next 40 years. Houses erected during this time were frequently built in block-long stretches or groups of three and four, which lends the district its pleasing uniformity which is still a foremost feature of the neighborhood today.
Our two subject properties were built in just such a cluster of four in the 1870s, during this boom-time period. Hosea F. Clark, an area merchant active in city government, began to build the houses on lots at 262, 264 and 266 Barrow, and later acquired the remainder of the plot at 268 Barrow where the last home in the row is situated. Soon after they were completed, the four homes were sold independently.
The home at 266 Barrow was occupied by a succession of prominent families for relatively short stints throughout the late 18th and early 19th centuries. The most well-known occupant was Lindley M. Garrison who was the Vice Chancellor of New Jersey and went on to serve as Secretary of War under President Woodrow Wilson just prior to our country's entrance into World War I. No family held the property for much longer than a decade, until the 1940s when a Ukrainian family acquired the home and resided there for 35 years.
Meanwhile, in 1872, William Allen Lewis purchased the home next door at 268 Barrow. With deep roots in New Jersey, Lewis' family had resided in the area since before the American Revolution. A lawyer by trade, William Allen Lewis went on to hold a number of prestigious roles in state and local government, including as city attorney for Jersey City, a member of the General Assembly of Jersey City, and as a member of the New Jersey State Legislature. Unlike 266 Barrow, which changed hands frequently, Lewis and his wife Virginia resided at 268 Barrow until his death in 1929, at which point he bequeathed the home, in part, to one of the family's long-time servants.
Both properties were acquired by Dixon in 2013, by which time the homes, originally crafted as single-family dwellings, had been subdivided into multiple units. The Dixon team quickly set out to revive each home to its former glory, reverting 268 Barrow to a single home and creating a luxurious duplex at 266 Barrow.
With the exception of color, the façades of the four homes on Barrow are nearly identical to one another to this day, 145 years after they were constructed. Primarily Italianate in style, with Anglo-Italianate influences, the homes are four stories tall with rusticated brownstone garden levels and smooth brownstone above. High stoops include handsome arched doors under covered entrances formed by Tuscan Doric columns and triangular pediments. Two tall windows line the lower levels with three uniform windows running across the upper floors.
The extensive renovation at 268 Barrow Street included demolishing four smaller units and a space-stealing light well that had been added over the years, and lovingly restoring the home's extensive original millwork. Original window casings and the home's grand staircase have been carefully reinforced and restored, and dramatic crown and base molding runs throughout the home. Among the grandest example of the home's ornate millwork can be found on the front-facing bedrooms on the third and fourth floors where breathtaking archways frame beautiful windowed seating areas.
Alongside these historic architectural details, Dixon has added a tremendous roster of modern upgrades including a sunlit chef's kitchen with top-of-the-line stainless steel appliances and custom cabinetry surrounding a massive center island. Just outside, a new deck adds valuable entertaining space while the disused backyard received a thorough overhaul.
At 266 Barrow, duplex units boast an abundance of original detail restored to immaculate condition. Breathtaking wall paneling and inlaid flooring take you back in time while four grand mantelpieces decorate the living room, kitchen/dining room and two bedrooms. The kitchens and bathrooms are filled with modern updates and one of the grand archways that will look familiar from the bedrooms of 268 Barrow, here creates a cozy living room nook in the upper duplex
While both 266 and 268 Barrow Street are currently off the market, we invite you to see them for yourself on the Dixon Leasing website.
We look forward to sharing more of the interesting stories of the people, places and buildings that make Jersey City so unique.