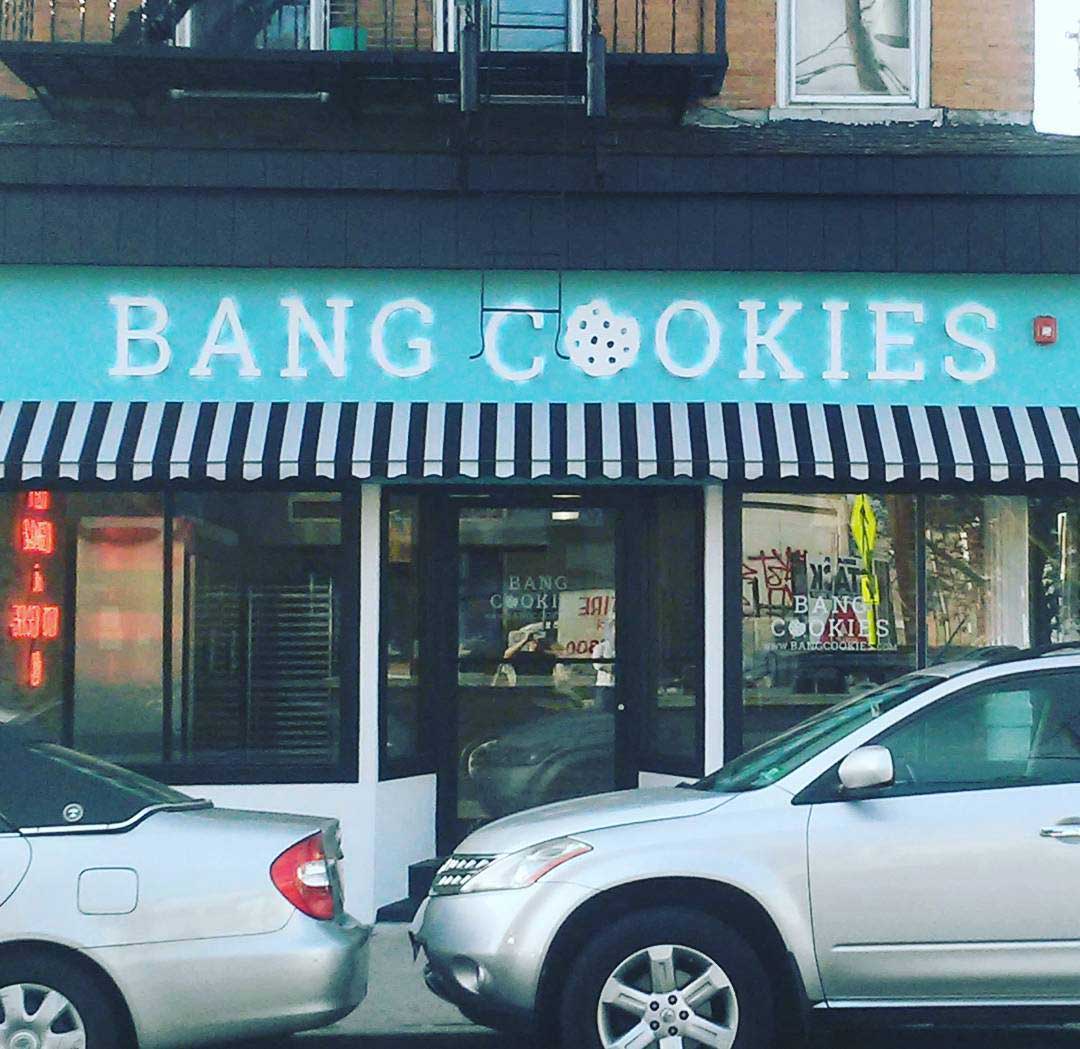 At the corner of Summit Avenue and Leonard Street, a sweet but unassuming shop is a front for some serious goods in The Heights. Bang Cookies is a national operation with local roots right here in Jersey City, serving some of the most dangerously decadent cookies around. Organic ingredients, classic combinations, and interesting options will keep you coming back, or better yet, ordering in.
Bang Cookies started on the farmers market circuit about three years ago and quickly outgrew its original shop in Hackensack — a trip to the Newark Farmers Market with 50 cookies that sold out in minutes was just the beginning of the success that put Bang Cookies on the map. The shop chose The Heights because the neighborhood's growth mirrors its own, and logistically, it's an ideally located spot.
The base cookie recipe is founder George Kuan's family recipe. Proprietary and protected, only select members of the staff are privy to it, but giving residents of the neighborhood and beyond a chance to indulge in an organic product that embodies quality over quantity is the goal.
Classic flavors are Sea Salt Chocolate Chunk, Triple Chocolate Chunk, Oatmeal Raisin, Peanut Butter Chocolate Chunk, Walnut Chocolate Chunk, and Macadamia White Chocolate Chunk. The cookies are oversized, about 5 ounces give or take, and achieve that elusive perfect marriage of a crunchy exterior and soft interior. Meticulous instructions for warming the cookies are also provided.
Online ordering and delivery is available nationwide, with free shipping for six or more cookies. Even more dangerous, local delivery is available in Jersey City, Hoboken, Union City, and into parts of North Bergen, with free delivery for four cookies or more.
Bang Cookies is always up for getting creative and embracing the gourmet, evidenced by flavors like Caramel Sea Salt Chocolate, Espresso Chocolate Chunk, S'mores, and the Kitchen Sink. Filled cookies (think filled like a jelly donut) like Cookie Covered Strawberry Jam and PB&J are the newest thing.
Look for gluten-free options and cookie ice cream sandwiches coming soon and they truly deliver on special requests, corporate catering, party favors, and even weddings, offering cakes made of cookies in lieu of a traditional wedding cake.
Prices start at $4.50 per cookie and the shop is open 7 days/11 a.m. to 11 p.m. And as for the name, Bang Cookies eludes to its inspiration on its website, but even without an explicit explanation, it's safe to say that the cookies live up to their namesake — so good they're sinful.