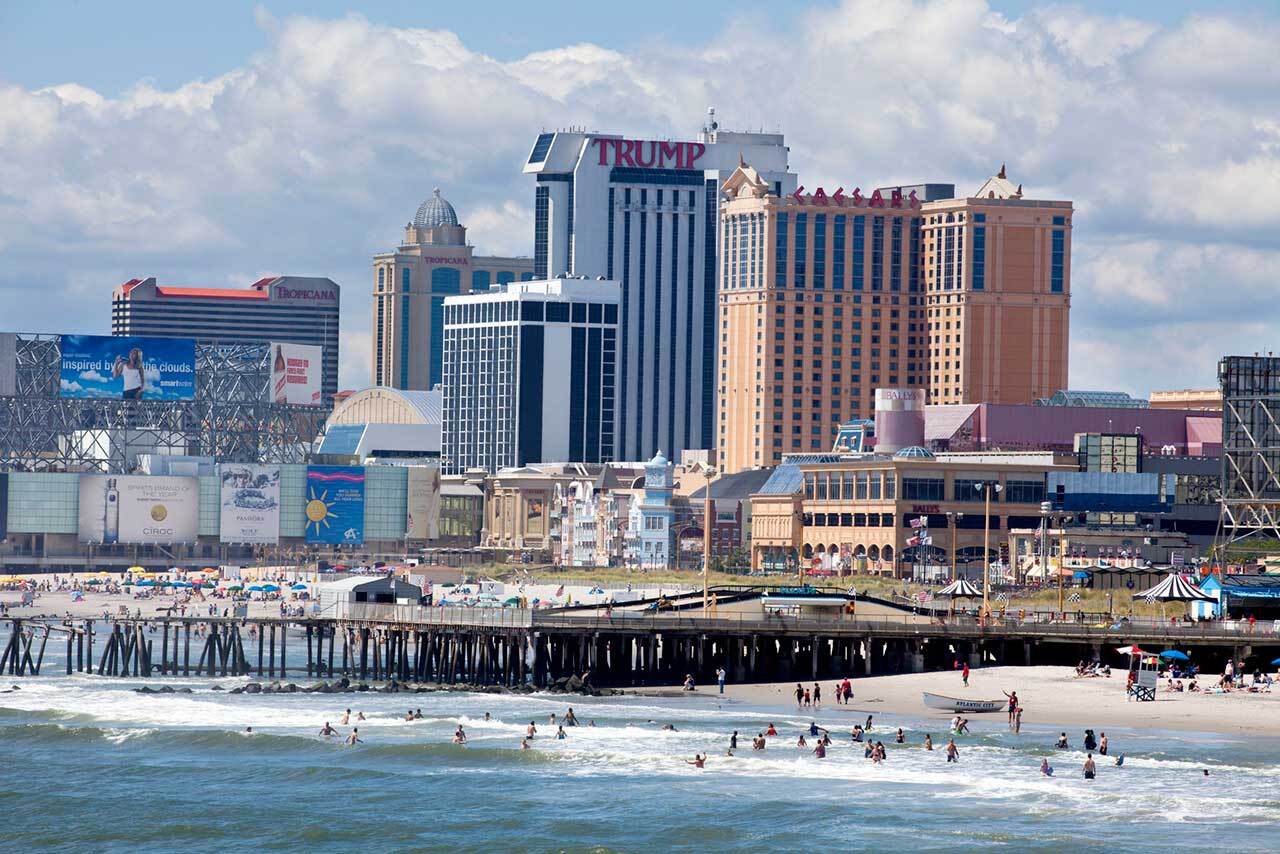 A former casino that has been shuttered for over half a decade should be a vacant lot by the time next summer rolls around, although plans to redevelop the waterfront property have yet to emerge.
Last week, Atlantic City Mayor Marty Small announced that the main tower of Trump Plaza will be imploded early next year. The casino, which opened in 1984 along the Boardwalk between Missouri and Mississippi avenues, closed in 2014 after now-President Donald Trump's Trump Entertainment Resorts filed for its fifth bankruptcy.
The property was purchased by Carl Ichan's Icahn Enterprises following the closure and demolition of the building has been discussed since 2017. The structure has deteriorated significantly since the lights went out; it was declared a "public safety hazard" earlier this year when chunks of the building's concrete and stucco façade started falling onto nearby streets.
Police detail around the property warning pedestrians about a perilous sidewalk next to the building has been a mainstay and the city filed a legal injunction back in March looking to expedite the building's demolition. Trump Plaza's 39-story tower is slated to be imploded on January 29, or just about a week after Inauguration Day.
The mayor's office says that about eight stories worth of debris will need to be cleaned up following the implosion, work that is expected to run through June 2021. Philadelphia-based Haines & Kibblehouse will be managing the demolition and cleanup, which Casino.org reported as launching earlier this month.
Trump Plaza's smaller tower, which fronts the Atlantic Ocean and includes a Rainforest Café plus a parking deck, will remain standing under the plans. No proposals have emerged for the property, which totals over 10 acres and is considered prime real estate.
The implosion will mark the unofficial end of Trump's prominence in Atlantic City. His Taj Mahal casino was sold for pennies on the dollar in 2017 and later rebranded as the Hard Rock Casino, while the former Trump Marina now operates as the Golden Nugget.
Atlantic City has had several high-profile developments during 2020, starting with the sale of Bally's in a $25 million deal. Stockton University is set to break ground on a new 140,000-square-foot dormitory building that will feature 416 beds, while the Showboat has proposed a new indoor waterpark on a parking lot near their hotel.
Related: