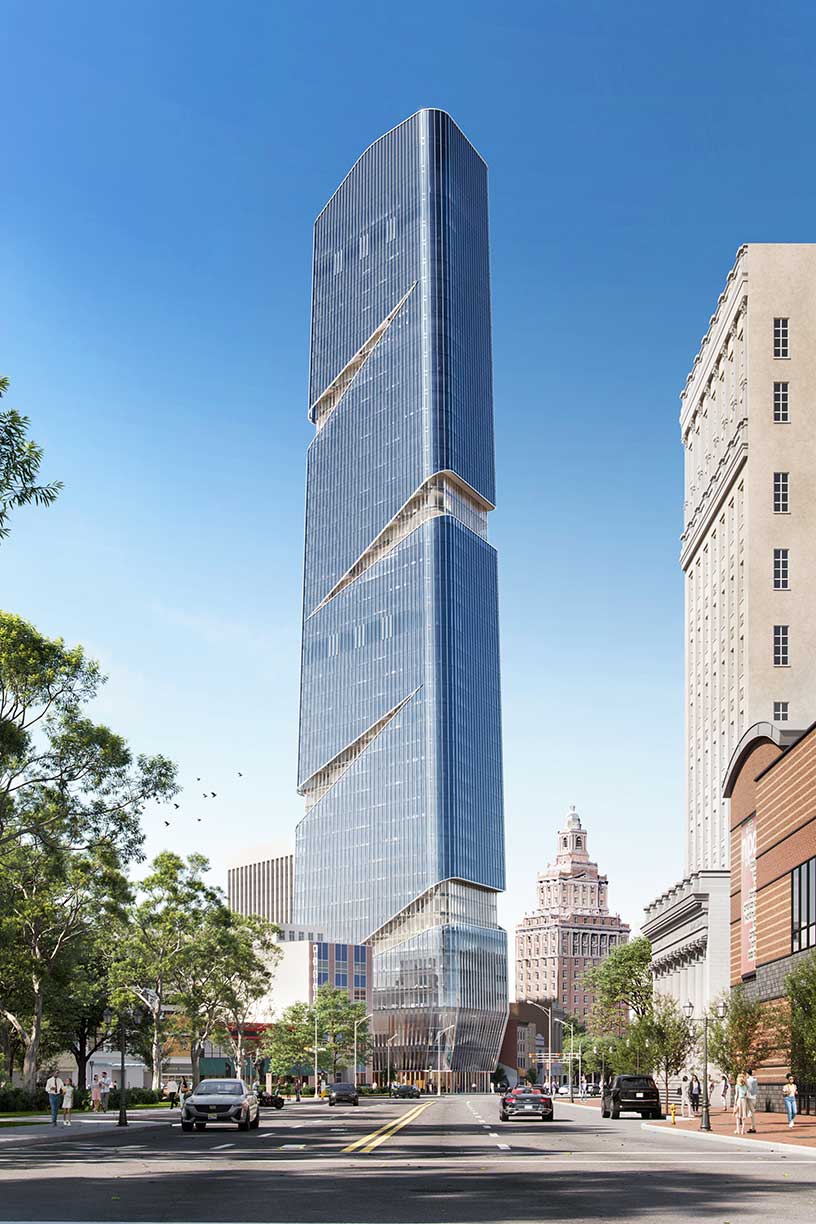 The path has apparently been cleared for the new development Arc Tower to rise at a prominent corner in Downtown Newark despite a preservation committee denying the project late last year.
During their February 6 meeting, Newark's Central Planning Board approved an application to construct a 45-story tower at 571 Broad Street. The parcels, situated about halfway between Military Park and Harriet Tubman Park, currently house a vacant two-story retail structure and an empty rowhouse along one of Newark's most prominent roads.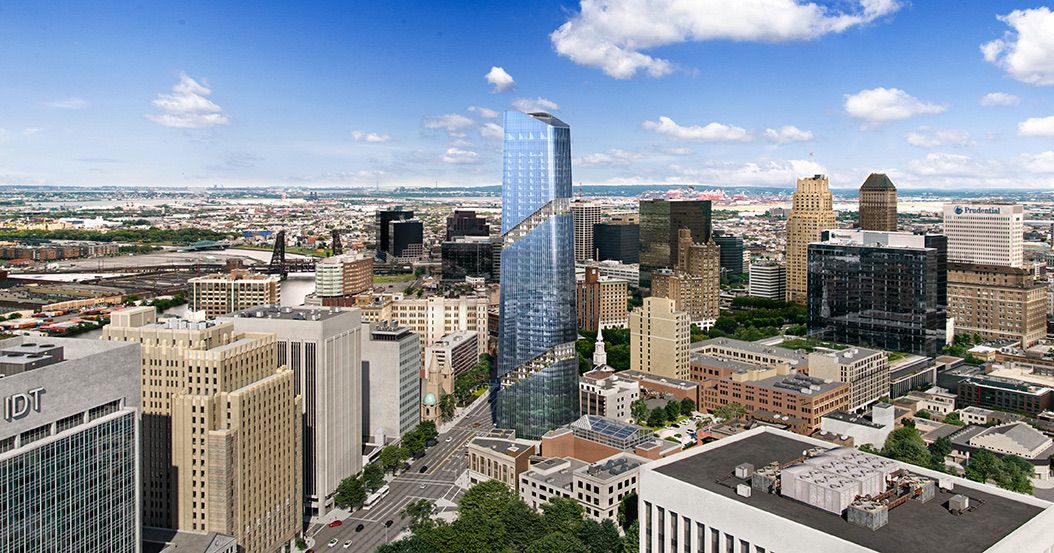 Developer İsrael Weiss from Ocean View Capital Management is behind the project, which is slated to rise 520 feet at the tallest point. The building has been designed by New York-based INOA Architecture, who have worked on several other high-profile projects in Newark including The Halo.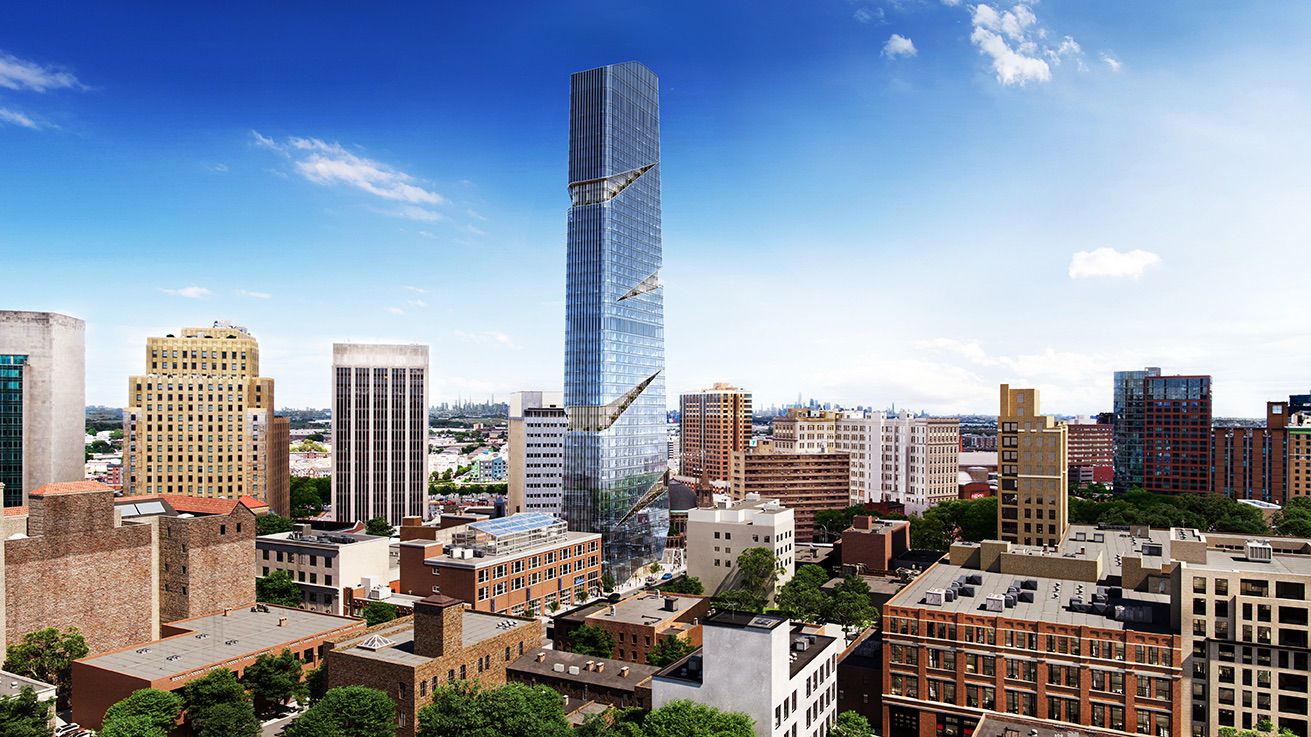 Dubbed the Arc Tower, the project is slated to include 344 rental units that break down as 94 studios, 175 one-bedrooms, 73 two-bedrooms, and two three-bedroom spaces. The ground floor will feature 1,800 square feet of retail space situated along Broad Street plus a first-floor "mezzanine" consisting of a co-working amenity for residents.
INOA Architecture describes the Arc Tower as having "an elegant slender profile, with sloped facades and an articulated curtain wall with projected fins." The complex will feature recessed terraces within a double-skin facade to provide a wind protected outdoor living experience within the high rise.
The base of Arc Tower will slope inward as part of an effort to create a public plaza. Planned perks for residents include a gym, lounge, and movie theater within the development, which aims to both blend in and stand out in the city.
"With its glass and metal façade, the tower blends in with the historically commercial context of the Military Park district and represents the future of Newark while positioning itself to be an icon for the city," says INOA Architecture's Murat Mutlu.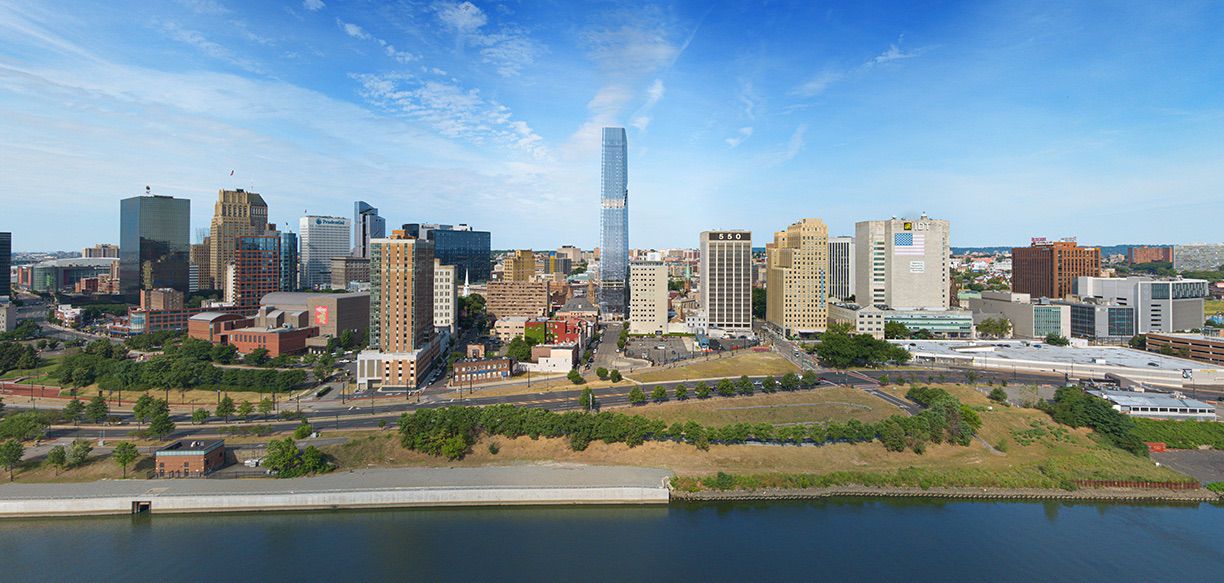 The two unoccupied structures currently on the properties will need to be torn down to advance the project, with the neighboring 567 Broad Street and the Washington Florist building remaining.
Despite the planning board's approvals, the developer's application to demolish buildings at the site was previously rejected last November by Newark's Landmarks & Historic Preservation Commission.
However, INOA Architecture shared with Jersey Digs that Newark's Central Planning Board "has concluded that the project is approved without going back to the [Landmarks & Historic Preservation Commission]." Despite the apparent green light, a groundbreaking date for the Arc Tower has not yet been announced.