A tower in the works for several properties along Broad Street in Downtown Newark will soon be the subject of debate as the sky-high proposal would require demolishing several structures that have stood in the neighborhood for decades.
On November 2, Newark's Landmarks & Historic Preservation Commission will be holding a meeting to discuss several lots at 569-571-577 Broad Street. The parcels, situated about halfway between Military Park and Harriet Tubman Park, currently house a vacant two-story retail structure and an empty rowhouse along one of Newark's most prominent roads.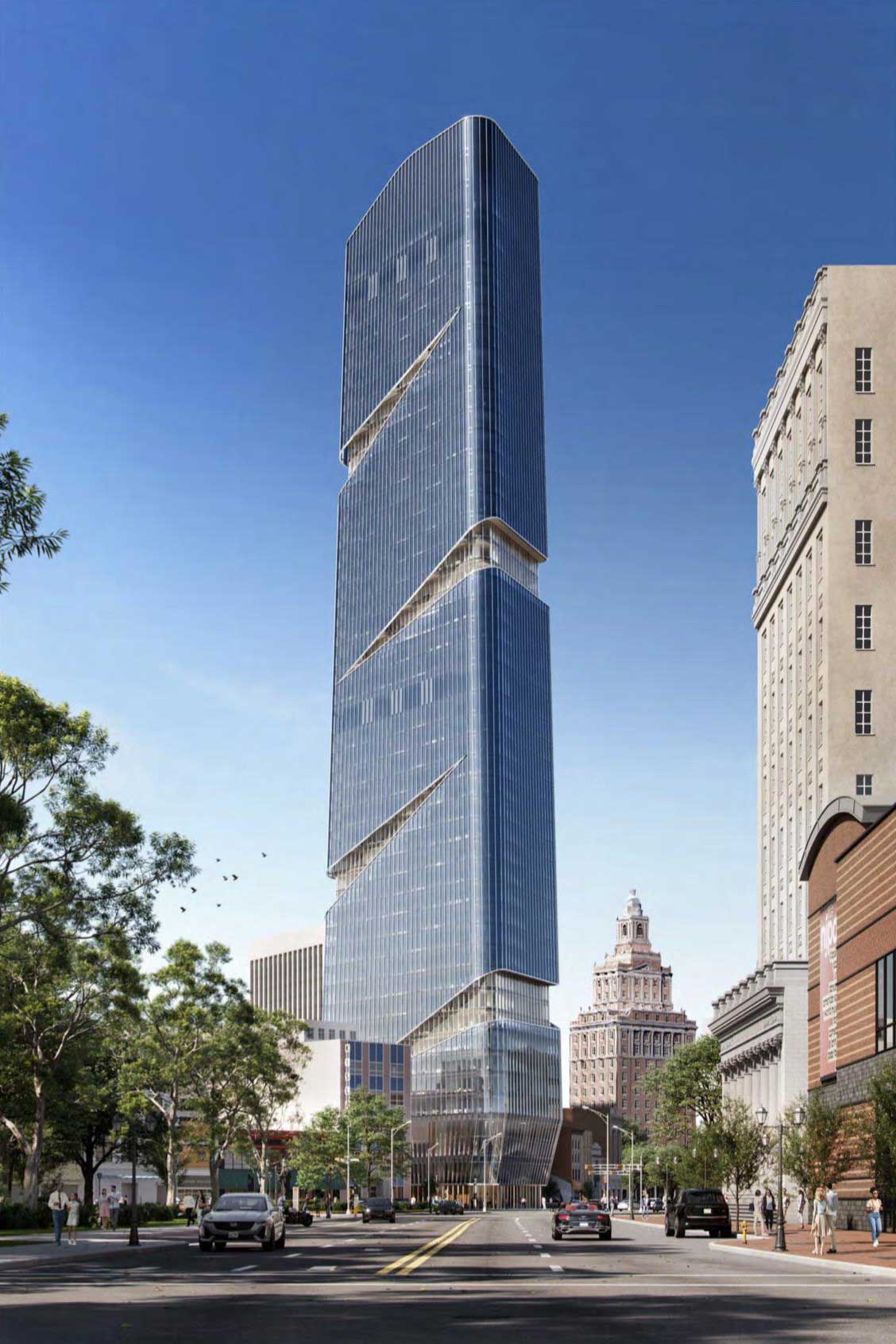 The properties have long been targeted by developers and are currently owned by an LLC registered out of Bedford Avenue in Brooklyn. The two unoccupied structures would be torn down under the plan, with the neighboring 567 Broad Street and the Washington Florist building remaining.
The current plan, dubbed Arc Tower in documents submitted to the city, would rise 45 stories and 520 feet at the highest point. The proposal has been drawn up by New York-based INOA Architecture, who have designed several other high-profile projects in Newark including the Halo and a 203-unit development at 50 Sussex Avenue.
344 residential units are included in the Arc Tower proposal, breaking down as 94 studios, 175 one-bedrooms, 73 two-bedrooms, and two three-bedroom spaces. The ground floor would feature 1,800 square feet of retail space situated along Broad Street plus a first-floor "mezzanine" consisting of a co-working amenity for residents.
The second floor of the development would include a gym with various exercise and yoga areas, although the project does not include any parking spaces for cars. The entire building would utilize different curtain wall varieties on its exterior plus metal panel cladding on the first floor.
The project as pitched does not require any existing variances from the Broad Street Station Redevelopment Plan according to the developer's application but does require demolition authorization from Landmarks & Historic Preservation Commission. Further approval would also be needed from Newark's planning board before the tower can move forward.
For now, the Landmarks & Historic Preservation Commission will be holding their November 2 session on Zoom to discuss the Arc Tower plan. The meeting begins at 6 p.m. and can be joined by members of the public at this link or by using the Webinar ID 811 2402 3443.