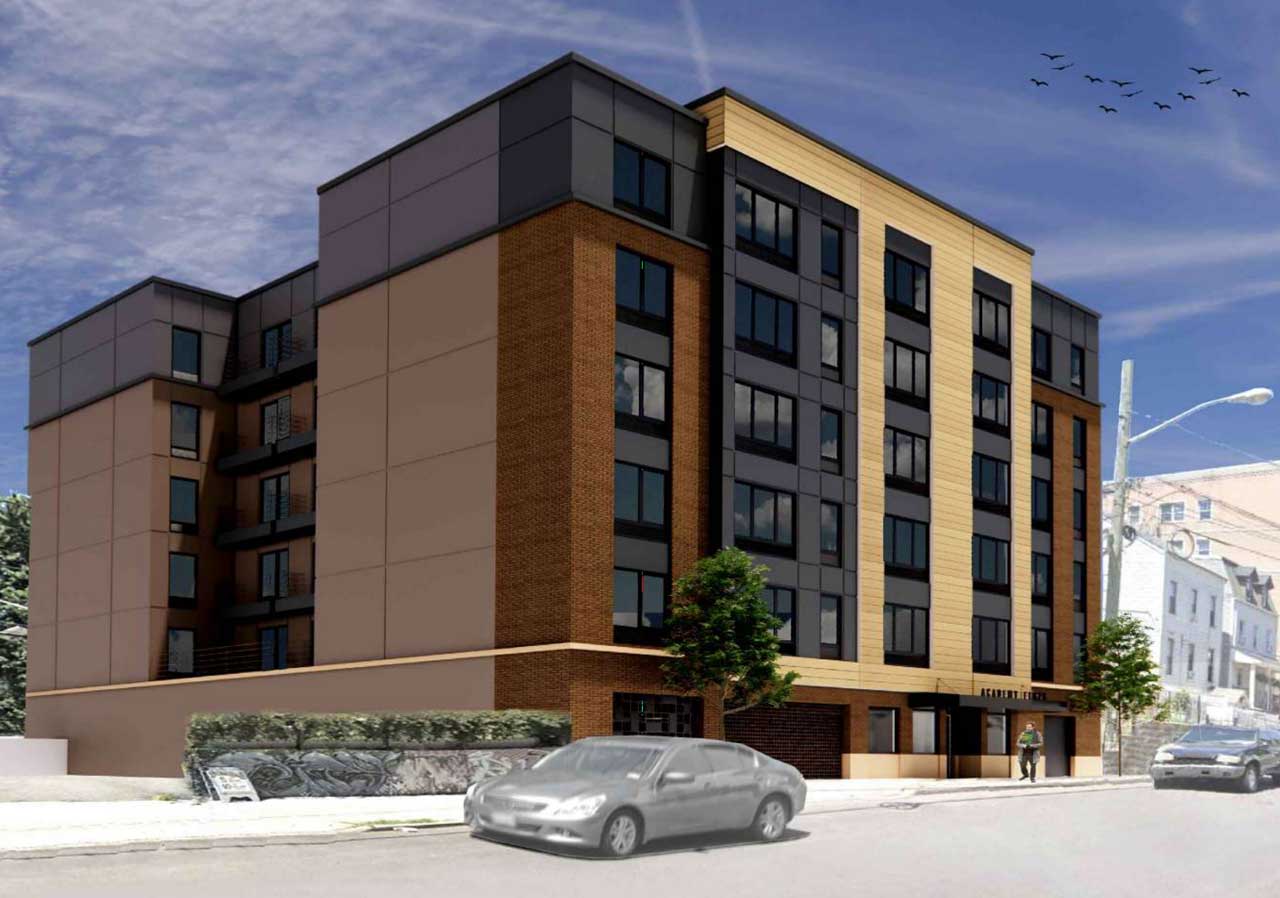 Two homes and a parking lot could soon meet the wrecking ball and be replaced with a modern residential building if officials grant approvals to overhaul several parcels on a block that has been vertically evolving in recent years.
Plans were submitted last year to redevelop 181-189 Academy Street, which is located about half a mile from the Journal Square PATH station. The land falls within Zone 4 of the Journal Square 2060 Redevelopment Plan and ownership of the property, through a company called 181-189 Academy LLC, can be traced to two Jersey City residents and Mountain Lakes-based Ben LoPiccolo Development Group.
While the current structures at the land rise just two stories, Strategic Properties is completing a 122 "micro-unit" development across the street called The Nest and several other mid-rise developments have been built along the stretch. The latest proposal looking to join the party, dubbed Academy Flats, is designed by Inglese Architecture and Engineering and would rise six stories.
The potential development would include 70 residential units and five parking spaces, down from the initial 20 spots that were planned in the project. The apartments currently break down as 30 studios, 35 one-bedroom, and six two-bedroom spaces. The application states that none of the units are to be designated as affordable housing.
The garage at the project would be entered on Academy Street and a stormwater detention system is planned for the development. The proposal sets aside 515 square feet of amenity space on the ground floor and other features at the development include a ground-level bike room, an outdoor dog run, and a 1,500-square-foot open-air rooftop terrace.
The exterior of the project is slated to utilize brick veneer, fiber cement panel, and aluminum siding elements. The proposal would need seven variances to move forward, but they are all relatively minor. The most significant deviation relates to height of just over 66 feet where 64 feet is allowed, and variances allowing no setback plus a building depth of almost 114 feet where 95 feet is the maximum would also be required.
The development is additionally asking for variances allowing a slightly smaller parking stall width than allowed, a smaller parking drive aisle width, a garage entrance with no setback, and no inclusion of three-bedroom units within the project. A report from the city recommended the variances be granted, as "the project replaces a non-conforming surface parking lot with an attractive multi-family residential building that is more suitable for this neighborhood."
Jersey City's planning board was scheduled to hear the Academy Lofts application during their February 2 meeting, but the application has been carried to the February 16 agenda.