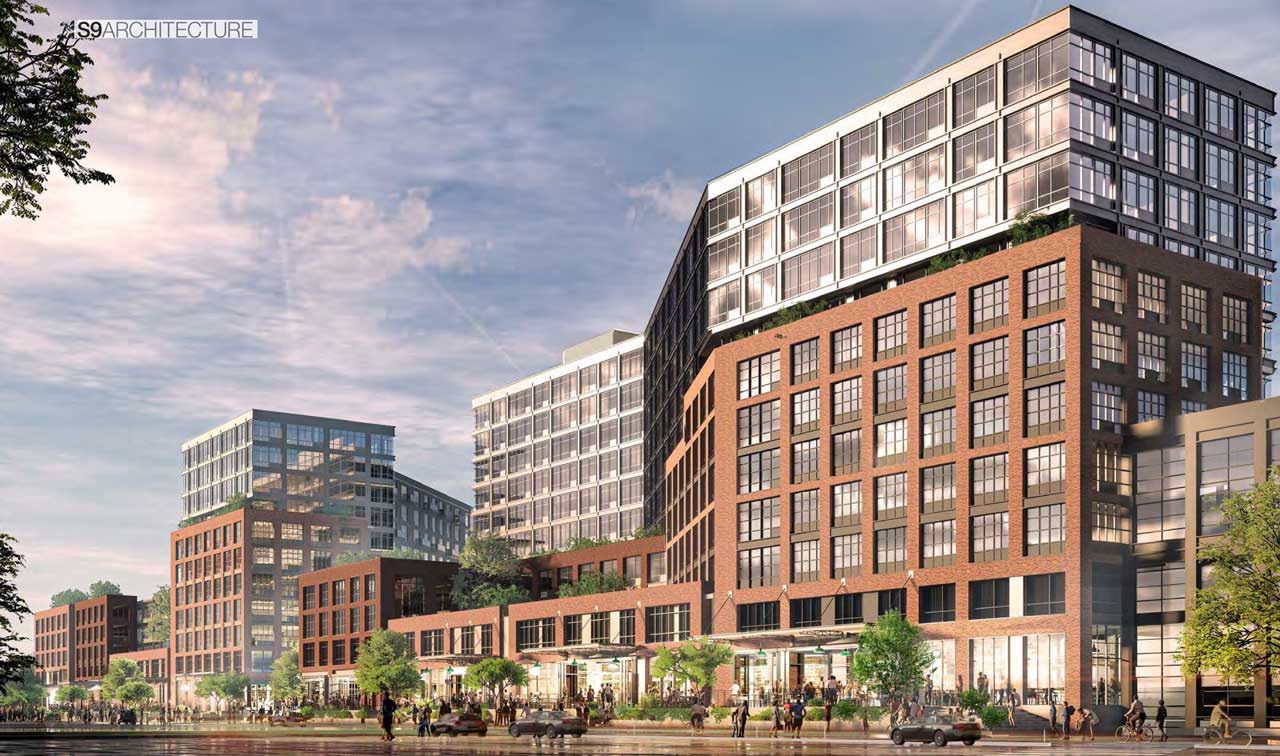 The path has been partially cleared for a three-building complex to rise at an industrial property along Hoboken's western edge that would also help fund the buildout of a new park about two blocks away.
During their December 21 meeting, Hoboken's City Council voted 7-2 to approve a redevelopment agreement for 930 Monroe Street. The 4.3-acre property is currently home to an Amazon fulfillment center, but Jersey Digs reported on a proposal to revitalize the land last July following a community meeting.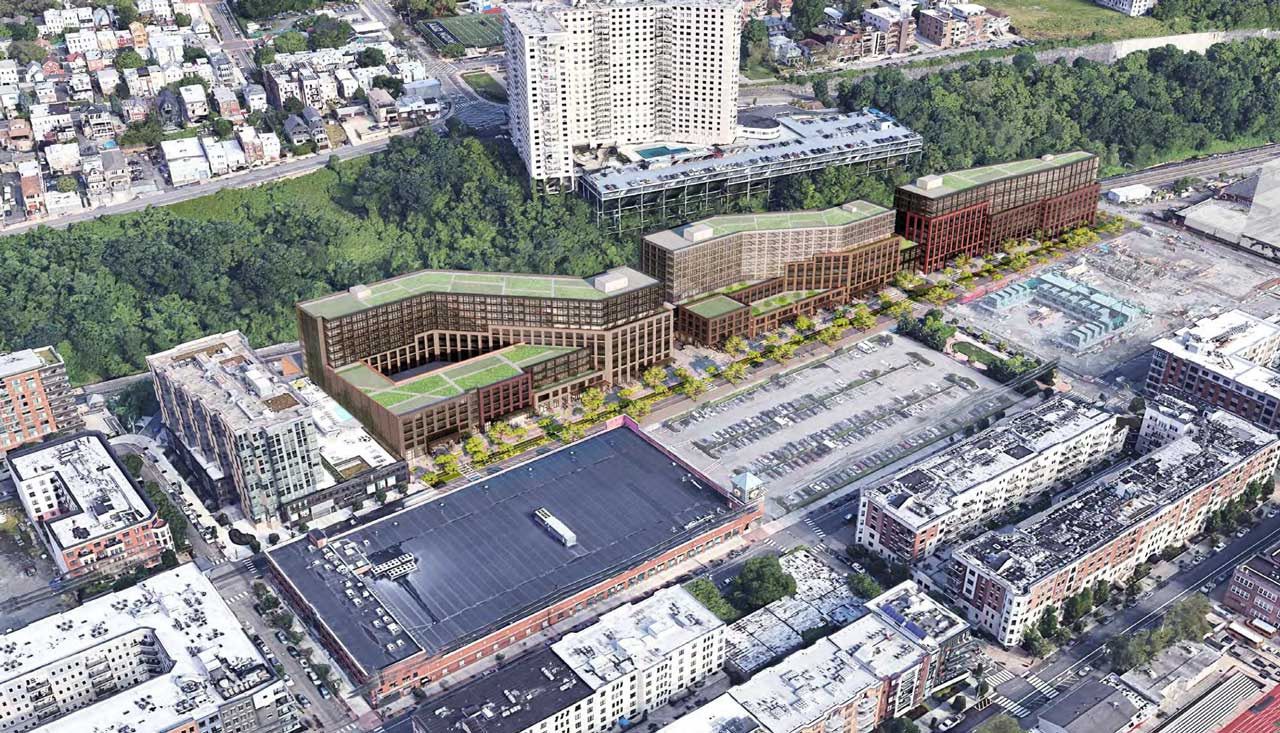 The parcel is owned by Madigan Development, who built Jersey City's Liberty Towers among other projects throughout the tri-state area. The envisioned project has been designed by S9 Architecture and would feature a trio of structures topping out at 116 feet including up to 675 residential units, with 10% set aside as affordable housing.
A minimum of 47,000 square feet of retail space is slated for the ground floor of the buildings, as are 575 parking spaces including 100 set aside for the community. The structures would all be LEED Certified and feature green roofs plus a 360,000-gallon underground storage tank to manage rainwater runoff.
The redevelopment agreement includes a $15 million community benefit contribution from the developer, which will be utilized largely for construction costs of a planned resiliency park at 800 Monroe Street. Hoboken acquired that 1.4-acre parcel in a settlement agreement with Ironstate Development last year.
"I couldn't be more thrilled that Western Hoboken will continue to be revitalized with this new, mixed-use development while also realizing critical funds to build out a new resiliency park at 800 Monroe," said Mayor Bhalla.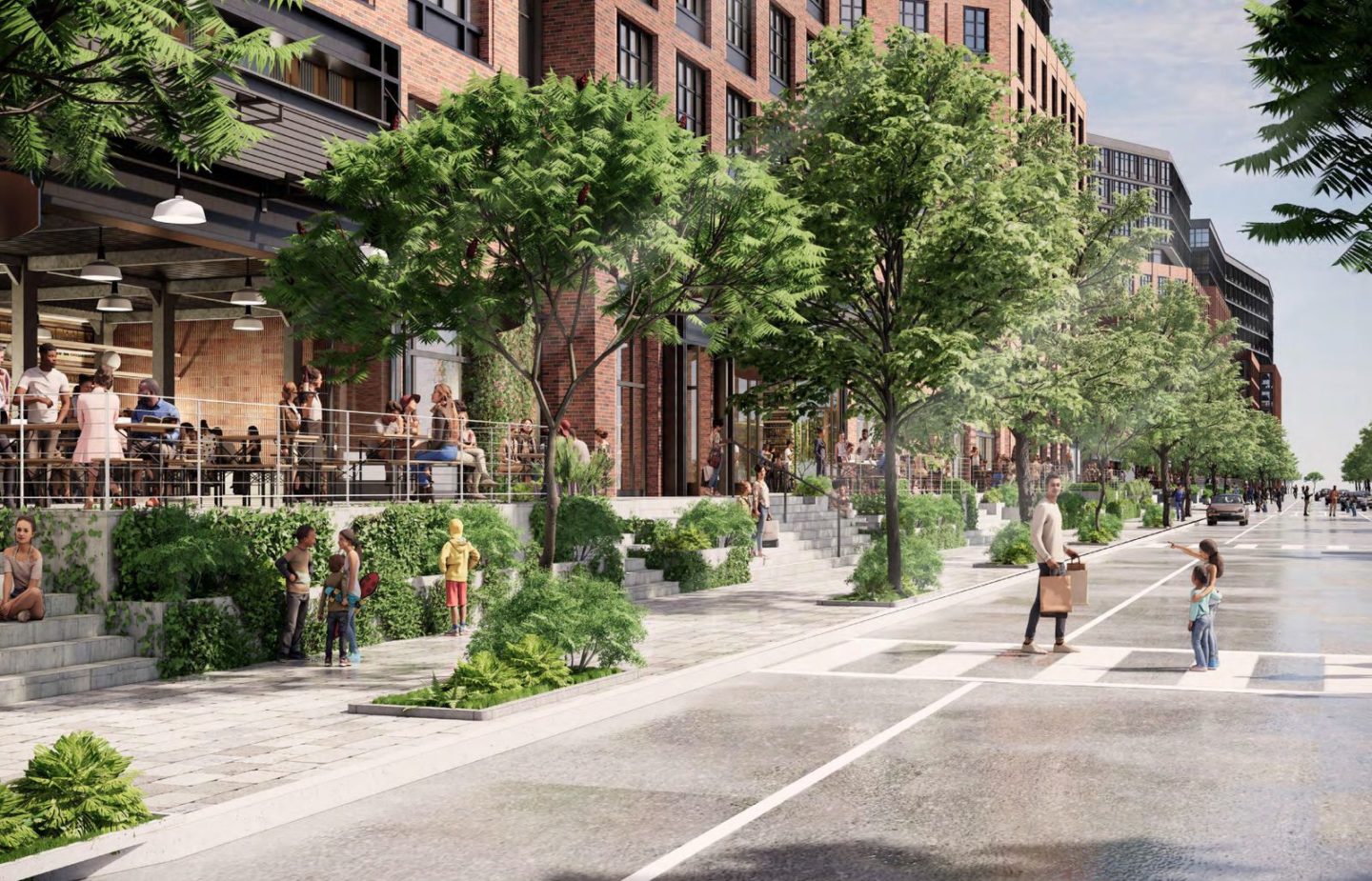 "Residents will soon realize the many quality of life benefits we negotiated in this plan, including an unprecedented $15 million for a new park and green circuit, substantial infrastructure to further address rainfall flooding, much-needed retail and commercial space, and additional affordable housing options."
The benefit contribution will also be utilized to build out a multi-modal "green circuit" adjacent to the buildings as called for in the Western Edge Redevelopment Plan. That portion will include a protected bike lane alongside a pedestrian path.
The development still needs to be approved by Hoboken's planning board, which could present a challenge if history is any indicator. A mixed-use project at 1300 Jefferson Street had an approved redevelopment agreement in place from 2020 before being rejected by the planning board last year due to building height objections raised by neighboring Union City and Mayor Brian Stack.
A still unsettled lawsuit was filed by the developer over the matter, and no work has begun at the site amid the legal stalemate.
Second Ward Councilwoman Tiffanie Fisher lamented the wall-like layout of 930 Monroe Street when voting no on the redevelopment agreement during the council's meeting, arguing that Hoboken "created a design based on the requirements of a mayor who is trying to protect the views of his residents."
A representative from Mayor Bhalla's office noted during the council meeting that the city sent a letter to Mayor Stack giving him an opportunity to engage on the project, but they have not yet received a response.