A three-building plan that first emerged last year has upped the proposed unit count significantly but now includes a developer-financed buildout of a new green space.
Back in January 2020, Jersey Digs broke the news about a proposal for a 4.3-acre property at 930 Monroe Street. Currently home to an Amazon fulfillment center, the previous pitch envisioned 393 units in a trio of mixed-use buildings that included retail and plazas near the 9th Street Light Rail station.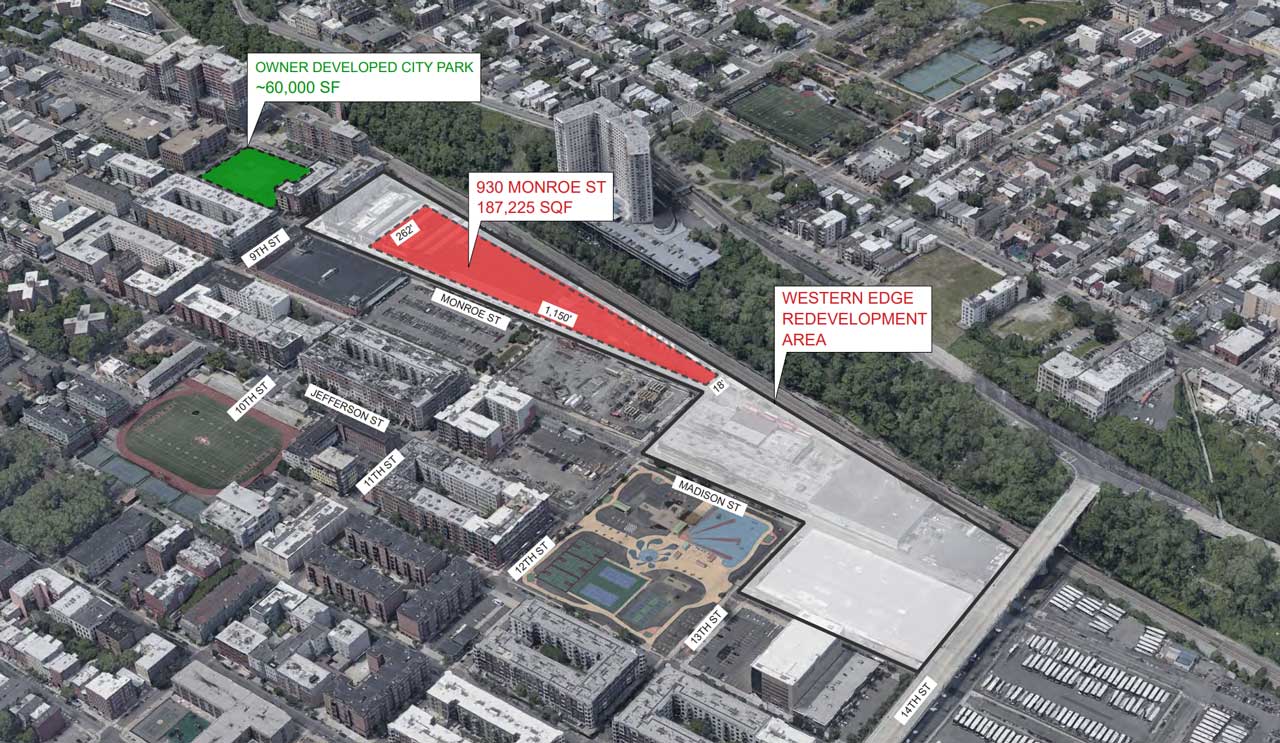 The parcel is owned by Madigan Development, who built Jersey City's Liberty Towers among other projects throughout the tri-state area. The company recently presented their new supersized plans during a virtual community meeting and they are now proposing 675 residential units spread out between three structures that would top out at 116 feet.
Designed by S9 Architecture, the aesthetic of the proposal is similar to what initially surfaced last year. The residential component will include a 10% affordable housing component per Hoboken's regulations and 50,000 square feet of retail space is slated for the ground floor of the buildings. 575 parking spaces, including 100 set aside for the community, are included in the proposal.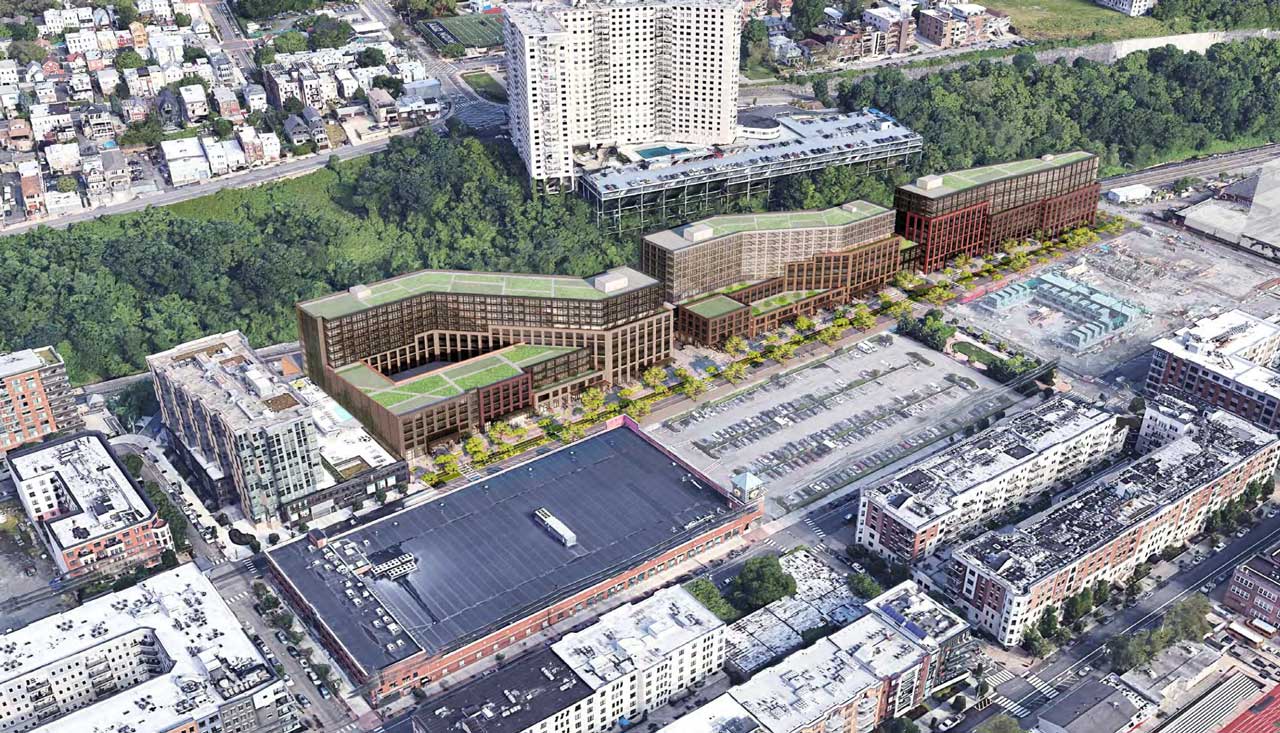 The structures would all be LEED Certified and feature green roofs plus a 355,000-gallon underground storage tank to manage rainwater runoff. The developer would spend $5 million on a component dubbed a "green circuit" along Monroe Street that includes a linear park in front of the building sporting a two-way dedicated bike lane and outdoor seating areas.
A new component of the plan emerged during the meeting, as Madigan Development has agreed to spend $10 million to develop a 1.5-acre park at 800 Monroe Street. Amenities shown in the design of the park include a playground, a centrally located fountain, and several walking paths.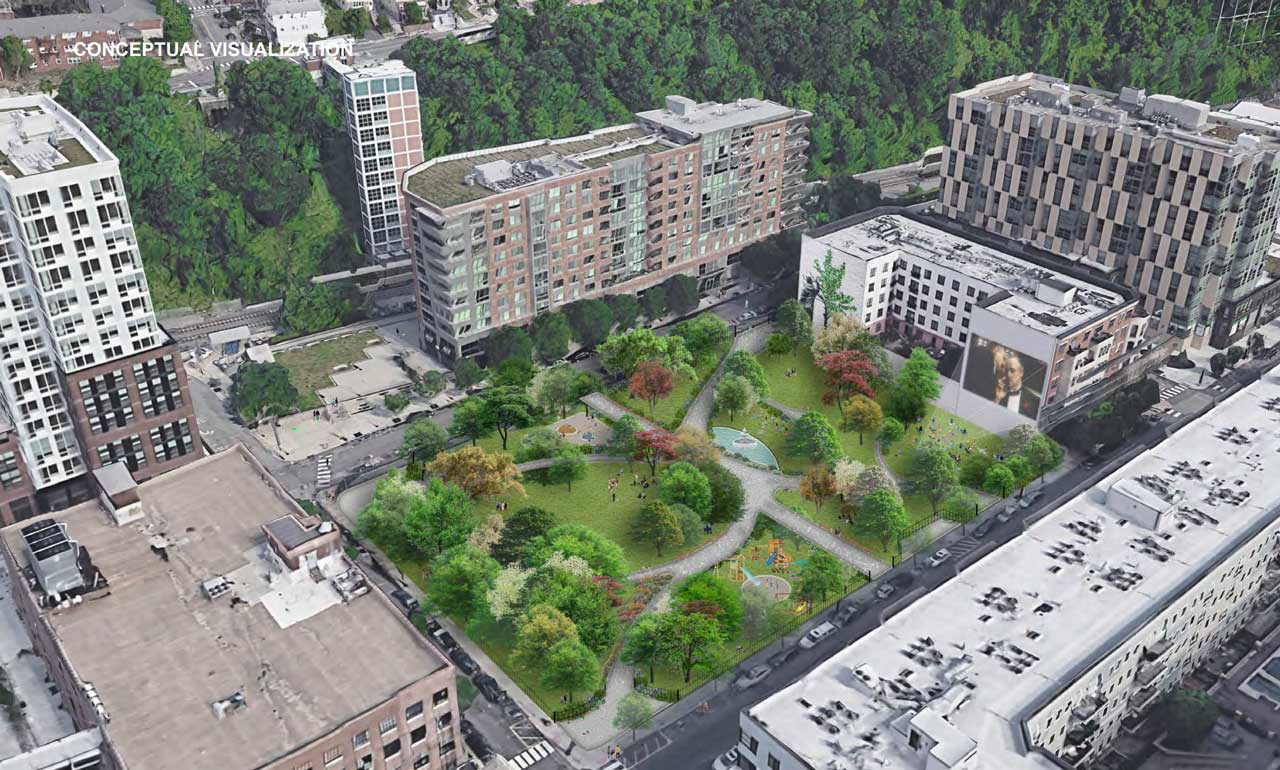 Hoboken acquired the parcel in a settlement agreement with Ironstate Development last year and has earmarked the property for open space.
930 Monroe Street falls within the Western Edge Redevelopment Plan and would need some amendments to move forward. While the building height of the current proposal conforms to current zoning, changes related to reducing the setback from the light rail, lowering the first-floor area ratio, and modifying the bonus floor area ratio are being requested.
The next step in the process involves the city council approving possible amendments to the redevelopment plan, which would then need to be reviewed by the planning board. The earliest any amendments could emerge is during the council's next meeting on August 18.