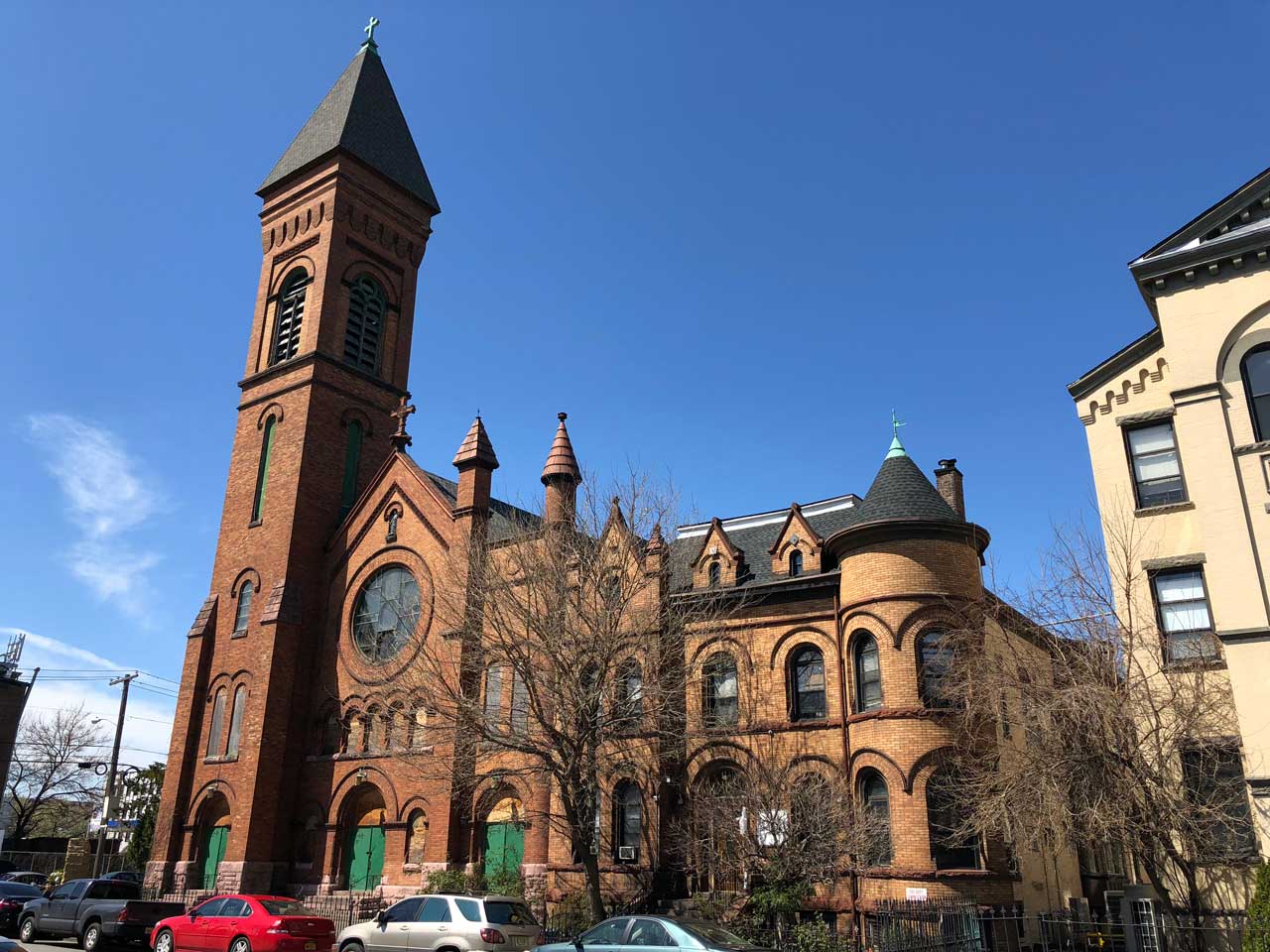 One of Jersey City's historic but neglected properties would be revitalized under a plan announced by the mayor, although some details and when exactly it could gain approval remain somewhat up in the air.
Earlier this month, the city announced a public-private partnership that would breath new life into the former St. Lucy's Church property at 619 Grove Street. Originally constructed in 1884 as a parish for Irish immigrants living in the area, the building served as a house of worship until the 1980s before closing.
An adjacent school building next door currently serves as a homeless shelter run by Catholic Charities, but the original church has admittedly seen better days. Plywood covers several of the property's windows and the building was included on Preservation New Jersey's 2018 list of the 10 Most Endangered Historic Structures in the state.
A building boom in the neighborhood has some concerned that the building could be lost, so the city is taking some steps to achieve a better ending. In the announced deal, the Archdiocese of Newark would sell both the church and existing shelter to Claremont Companies, who would preserve and rehabilitate "key historic features" on the church while constructing a glass-heavy addition rising a total of 20 stories.
The church property, designed by Hoboken-based Minervini Vandermark, would include 430 units of housing consisting mostly of luxury rentals. Mayor Steve Fulop told the Jersey Journal the plan includes mostly market-rate units and "some" affordable housing, although he didn't offer specifics as to the breakdown of the building.
In exchange for the opportunity to add density to the neighborhood, Claremont would fully fund and construct a new $15 million, five-story homeless shelter facility on a currently vacant parcel across Grove Street from the facility. The potential new shelter, designed by Princeton-based architect Steven S. Cohen, would be able to house 150 people, up from the 120 capacity at the current building. It would also provide housing for 14 people living with HIV/AIDS and include six units of permanent housing.
Under the deal, the shelter would be built before the luxury housing portion and Mayor Fulop says that Claremont will not receive any tax abatement for the project. A zoning change needed to make the development possible was scheduled to go before the city's planning board last week, but that meeting was canceled. The earliest the changes could head to the board would be their January 8 meeting next year.
If the planning board signs off on the modifications, the city council would then have to approve the deal before shovels can go into the ground.