While many new developments throughout Jersey City are quite similar in terms of design and structure, a new proposal in the Paulus Hook neighborhood of the city's Ward E could bring a somewhat different kind of complex to the community.
An agenda from the September 17 meeting of the Jersey City Historic Preservation Commission (HPC) shows that the Hoboken Brownstone Company is planning a roughly four-story mixed-use project at 83-89 Morris Street, which consists of five properties by the corner of Washington Street. The application, which was reportedly recommended to the city's Zoning Board of Adjustment for consideration, calls for 19 units in the building. Two of the units would be considered to be part of a bed-and-breakfast while the remaining 17 would be designated as residential. A penthouse would also be included in the complex.
Should the plans continue to move forward, the development would be built around the three-story building from 1860 that currently contains the Bistro La Source French restaurant on the first floor. As part of the project, the interior of the building would be renovated while the facade would be repaired and new windows would be installed, according to the meeting agenda.
Undated renderings that were posted on the websites of Manhattan-based Jorge Mastropietro Architects Atelier and architect Jorge Aguirre show plans for a 28,000-square-foot project on the premises. The complex would include "smart parking" in the basement along with terraces, a green roof, and a reception and lounge area, according to the renderings. The eastern part of the development would be built where a gated garage currently stands while the western portion would replace a parking lot and outdoor seating area for the restaurant.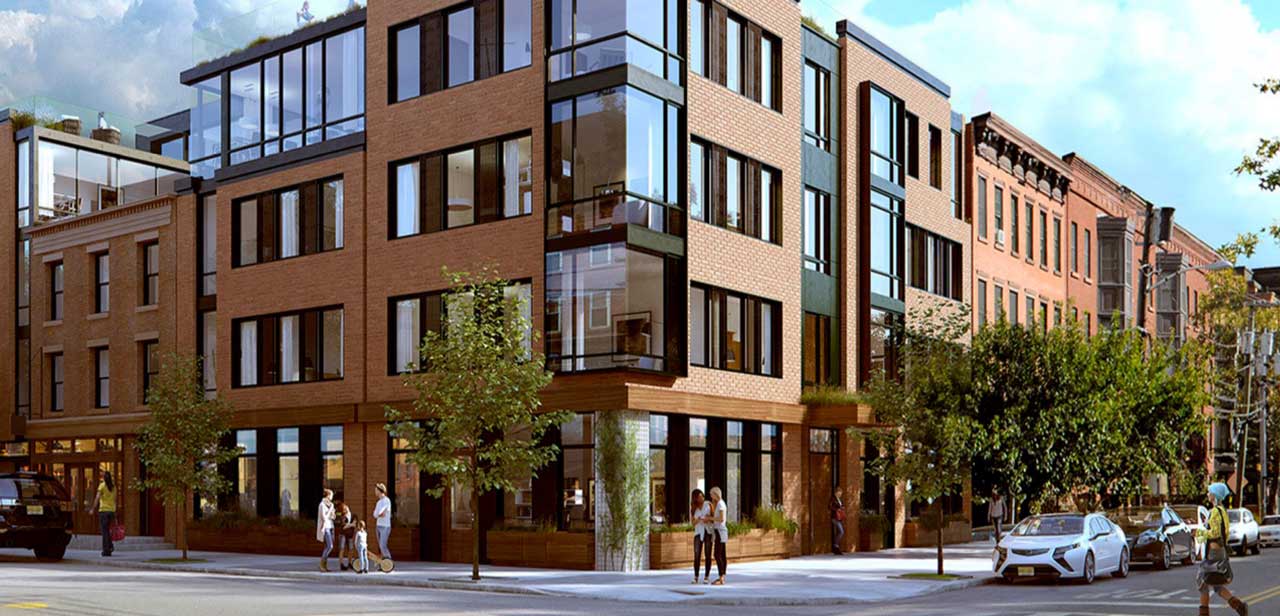 City tax records show that KAJN, LLC owns the properties 83, 85, 87, 87.5, and 89 Morris Street. However, the agenda for the HPC's September 17 meeting lists the Hoboken Brownstone Company as the contract owners of the site. The Coles Street-based firm is involved in projects such as 39 New York Avenue, 305 Coles, The Enclave, and Van Leer Place.