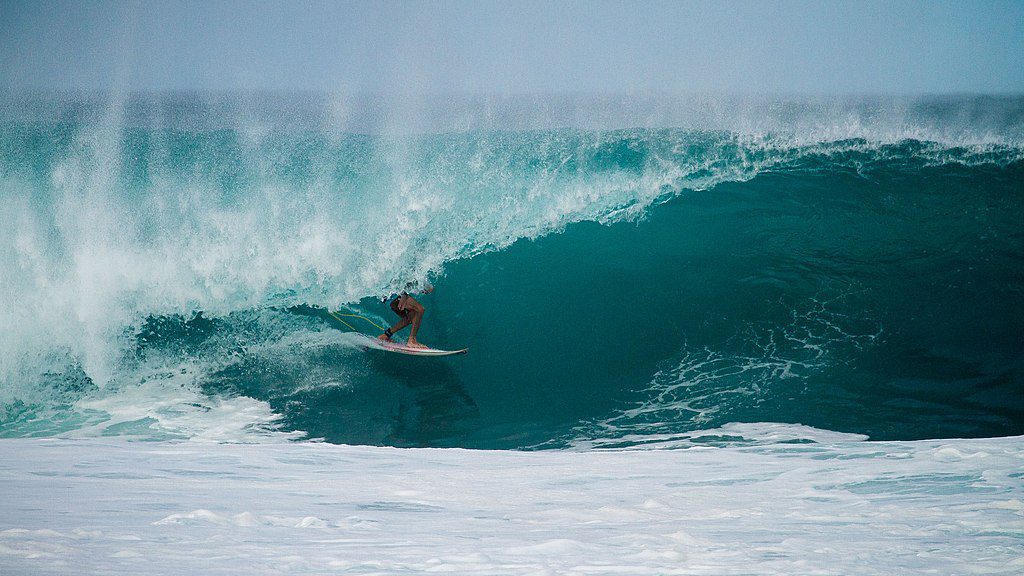 We know what you're thinking — surfing in New Jersey? But put your doubts aside and learn about surfing in New Jersey.
The Jersey Shore offers plenty of great places for surfers to catch a wave. From Atlantic County down to Cape May, New Jersey surf culture is alive and well.
The shore offers surf spots for riders of all experience levels. When it comes to surfing in New Jersey, whether you're an experienced surfer, or a beginner looking for surf lessons, there's a beach that's right for you.
We'll introduce you to New Jersey surf culture, then help find the New Jersey shore point that's right for you. The water's fine and there are good waves to catch — so let's drop in!
New Jersey Surf Culture is Unique and Thriving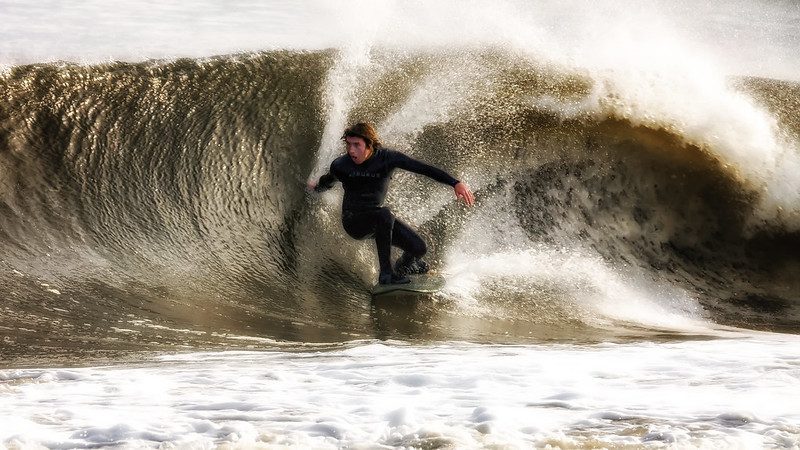 The New York metro area is the world's greatest melting pot, and NJ surf culture is much like the area which surrounds it. The Garden State doesn't rival California or Hawaii, but local surfers exude passion and dedication year-round.
Much of NJ's best surfing is done in off-peak months — not the summertime surf many people envision. It takes a devoted surfer to hit the beach for some fall and winter waves, and New Jersey has plenty of them.
Novice and beginner surfers use the summer months for surf camp, lessons and family outings.
New Jersey features nearly 4 dozen dedicated surf shops and a slew of places to buy wetsuits (which you'll need for surfing in colder months). There are also plenty of restaurants and eateries dedicated to surf culture — notably Surf Taco, a Point Pleasant-based chain with 10 locations.
Check Out These Jersey Shore Surf Spots
The right New Jersey surf spot is a personal decision. Different beaches have different swells and wave patterns. Certain Jersey Shore locations offer surf camp and other experiences for beginner surfers.
Here are 6 fun New Jersey beaches for surfing, along with what makes each of them great.
Manasquan Inlet Beach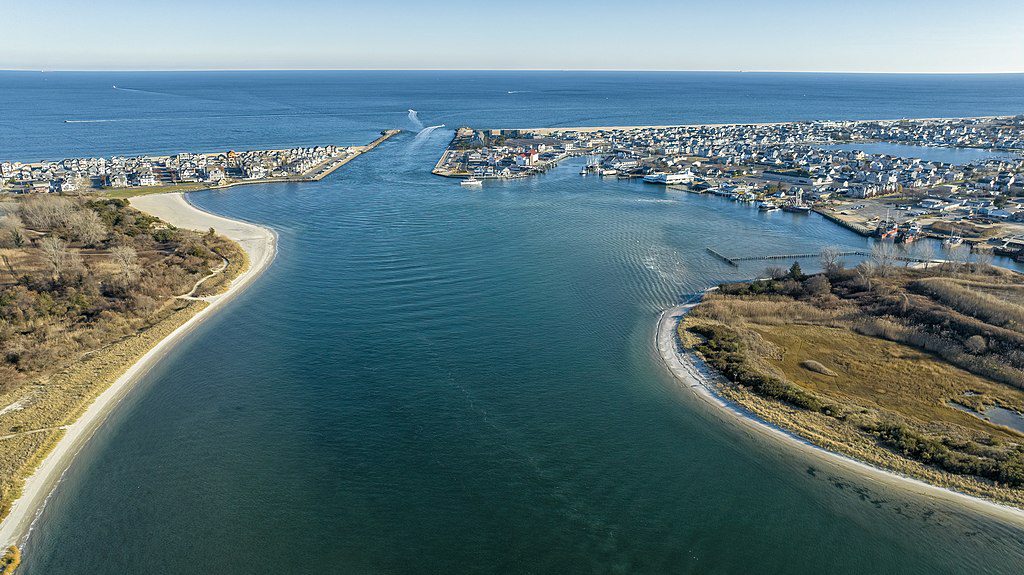 Manasquan's Inlet Beach offers the most consistent good waves on the Jersey Shore. Located just north of Point Pleasant in Monmouth County, this popular surf destination thrives due to some smart construction.
Inlet Beach features a large man-made jetty that catches a ton of ocean swell. This produces waves that can reach up to 20 feet, which makes Manasquan a magnet for experienced surfers.
The best waves on Inlet Beach are found at the end of 1st Avenue — but fair warning, don't expect to have the beach to yourself.
Expect a crowd during summer and peak surfing months. Inlet Beach is also a popular fishing destination, so surfers will share beach space with anglers.
If you're an experienced surfer that wants good waves without leaving the Garden State, Manasquan is still your go-to surf spot. The crowds are worth the waves you'll catch surfing in New Jersey.
Bay Head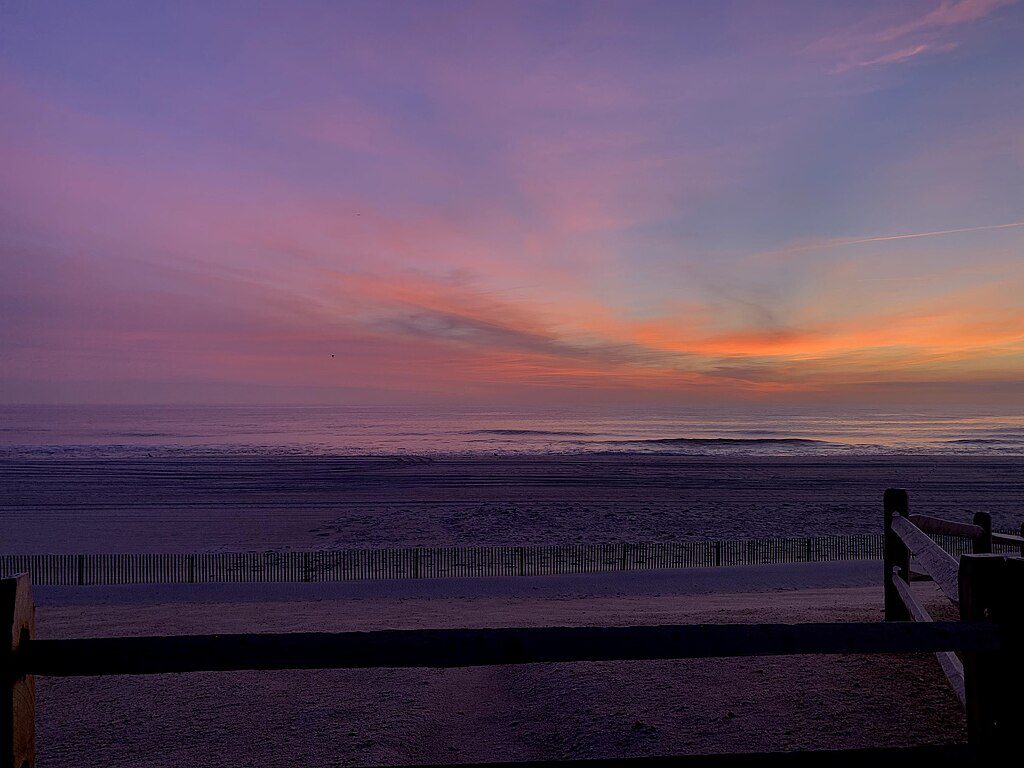 Bay Head is a fun surf spot that's amenable to beginners. You can find it due east of Brick and north of Seaside Heights, along Route 35 in Ocean County.
The local scene is described as friendly and encouraging. The waves are generally smaller than average, but they're consistent and not intimidating.
Bay Head's a good pick for beginners to grab some experience. There are paddleboard and surf lessons frequently listed on the town's Business Administration website — a positive show of support by the town for its surf culture.
If you're an expert surfer looking for big, technical waves, you'll likely find Bay Head pleasant but not exciting. If you want low-stress surfing on a less crowded beach, put this spot on your list.
Belmar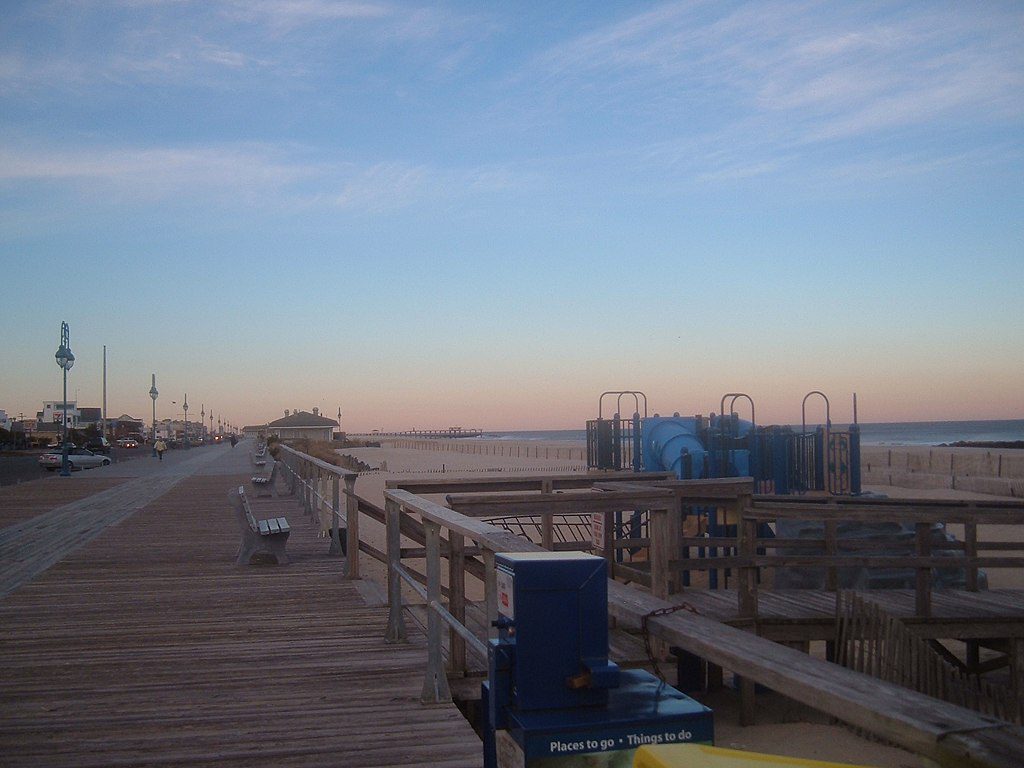 Belmar is one of the Jersey Shore's best known shore points. It's located in Monmouth County, roughly 10 minutes south of Asbury Park.
Belmar's dedication to surf culture is perhaps the best in New Jersey. The annual Belmar Pro surf competition features some of the world's best surfers catching waves between 16th and 18th Ave. Surf fans must attend the Belmar Pro, which coincides with the Belmar Seafood Festival and tons of parties.
The beaches feature an eclectic mix of beginner and pro-quality surfers. When the wind blows in from the west, you'll catch some strong head-high sets. Belmar's combination of exposed beach and jetty creates quality year-round surfing. The beach break offers both right and left-hand waves.
The best Belmar surfing happens in September in the weeks surrounding the Belmar Pro. The water temperature isn't too cold, and the rising hurricane season creates better sets.
PRO TIP: Longboard surfers tend to prefer neighboring surf spots at Bradley Beach over Belmar. There are also quality Bradley Beach surf lessons available for new riders.
Seaside Park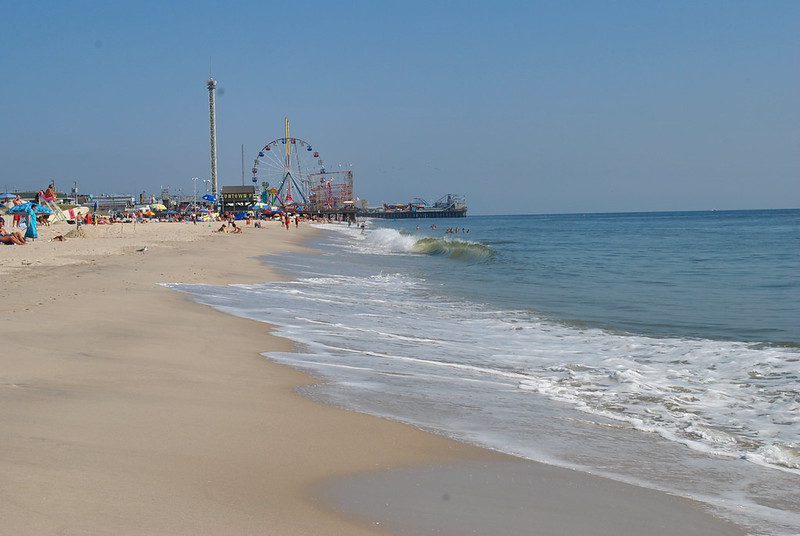 Seaside Park is one of the Jersey Shore's best beginner surf spots. It's located on the Barnegat Peninsula in Ocean County, north of Island Beach State Park and south of Lavallette. The best access point by car is Route 37 through Toms River.
Seaside Park was a booming surf spot in the 1970s that suffered due to coastal erosion and major storms (Hurricane Sandy, etc.). Local restoration projects to areas like Surfer's Point have significantly improved the area and offer a lot of optimism about the future of Seaside area surfing.
Tourist surfers in this area head to Casino Pier in Seaside Heights for good tube surfing. But there are equally decent beach breaks in Seaside Park that are far less crowded. They result in a relaxed experience for new surfers to improve their skills.
Much like Belmar and other shore points, the best waves in Seaside Park show up around September. But if you want a steady summertime surf beach that isn't packed, it's a fine year-round option.
Stone Harbor (Nun's Beach)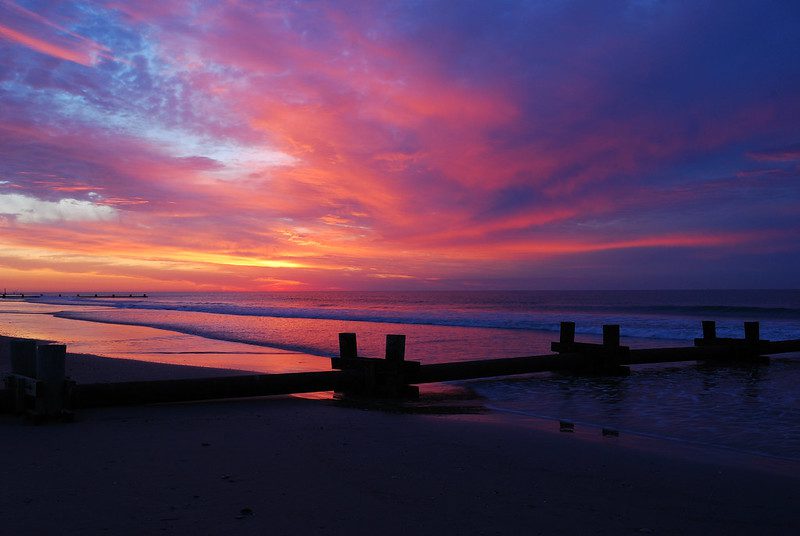 Seven Mile Island is one of New Jersey's most beautiful locations. Nun's Beach in Stone Harbor is the cornerstone of surf culture in this area of Cape May County. It's accessible via the Stone Harbor Boulevard crossing onto the island — Nun's Beach itself is located off 11th Street.
It's a recurring theme — September and October are the best months for surfing in Stone Harbor. Nun's Beach is a fun sandbar beach that offers normal to long rides. The fall months provide good waves that are over head-high.
Nun's Beach has a rich surfing history as the host of past Nun's Beach Surf Invitational events. The waves are suitable for beginner and intermediate surfers, and the beach is extremely clean and not absurdly crowded.
The two main upsides to surfing Nun's Beach are consistency and cleanliness. The towns on Seven Mile Island take pride in beach maintenance. Your waves, while not the biggest or most technical, will be consistent and enjoyable.
PRO TIP: Take waves to the left on Nun's Beach. There are a few hazards heading to the right, including a storm drain and some jagged rocks.
Cape May (Broadway Beach)
Broadway Beach is Cape May's most popular surf destination. It's located centrally on the southern tip of Cape May, accessible by S Broadway and Beach Avenue.
While Broadway Beach is crowded, it offers the best variety of waves in town. The wave height isn't incredibly high, but the quality is there — there are especially good lefts that break off the jetty.
A variety of riders pack Broadway. Expect to see plenty of longboarders here. This is especially true after major storms, when Cape May becomes one of the few surfable areas in New Jersey.
This is one of the few Jersey Shore surf spots that accommodates riders of all skill levels. Beginners can catch some fun short jags, while an experienced surfer can play with good waves off the jetty,
PRO TIP: Surfing is not permitted in summer months during guarded beach hours. Riders are allowed to bodyboard during these times. Beach tags are required at all times.
Surfing in New Jersey | Conclusion
New Jersey surf life is a tale of two experiences. When it comes to surfing in New Jersey, beginner surfers flock to the shore in the summer months for surf camp, family lessons and the overall Jersey Shore boardwalk experience.
The experienced surfer waits out the crowd for fall and winter months, when the waves are bigger and more technical.
Whatever your vibe, the Jersey Shore has some "sneaky good" surf spots to enjoy. So grab a board, pick your beach, and pick a wave!