283 Saint Pauls Avenue was boarded up for 44 years. Longtime residents of the Journal Square neighborhood remember kids playing kickball off the side of the building. Now, a chandelier hanging inside lights up what was previously a dark corner.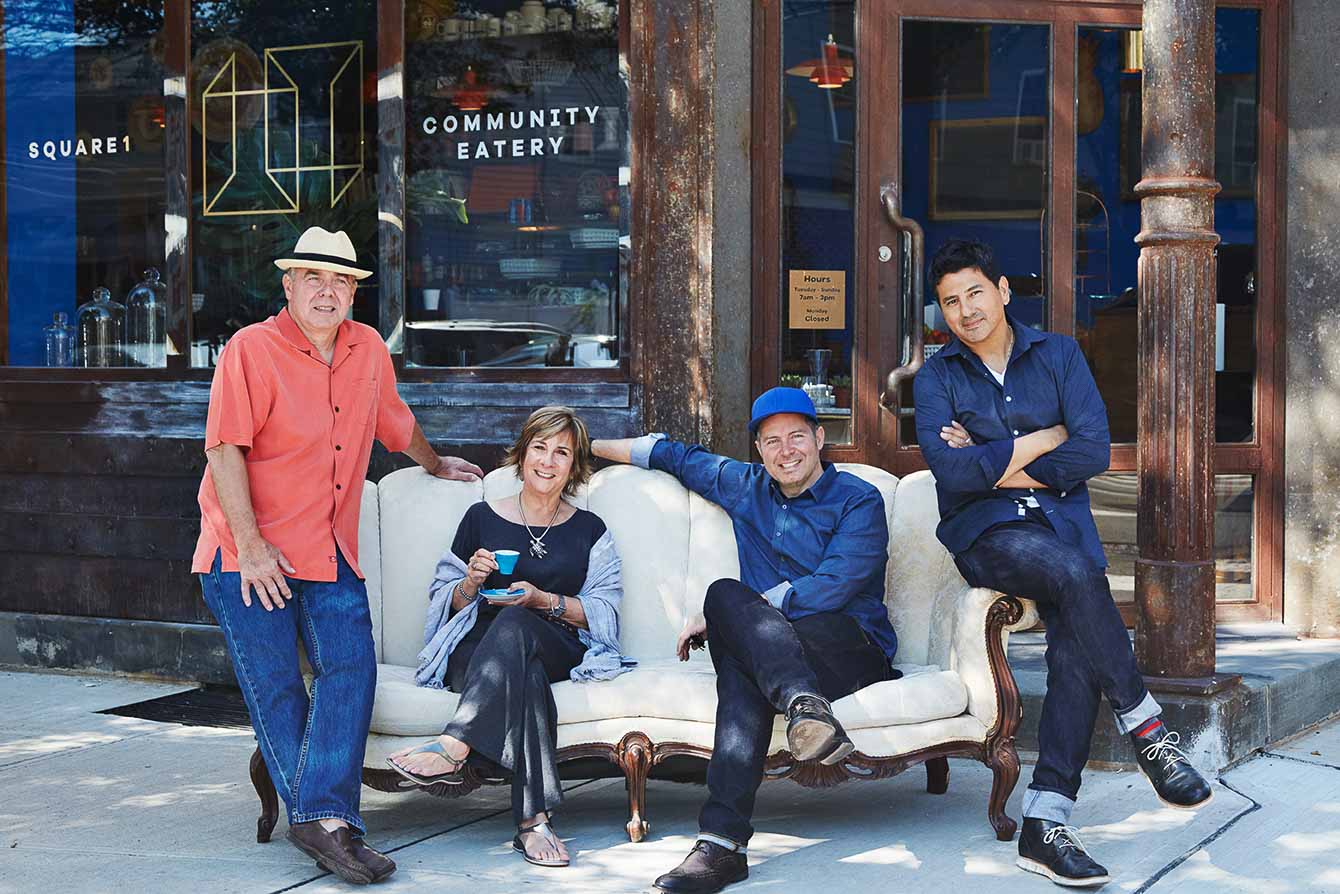 After more than a year of construction, Laura, Marty, Nick, and Mory, four intrepid partners, opened Square 1, Community Eatery. As the name suggests, they wanted to focus their commitment to community and get back to basics: shared space, connection, good food, nourishment. And whether you run in for a coffee to go or sit and eat lunch, their vision is palpable.
Laura Skolar and Marty Gamarello, lifelong residents of Jersey City, successful business owners, and community activists own 283 Saint Paul's Avenue. When they began the hard work of reimagining the boarded-up space, they brought Nick Caballero, a friend through both the Jersey City Parks Coalition and his interior design and construction company, on the scene.
Nick suggested NYC as a mood board and a walk around SoHo and the Village for inspiration–steel, glass, modern, cozy. Laura and Marty eventually approached Nick about becoming a co-founder along with his partner Mory–an obvious choice with 14 years at the Food Network where he started their test kitchen and a culinary background working for Jean-Georges Vongerichten in NYC.
Square 1 opened just 3 months ago and has quickly become what the founders envisioned and Nick sums up as, "The perfect combination of location and a community hungry for a wholesome place to congregate. Having good food is just a plus."
The space is bright with custom lighting–brass vases converted to pendants hanging over the coffee bar and a cluster of kitchenware including a colander hanging upside down over the largest of the tables in the back. Separating the kitchen from the classic bistro tables and mod chairs, is a series of solid wood squares soldered together. They were once storage bins in the basement, but long unused, until Nick chopped them up and gave the wood a second life.
There is a story behind nearly every piece of the eatery's build-out. Even the black bookshelves used to contain cookbooks were acquired serendipitously. 1950s glass stands atop the end of the food prep area, colorful vintage pottery from 1960s West Germany is on display, a large metal screen that would otherwise be landfill casts cool shadows on the bright blue walls.
Square 1 achieves that original idea of a SoHo-Village aesthetic, but it does so with such substance and sets the stage for the neighborhood to commune and tell their own stories.
The coffee is locally sourced from Kobrick's, a 4th generation coffee company that roasts their beans right here in Jersey City. The menu like their motto focuses on fresh, simple, wholesome, and delicious with a few twists on the classics–the bacon and egg sandwich comes with a smear of pesto and there is avocado on toast but also on top of cakey, cheesy arepas. And the board of rotating seasonal specials makes clear Mory's solid culinary skills and sincere passion for food.
The partners wanted Square 1 to be unlike anything in the area and also exactly what the community needed. In a neighborhood exploding with new development, it is a sign of so much to come. Beautiful, friendly, and just plain good–stop in and you'll definitely get back to Square 1.
[gmap height="250px"]283 St Pauls Ave, Jersey City, NJ 07306[/gmap]
Square 1 – 283 St Pauls Ave, Jersey City, NJ 07306