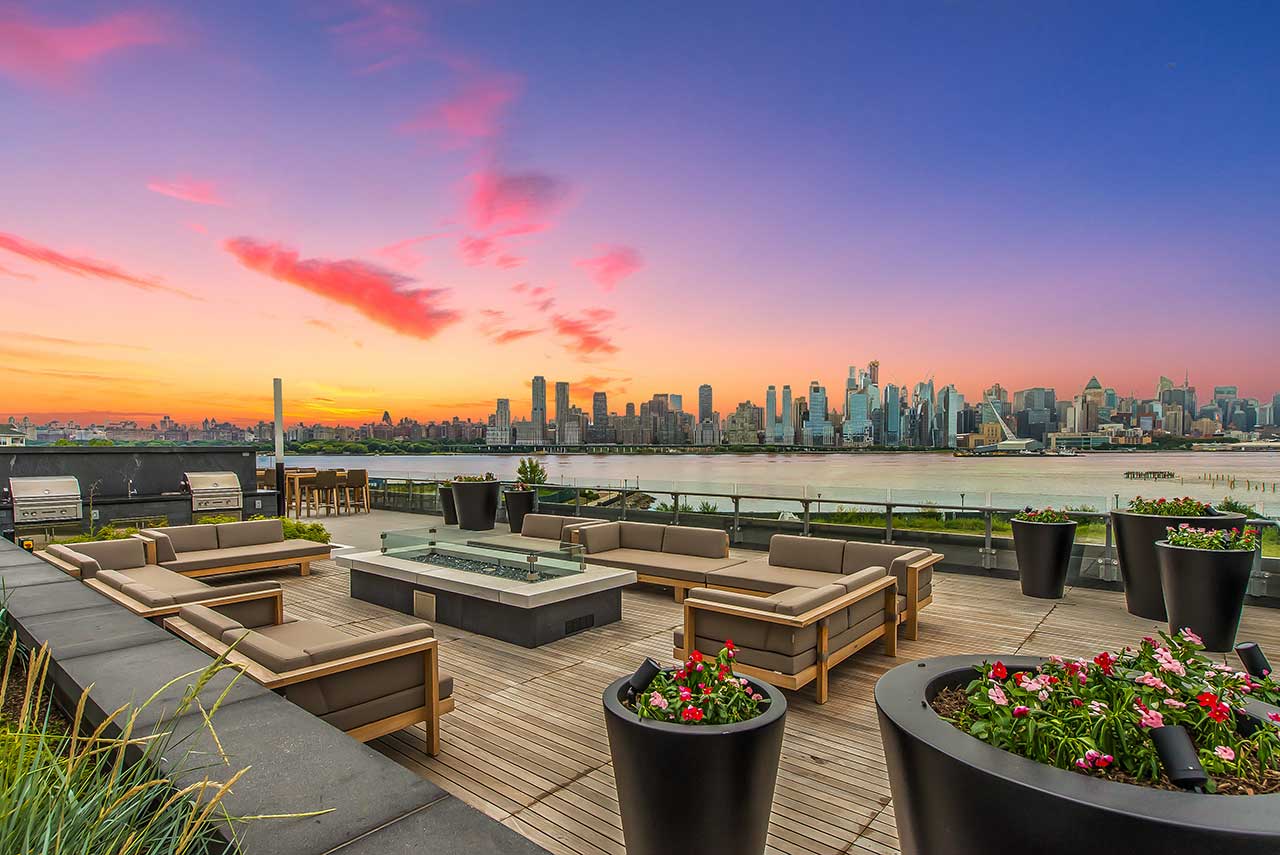 The coronavirus pandemic is starting to have an impact on real estate around the country and the Garden State is no exception. An inventory shortage regarding single-family homes has started to push those values higher in many places, but multi-family properties have thus far weathered the storm throughout New Jersey.
Looking at leasing trends in the northern part of the state, Jersey Digs has compiled a non-exhaustive list of newer apartment complexes that have faired well during the virus upheaval. They have a few traits in common; lower density, more open space, and tend to be located near both employment centers and mass transit for when post COVID-19 commutes start to resume.
Central & Oak, 80 Oak Street, East Rutherford
Located about one mile from the Rutherford Train Station, the development comes courtesy of Sterling Properties and Willton Investment Group. 105 of the community's 208 apartments have been leased since the June launch of the complex, which comprises seven buildings featuring one- and two-bedroom residences with private balconies.
The living spaces are complemented by an abundance of greenery that includes a lawn for outdoor movies, a fire pit, grills, and a dog park. Nicholas Hollenbeck, director of sales and marketing for Sterling Properties, says that while the company anticipated significant interest in the community, leasing has outpaced expectations.
"The pandemic has accelerated preexisting trends that informed the design of Central & Oak, including the flight of renters toward communities that provide an airy, green-friendly environment without sacrificing accessibility and convenience to entertainment, dining, shopping and recreation," said Hollenbeck.
Woodmont Bay Club, 190 West 54th Street, Bayonne
The 220-unit building from Woodmont Properties officially became fully leased earlier this month. Sitting on four acres of land, the development sports amenities that include an expansive rooftop terrace, a state-of-the-art gym, a business center, a game room, a pool and sundeck, and a private parking garage.
One of the biggest perks of the complex is two nearby greenspaces; Rutkowski Park and Gregg Park combine to surround the building with 140 acres of greenery that include about three miles of a completed Hackensack Riverwalk. Woodmont's Executive Vice President Stephen Santola believes that the building's success stems from an increased desire for open space and a more spread out living experience.
"Over the course of the pandemic, the leasing team experienced increased demand — signing new leases, providing virtual and in-person tours and ultimately outpaced projections for stabilization," says Santola. "Now, more than ever before, it's become essential to provide renters with ample space and access to fresh air, as well as the host of amenities and conveniences inherent to upscale living."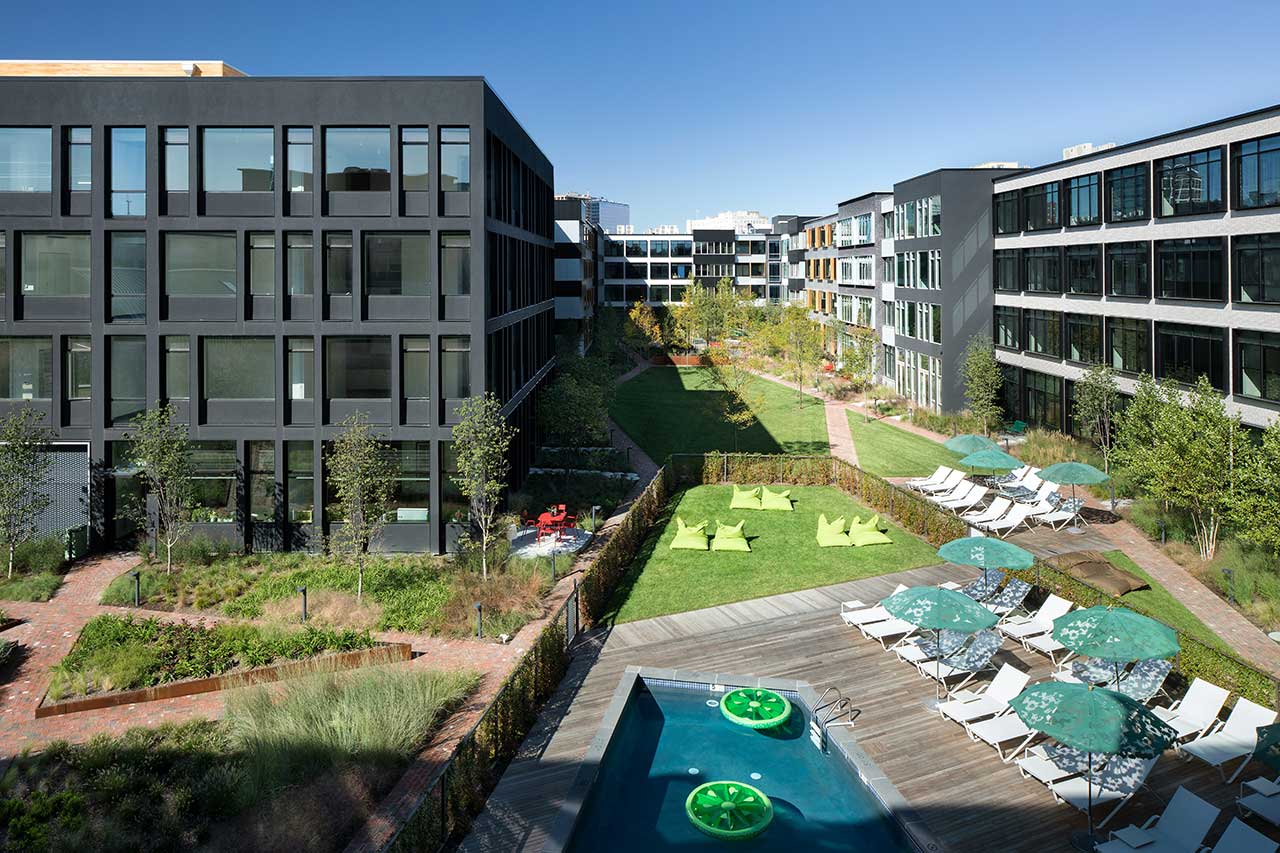 Harrison Urby, 777 South Third Street, steps from the PATH station
Opened in 2017, Urby's 679-unit complex sports a series landscaped geometric green spaces that connect each building. The development sports a huge saltwater swimming pool complete with patio, fire pits, BBQ grills, and lounge furniture that is complimented by lawn games and a community garden with individual plots.
Urby says the property has consistently enjoyed steady leasing activity during COVID-19 that they attribute to the community's abundance of outdoor space. They claim demand for the 29 garden plots that they introduced at the property last year skyrocketed during the pandemic, as they received 68 applications in a two-week period that caused them to split up portions of the space to accommodate more tenants.
Nine on the Hudson, Port Imperial, West New York
Pivoting to condominiums, K. Hovnanian At Port Imperial Urban Renewal VI LLC's 13-story building features almost 300 glass-enclosed residences situated along the Hudson River. Since the pandemic hit in March, 17 homes have been sold, with June having been particularly strong.
K. Hovnanian At Port Imperial Urban Renewal VI LLC says that many of their buyers are coming from more densely developed areas like Jersey City and Manhattan and are looking for larger living spaces with access to private and public open space. The property's rooftop amenities include an infinity-edge swimming pool overlooking the Manhattan skyline, an open lawn area, BBQs, firepits, al fresco dining areas, and a children's play area.
The building's value is enhanced by a 20-year tax abatement and buyers seem to have working from home on the brain. The company says the community's larger floor plans that have flexibility for home offices have drawn much interest, as some buyers have concluded that being near a PATH Station isn't a necessity right now and might not be for some time.