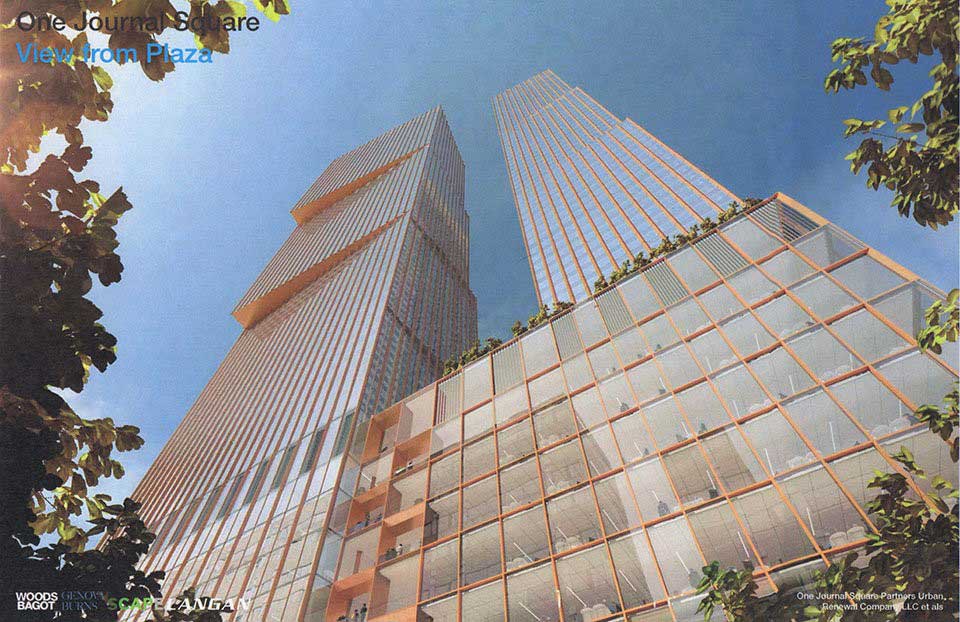 If you tried to sell the story of One Journal Square to a filmmaker, they might dismiss it as being too far-fetched and perhaps hard to follow. But it looks like new life has been pumped into a project that some assumed was dead, as Jersey City's Planning Board signed off Tuesday on the latest version of the troubled development.
The property in question, directly next to the Journal Square PATH station, is a key piece of a revitalization effort in the neighborhood and was once home to the Hotel on the Square building before it was demolished in 2009. Plans were presented around that time for a complex called City Centre Towers, but no work was ever performed at the property and the land was eventually purchased by KABR Group and Kushner Companies in 2015.
A 57-story, 744-unit tower was approved for the lot shortly after the purchase, but then came the supersizing. Kushner and KABR won approvals last year for 1,725 residential units spread out over two towers, one rising 79 stories and the other 46. Both would be built on top of 10-story base that was to include 910 parking spaces, over 88,000 square feet of retail and almost 127,00 square feet of office space.
But problems with the project started showing up earlier this year. Co-working giant WeWork, who were set to operate over 100,000 feet of office space in One Journal Square, pulled out of the deal, taking $59 million in tax breaks from the New Jersey Economic Development Authority with them. Controversies surrounding Kushner's solicitation of Chinese investment under the EB-5 visa program also drew criticism, and the companies later dropped their request for a 30-year tax abatement they were seeking from the city.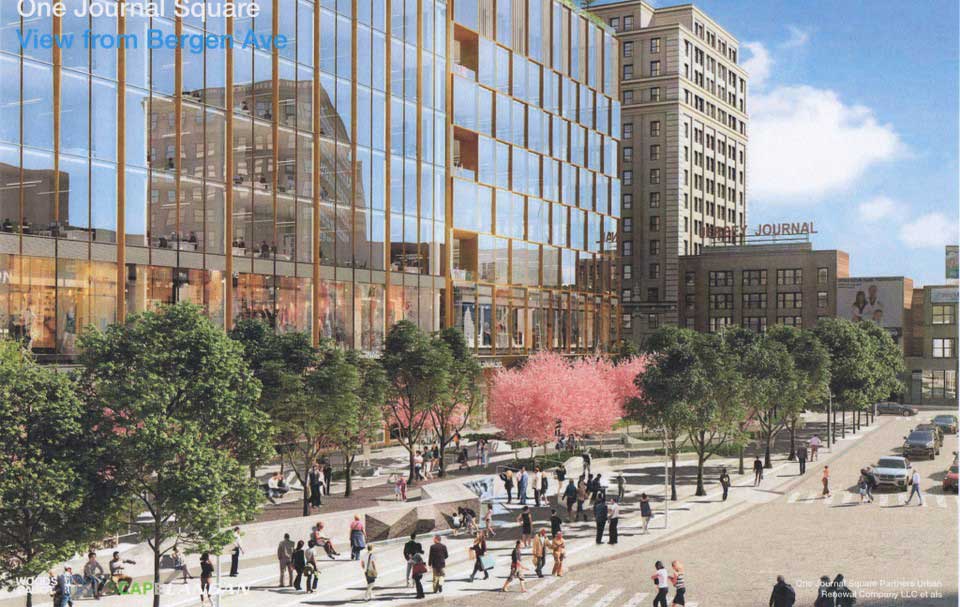 While some questions might remain about One Journal Square's controversies, the development's new design has been unanimously approved by the Planning Board. While still large, the latest version of the project is definitely scaled back. Designed by Australia-based Woods Bagot, it will still feature a 10-story base and two towers, but they will be 56 stories each. Nonetheless, both buildings will rise 758 feet into the air and essentially be 66-stories tall, sporting 1,512 units of housing between them.
While the podium area of the project remains pretty similar to earlier versions, the most obvious difference in the new design of One Journal Square is the towers themselves. Beyond the height, the new rendering features three distinct sections that appear angled from each other. 864 indoor parking spaces will be included in the project's base, and retail units and office space will also be featured in the new version of One Journal Square.
The Journal Square Plaza in front of the building will be revitalized under the plans, taking a dilapidated stretch featuring a fountain that hasn't worked in over half a decade and replacing it with seating areas, a lawn, and planted trees. Both Kushner and KABR haven't responded to inquiries about the project, but it looks like there might be a next chapter to this ongoing saga.