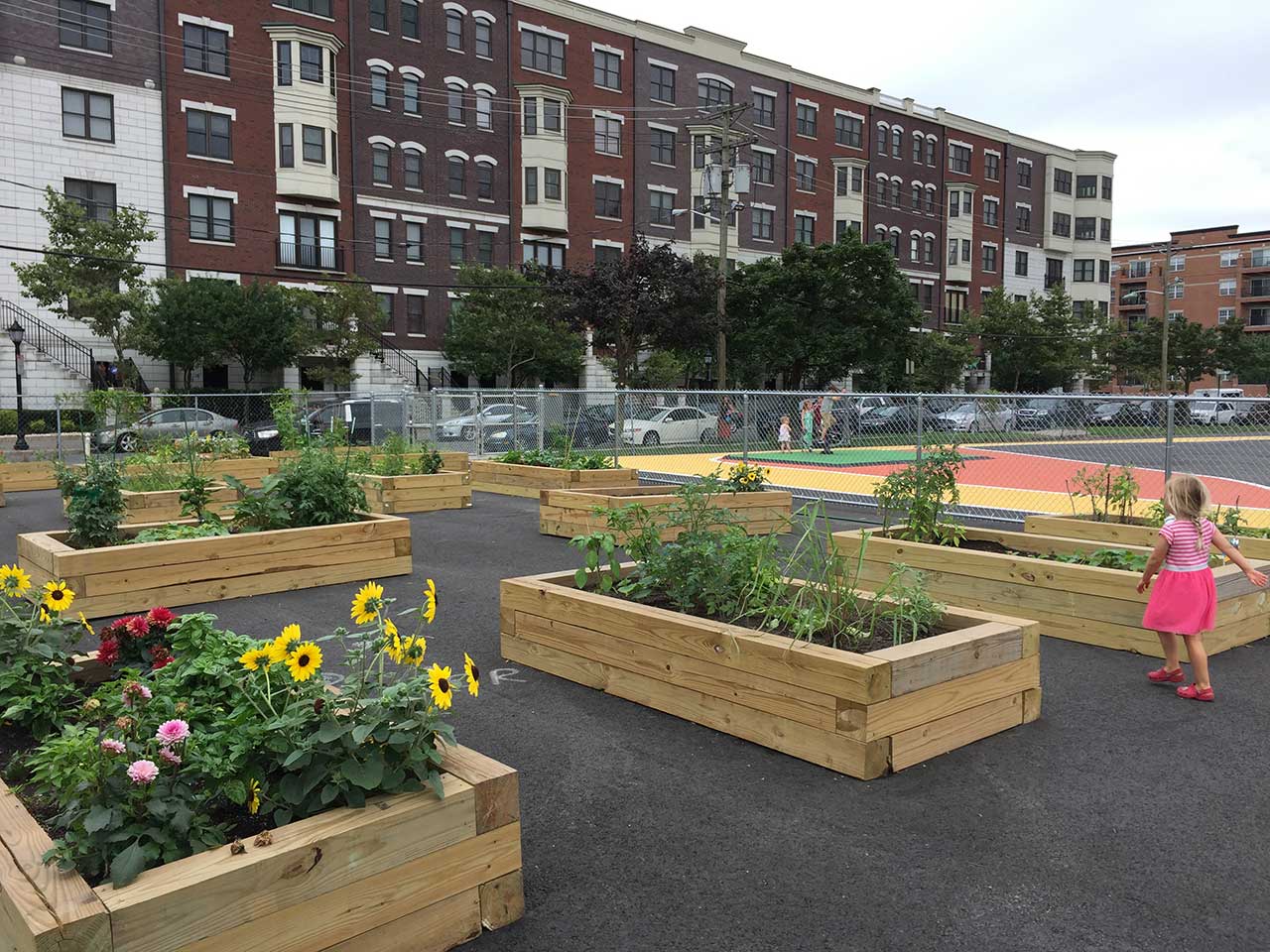 The disparity of parkland between Hoboken's east and west sides has been an issue for many years, but a temporary pop up park in the city's Northwest area is looking to better balance the open space and will be throwing a party to celebrate its official opening.
The land the park sits on, at 12th and Adams Streets, was acquired by the city late last year for $30 million. The 5.4-acre park set to open is a temporary public space that includes courts for basketball, tennis, and bocce ball, plus playgrounds, a rock climbing wall, a spray park, picnic areas, a fitness equipment track, and a community garden.
The city will start planning a permanent "resiliency park" soon that will also help address flooding, but for now, a grand opening will be held on Monday, July 31 at 3PM. The scheduled festivities include activities for children, free fitness classes from Club Pilates and BodySoul and Pole, and a musical performance from the Garden Street School of Performing Arts.
Food trucks will set up shop along the Madison Street side of the park for the opening and will include Falafull, Thai Elephant, Ice Cream Thai'm and Boöza Organic Ice Cream. The Northwest Pop-Up Park is the first to open of three green spaces that are currently under construction on the city's west side close to The Heights border, and work on the long-delayed Southwest Park could hopefully finish up in the Fall.
That park, designed by New York-based Starr Whitehouse and located at Jackson Street and Paterson Avenue, will be permanent and feature a dog run, passive green space, shade trees, play features for children and a pop-up market zone to host special events. The acre of land will also have a 200,000-gallon underground water retention chamber that will store water during a rainstorm, diverting it away from the city's century-old combined sewer system.
The park could be expanded at some point under a redevelopment plan the city passed earlier this year, but good progress has been made on the current buildout. The first delivery of trees and plants arrived yesterday and crews have completed one side of the stone terraced seating area. Historic Belgian block from the road is being reused on a plaza area being constructed at Harrison Street and Paterson Avenue.
The third of Hoboken's trio of new parks is part of the 700 Jackson Street project and is being privately built by Bijou Properties as part of a redevelopment deal. It will transform a former tow yard into an open grass area with public seating and a children's play area.
The most progress has been made on the public gymnasium portion of the park, which has gone vertical and will eventually span 6,835-square feet in a classic field house design. Work has begun on the adjacent open grass area, which will incorporate green infrastructure and underground water detention systems that will be capable of capturing more than 450,000 gallons of stormwater runoff.
The final phase of the park project will turn a parking lot and construction staging area next to and behind the Monroe Center into a one-acre public plaza capable of hosting a large marketplace to accommodate vendors. Bijou has previously estimated that parts of that space could open up by late 2018 or early 2019.