A symbol of Newark's past is becoming a part of its future as an industrial facility in one of the city's most dense neighborhoods is being converted into residential use.
The Murphy Varnish Works complex has stood in the Ironbound neighborhood of Newark's East Ward since the mid-19th century. Located at 225-239 McWhorter Street, also known as 129-143 Chestnut Street, the complex is a Newark city landmark, and is listed on the New Jersey and National Registers of Historic Places. Although three buildings stand at the site today, the works originally consisted of six, according to the National Park Service (NPS).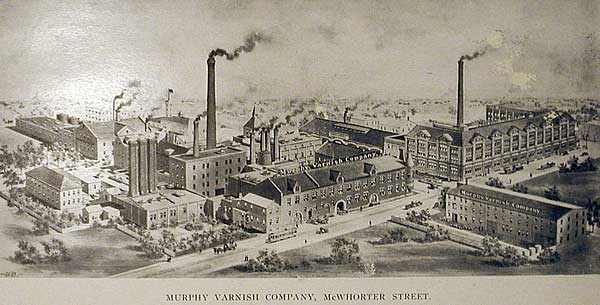 Murphy Varnish Company's facility was the largest varnish producing factory in Newark at the time, and was designed by architect Howard Chapman, who also designed the Great Atlantic and Pacific Tea Company Headquarters Building in Jersey City's Warehouse Historic District. An NPS report states that a 1912 article by the Newark Board of Trade advertised that "no other manufacturing industry in Newark has done more than Murphy's Varnish Company to make the city widely known".
Murphy Varnish Company's founder, Franklin Murphy, later became the 31st governor of New Jersey, serving from 1902 to 1905.
According to Newark History, following the company's closure in 1950, the complex was used as a storage facility by Rambach Chemical. It has since remained vacant, covered in graffiti, towering over the Ironbound community. A 1992 report in The New York Times states that at the time, the building "looms like an abandoned Georgian country mansion over the industrial landscape".
However, developers are now in the process of revitalizing the structures, which take up an entire block. F.M. Renaissance, LLC, based on Chapel Street in Newark, is planning to convert the Murphy Varnish Works into 46 residential rental units and three retail spaces. According to NJ Parcels, the company acquired the complex last October for $1.2 million. F.M. Renaissance's proposal was approved with conditions 7-0 by the Newark Zoning Board of Adjustment on November 10th.
Madeline Ruiz-Robinson and Dave Robinson of SUAD Studio for Urban Architecture & Design are the project's architect. They applied in February to add a new four-story addition to the building within the courtyard, and to keep one of the courtyard structures previously slated to be demolished as part of the project. The proposal was approved with conditions in March by the Newark Landmarks and Historic Preservation Commission. In addition, new insulated windows will replicate the existing style and material of the original units, according to commission records.
The surrounding Ironbound neighborhood is very walkable, and Oliver Street Elementary School, Seabra Foods, Independence Park, the Ferry Street business district, and Newark Penn Station are all located within a mile of the site.