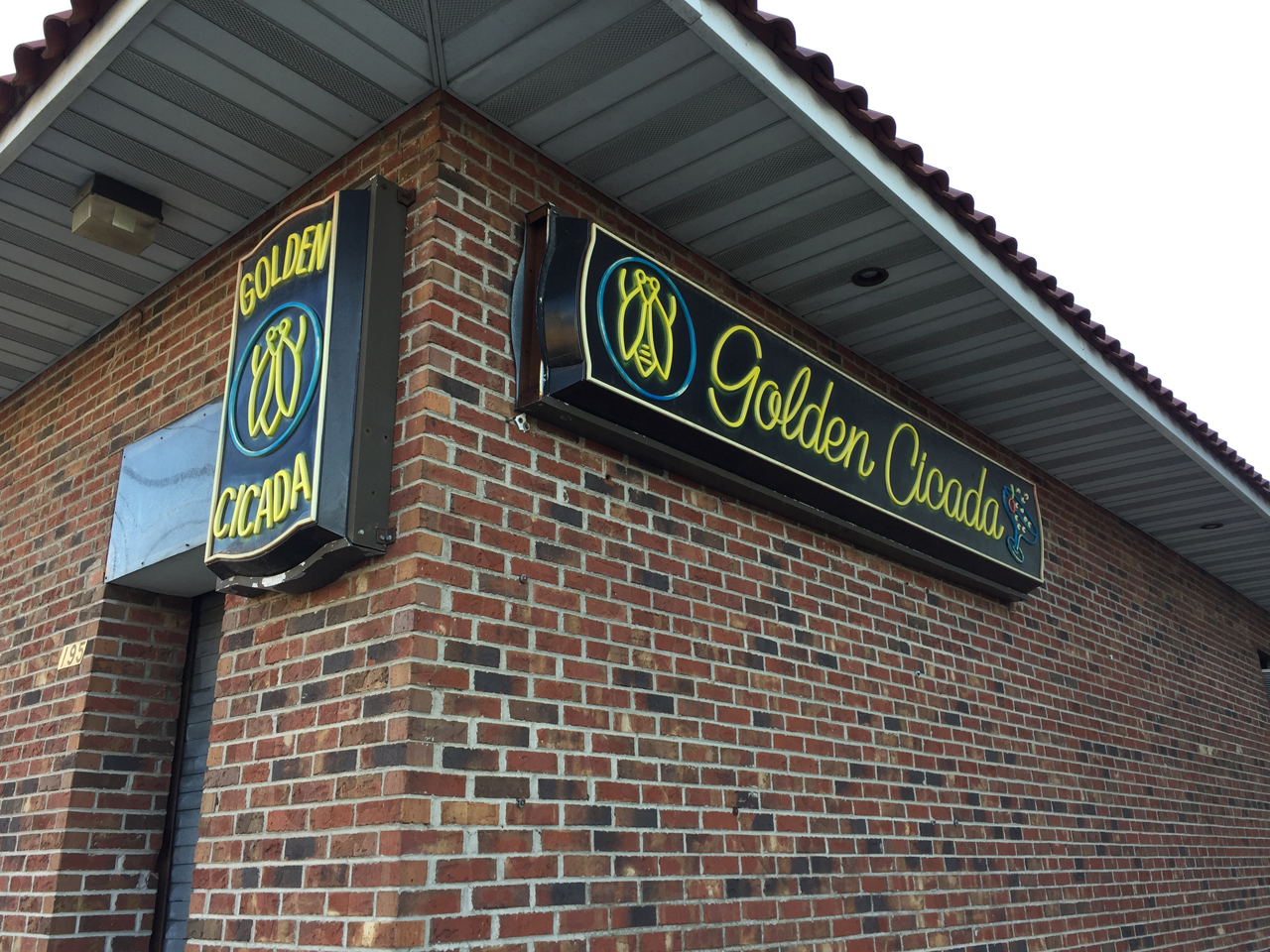 An iconic landmark in Jersey City's Paulus Hook neighborhood is currently tied up in legal troubles stemming from efforts to redevelop it, and while the Golden Cicada isn't in danger of going away anytime soon, a local developer and property owner are currently duking it out.
Massive vertical growth in Downtown Jersey City has perhaps led to the modest building at 195 Grand Street getting a bit lost in the shuffle, but the dive bar, in business since the 1980s, has been romanticized by the New York Times and other publications for its authentic old-school vibe. Some would argue you can't prove you've lived in Jersey City until you've had a $5 shot of the bar's infamous baijiu, a fiery Chinese liquor made of sorghum, which gets you a Golden Cicada necklace.
Last year, developer Lance Lucarelli and Bayonne-based The L Group filed a lawsuit against Cheng Tan, the owner of Golden Cicada. The complaint claims that Tan agreed to sell them the land on which the Golden Cicada sits back in August 2016 via a Letter of Intent and additionally says that on the same day, Tan entered into an agreement with them to jointly develop the property.
As part of the agreement, The L Group says they provided Tan with confidential financial analysis of the proposed development, renderings, and other investment information about the deal. However, The L Group claims Tan disclosed this information to others and entered into an agreement with an unnamed third party to sell them the land instead.
Tan, in answering the complaint in court, acknowledges that the parties did enter into a Letter of Intent to sell the property in August 2016 but says that letter specifically states it is non-binding unless the parties enter into a Joint Venture agreement. He counterclaims that he never signed the agreement with The L Group to jointly develop the property, arguing that his purported signature on that contract is not genuine and a "computerized copy" lifted from the Letter of Intent.
In an interview with Jersey Digs, Tan says that he submitted proof to the court from a writing expert that his signature on the Joint Venture agreement is indeed forged. He says that his signatures on both the Letter of Intent and the Joint Venture agreement are identical, something that is not possible by the human hand.
Tan also claims that The L Group amended their original lawsuit to include the alleged Joint Venture agreement at a later date, not including those accusations in their original documentation. A lis penden, or legal notice filed with Hudson County, has also been filed by The L Group against the property, which Tan says contains "false information."
More legal filings from Tan state that he never entered into discussions with or accepted offers to sell the land to anybody else. Tan tells Jersey Digs that he rejected a $3 million proposed settlement agreement that The L Group submitted to him to close the case, stating that "I can't deal with someone who committed fraud."
For their part, The L Group filed paperwork denying Tan's allegations and has not commented further. Keith McKenna, who is representing The L Group in court, did not respond to a request for comment on this story.
Despite the bar's lore, there have been plenty of plans to redevelop the parcel. In 2005, Jersey City's government brought an eminent domain suit against Mr. Tan seeking to acquire his property to allow the expansion of St. Peter's nearby ballfield. Tan eventually went on to win the case and later pitched a plan to build a seven-story affordable housing project with ground floor retail at the property.
While both those plans fell by the wayside, the current lawsuit against Tan remains pending in Hudson County Court and will likely soon head before a judge or jury.