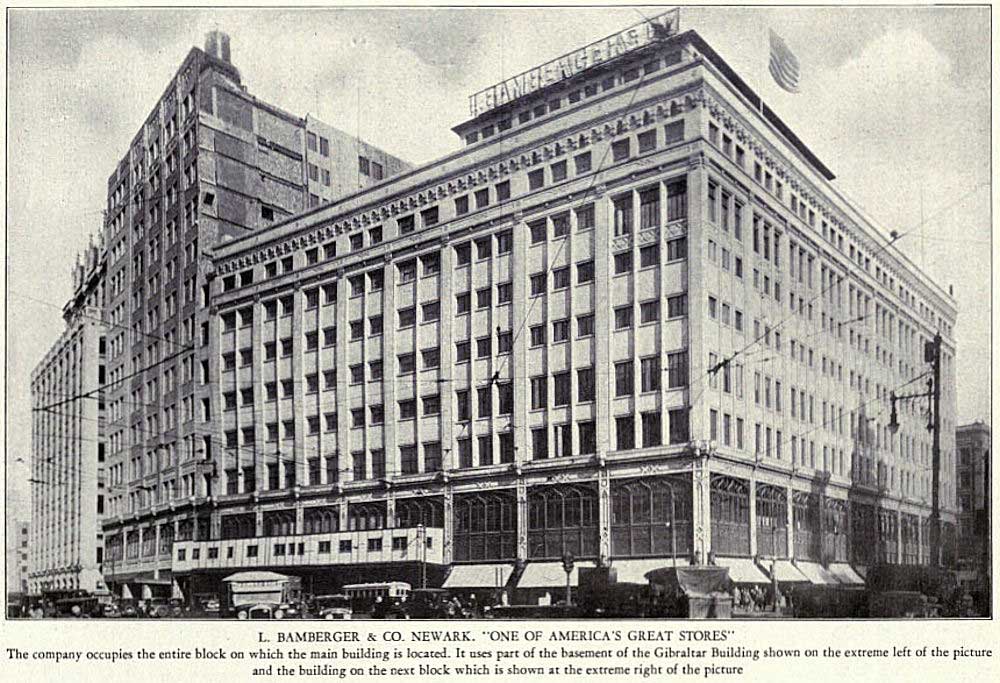 Guest Post by R. Ballantine
I recently purchased a piece of Newark's history. It's a letter to come visit what was once our state's own department store: L. Bamberger & Co. This letter was inviting a long-departed resident to come visit the newly expanded annex to the great Newark store. This annex, 14 stories tall, would transform Bamberger's into the 6th largest department store in the United States, and second largest in the tri-state area, just behind the world's largest department store… but I am getting ahead of myself. The reason why I bought this letter was not merely for the sake of novelty, but for the date that was post-marked on the envelope: October 24, 1929.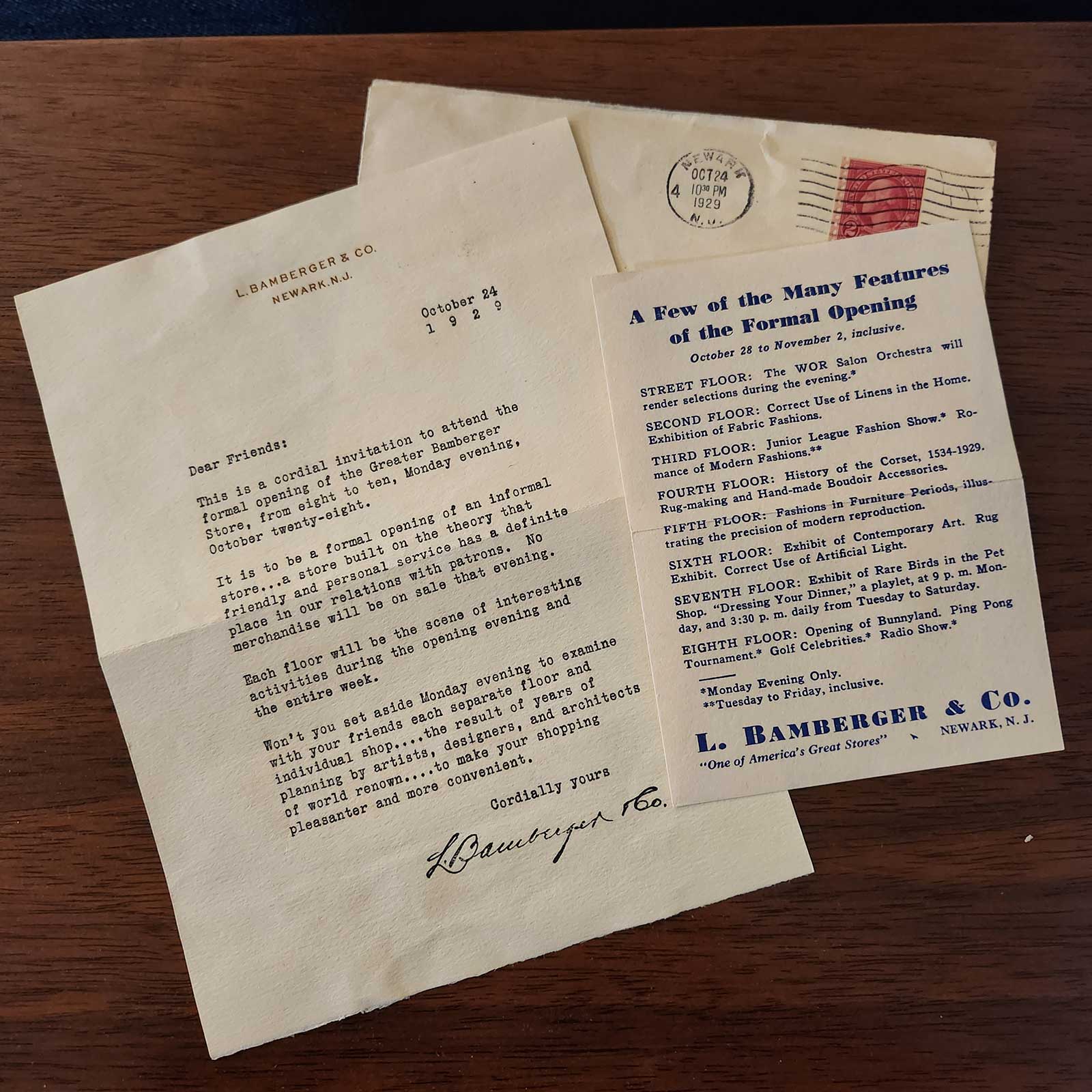 No one expected that from this day forward, the American economy would begin to catastrophically unfurl, bringing a nation to its knees, and taking Newark and the world with it. I can only imagine that on that day, this resident just looked at this letter and thought: "Oh swell! I'd love to see the new furniture fashions; my living room is looking so droll."
There are two urban legends I believed about Bamberger's, one of them was that when the Great Depression hit our city, this great store was bought by its rival across the Hudson. When the crash pulled the rug from under its owner's feet, the choice was either to sell or lose everything.
That was not true… Louis Bamberger, whose namesake store had risen with the fortunes of Newark and its trolley car suburbs, was sold to its rival a few months prior to the stock market crash. It was motivated by the loss of Mr. Bamberger's business partner and brother-in-law, who died unexpectedly, and Mr. Bamberger felt that he could no longer run what was now a massive enterprise alone.
This proved to be serendipitous to a cross-Hudson rival 'The Red Star', who during the 1920s had been gobbling up department stores up and down the United States in a battle to maintain retail supremacy over Gimbel Brother's, just south of Herald Square. Bamberger's was too great a prize to pass up, they paid far more for the 1.2 million square feet store than they did with any other.
Bamberger's would retain its name, but now the Red Star could claim dominance over the entire Garden State retail market. The amusing part is that this retail giant got immediately burned by its gluttony when the Great Depression hit. And in an act of pure luck or strategic foresight, Mr. Bamberger did not lose a penny from the sale of his store to the crash… because instead of being paid in Red Star stocks, he was paid in cold, hard cash. Ka-ching!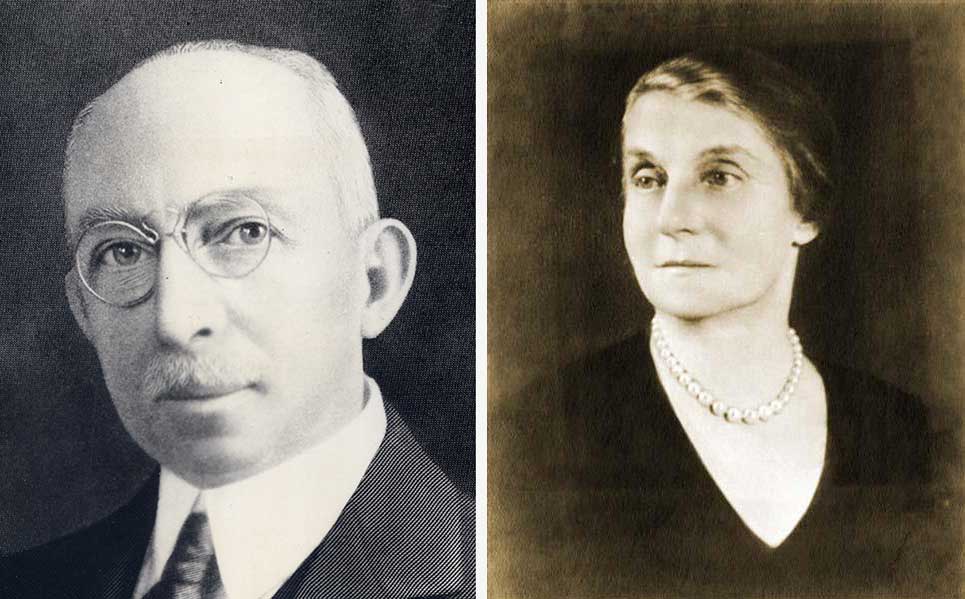 The Post World War Two years proved to be a boon for American retail, which preceded the bust of the American City. The suburbs rose in prominence, and with them, a veritable onslaught of new shoppers descended upon Newark's great store, which was already being underinvested by its parent company.
To address this, the decision was made by Red Star to begin investing in new department stores in the suburbs. In 1957, Garden State Plaza in Paramus became home to Bamberger's first major suburban branch, and it proved to be an overnight sensation. By the middle of the 1960s, Bamberger's was in a dozen different locations in our state, and it had truly become the New Jersey store.

The suburbs boosted the Bamberger's brand, but at the cost of the Newark store. The newly built shopping malls replicated the same feel and retail variety of traditional Main Streets, except under artificial lighting and air-conditioning. The shopping centers cannibalized downtown retail by creating a parody of it.
The foot traffic and profitability of Newark proceeded to decline, valiant efforts by Bamberger's staff were made to entice shoppers to return to the Newark flagship. As you already know by now, the suburban mindset is to avoid urban inconveniences, such as a lack of parking, the realities of living in a planet with changing weather patterns, and of course… 'demographic shifts'.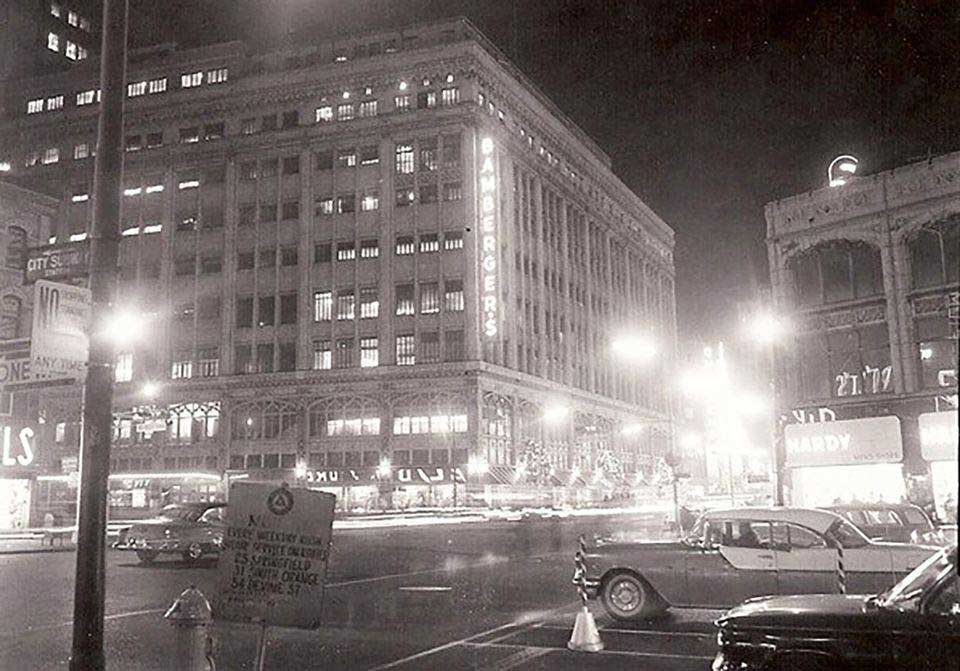 A vicious cycle began where the more profits Red Star made from the suburban branches, the more they viewed Bamberger's Newark with indifference. After all, it was not their flagship store that they were sabotaging. It is comparable to adopting a pet only to stop feeding it, and telling yourself it only died because it did not survive its own starvation.
Bamberger's Newark became a zombie, the walking dead… It hobbled along, each of its 10 floors of retail being abandoned one by one as the years rolled on. New Jersey's Greatest Store did not go out with a bang but with a whimper.
In 1986, Red Star killed off the Bamberger's brand, and what was once the 6th largest department store in America closed 5 years later as a one-floored Red Star 'Last Chance Discount Outlet'.
Fortunately, the building did not meet the same fate of being ignominiously demolished like Hudson's of Detroit or Filene's of Boston. It now serves as a major telecommunications and data hub for American and International Telecom giants, and in a sardonic turn of events, Amazon Web Services.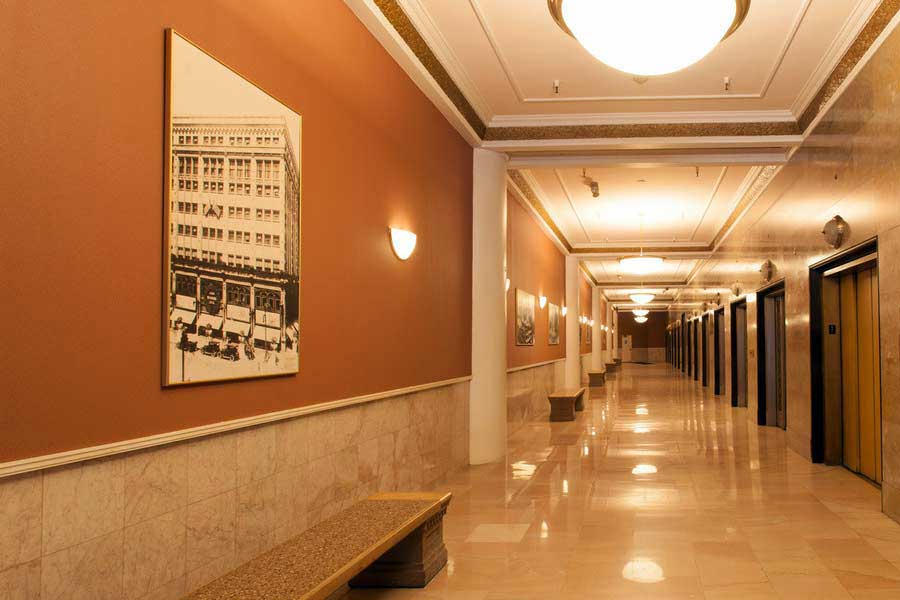 One cannot predict what the outcome might have been, had history taken a different route. Bamberger's, Kresge's, Hahne's, and others would be facing the same headwinds as Red Star, JCPenney, and Kohls face today. Holding a grudge against Red Star's workers and their commitment to their workplace is counterproductive.
What I do hold a grudge against are the people at the top, who arrogantly and callously viewed Bamberger's as just another chess piece for them to exert their influence over Garden State consumers. An imperious state of mind, so narcissistic and overbearing, that it is incapable of enjoying its own success without belittling those around them, and then usurping their fellow's achievements and claiming them as their own.
Along with the suburbs that surround us, they conspired to undermine our civic and entrepreneurial spirit by typecasting us as crude stereotypes, that we were never industrious, proud, or innovative, by trying to bury the memories of when we were the masters of our own fate, and when our city was at the center of our state's might.
People who believed in Newark built great businesses like Bamberger's because they saw what this city could do and what its citizens could achieve. Here at the corner of Market and Washington, sits a misused trophy to Newark's retail greatness, unloved but not forgotten.
Oh well, time to buy new shoes… Red Star doesn't have my size, but at least Prime has same-day shipping.