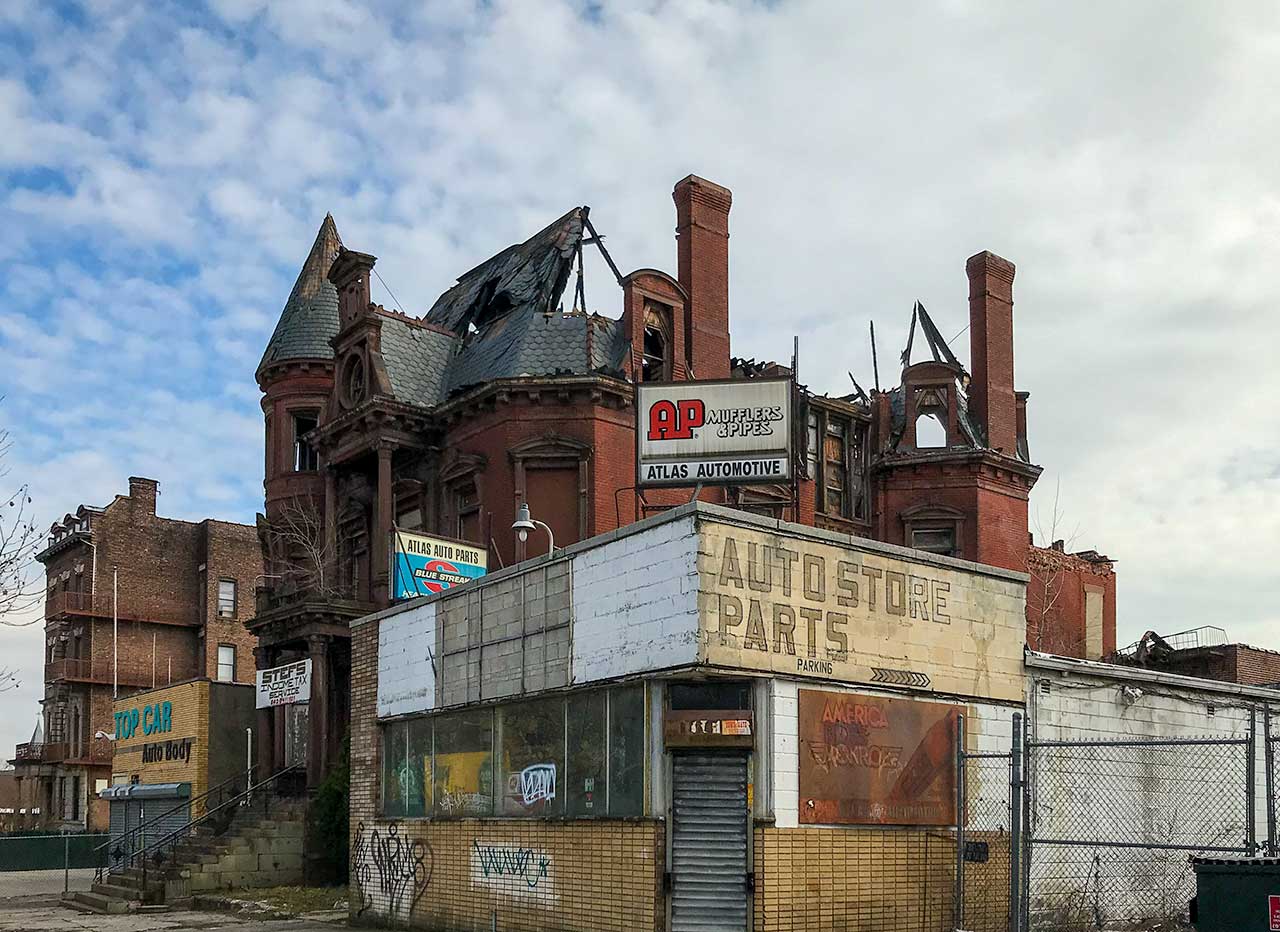 A year has passed since Newark's Kastner Mansion caught fire, and the city, spread thin by the pandemic, has yet to decide what to do with the historic residence.
Concerned by the city's management of the property, the building's former owner is now battling to get back the blighted landmark that was seized from her in tax foreclosure, hoping to turn it into a community center.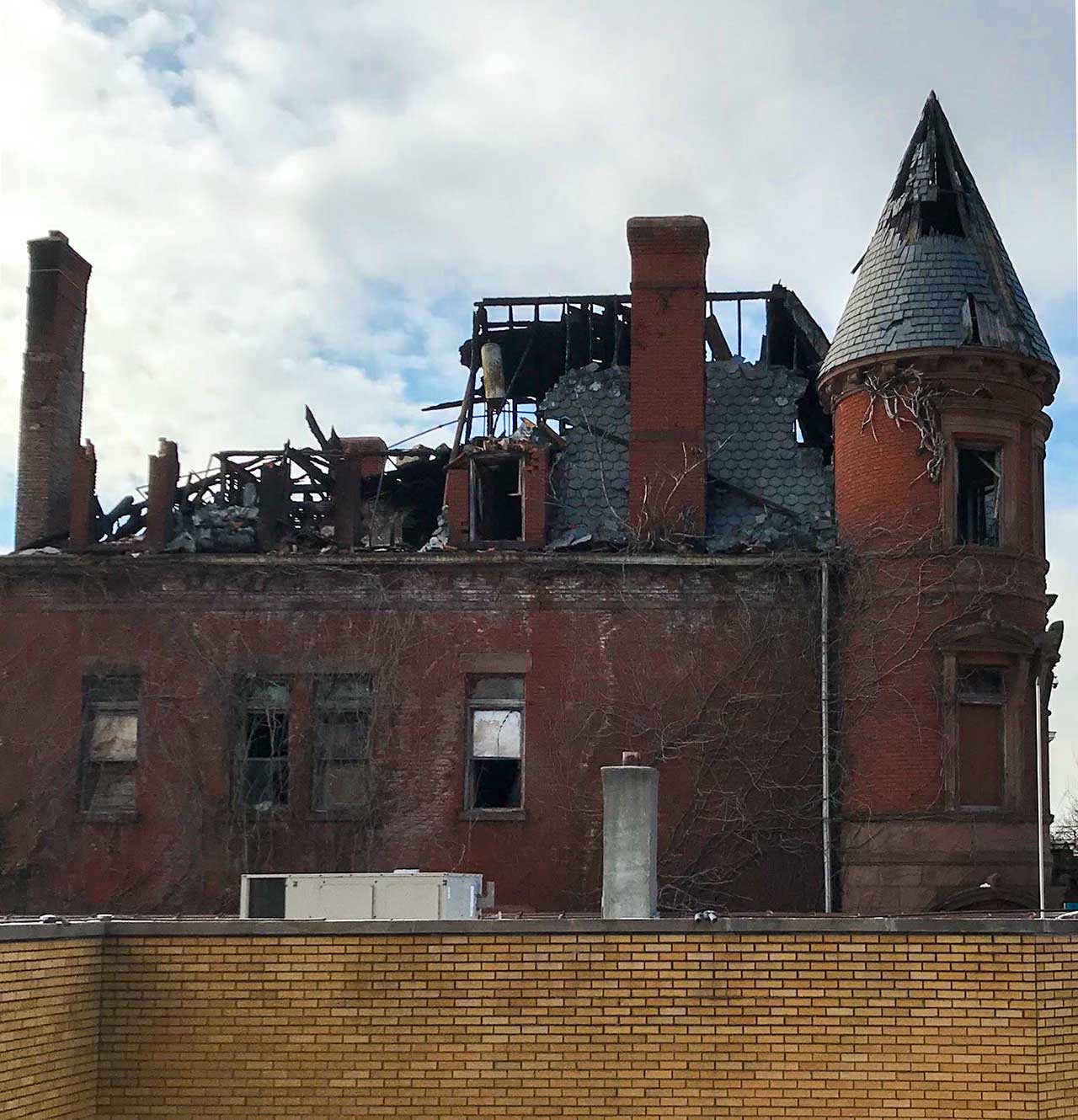 The future once looked bright for the Kastner Mansion only a decade ago. In 2007, Denise Colon, a longtime city resident and business owner in the South Ward, famously bought the 19th-century chateau for a dollar.
It was a symbolic gesture, Colon said, as the previous owners believed she could turn the place into something meaningful.
"They gave it to me for a reason," she told Jersey Digs.
For Colon, transitioning her tax-preparation firm into a community center would be natural, considering her company has always provided pro-bono assistance to clients, like obtaining forms of identification, filling out documents, and steering folks through the city's bureaucracy.
"When my people came in needing this or that, if I knew how to do it, I did it," she said. "I didn't even charge."
During her three decades on Clinton Avenue, Colon began noticing a dangerous trend. People in her community were investing large sums of money on vocational training, but their investments didn't always result in well-paying jobs, sometimes leaving them with considerable debt.
In her mind, the community needed a center  — with housing and wraparound services — to blaze a more direct route to gainful employment for the 60,000 residents of the South Ward, particularly for women reentering the workforce. As for acquiring the Kastner Mansion, the timing could not have been more perfect.
"Once I got the building, I thought, that's what I'm going to do. I'm going to help people get real jobs," she said.
But just like the old house itself, a series of misfortunes caused her dream to come crashing down. First came the real-estate crisis. Then Colon fell violently ill, later to be diagnosed with terminal cancer.
As many people with cancer learn, life doesn't come with a pause button. The stress of treatments and the gloom of what she thought was a death sentence took a toll on her relationships and business.
"I was too ill to push on with the struggle," Colon said. "Then finally my husband divorced me."
Out of work, alone, with no promise of tomorrow, the mounting taxes and cost of renovating a century-old mansion became an afterthought. With unfulfilled promises from former Mayor Corey Booker's administration to assist her with tax abatements, eight years ago the city foreclosed on the property.
"I invested everything I had into this place," Colon said. "When I say everything, I mean everything— my family, my business, my health."
The Kastner Mansion, a Victorian-era home built by a German beer brewer named Franz Kastner, has a coveted location on a main thoroughfare midway between center city and one of the world's busiest airports. It may seem understandable that City Hall is taking its time to decide what to do with the property. With multimillion-dollar renovations underway at Symphony Hall and the Krueger-Scott Mansion, the real-estate riches of downtown Newark are slowly spilling southward.
But the Kastner Mansion isn't like most properties — time is the enemy. In 2012, Preservation New Jersey named it one of the state's most endangered landmarks. And without a formal designation on the state or national registers, it's ineligible for historic tax credits, which usually offset the costly renovations of historic buildings.
The sad irony is that, while Colon bangs on the doors at City Hall for a response to her proposal submitted last year, the house remains in a dangerous state, open to the elements. In the summer, a massive terra-cotta structure over the mansion's doorway came crashing down with enough force to shatter the stone staircase.
"It's unacceptable for a property to sit in a blighted, burnt and unsafe condition and not respond to Denise's good-faith letter of intent," said Yvonne Paterson, vice president of the South Ward Community Economic Development Corporation.
Paterson, a public relations professional with experience working on two presidential inaugurations, has assembled a team of business owners and design professionals, which calls itself the Phoenix Restoration Consortium. The group's purpose is to secure ownership of the home and support Colon's mission, ensuring she no longer has to shoulder the burden alone.
Along the way, Patterson is hoping to change the way tax abatements are used by municipal governments — turning them into a lifeline for small business owners rather than an enticement for large corporations, like Amazon.
"The city gives tax abatements to these large corporations but doesn't pass the same kind of considerations to small business owners, especially with all the businesses that have been shut down because of the pandemic," Patterson said. "Denise is the quintessential individual that should be supported based on her history of business development."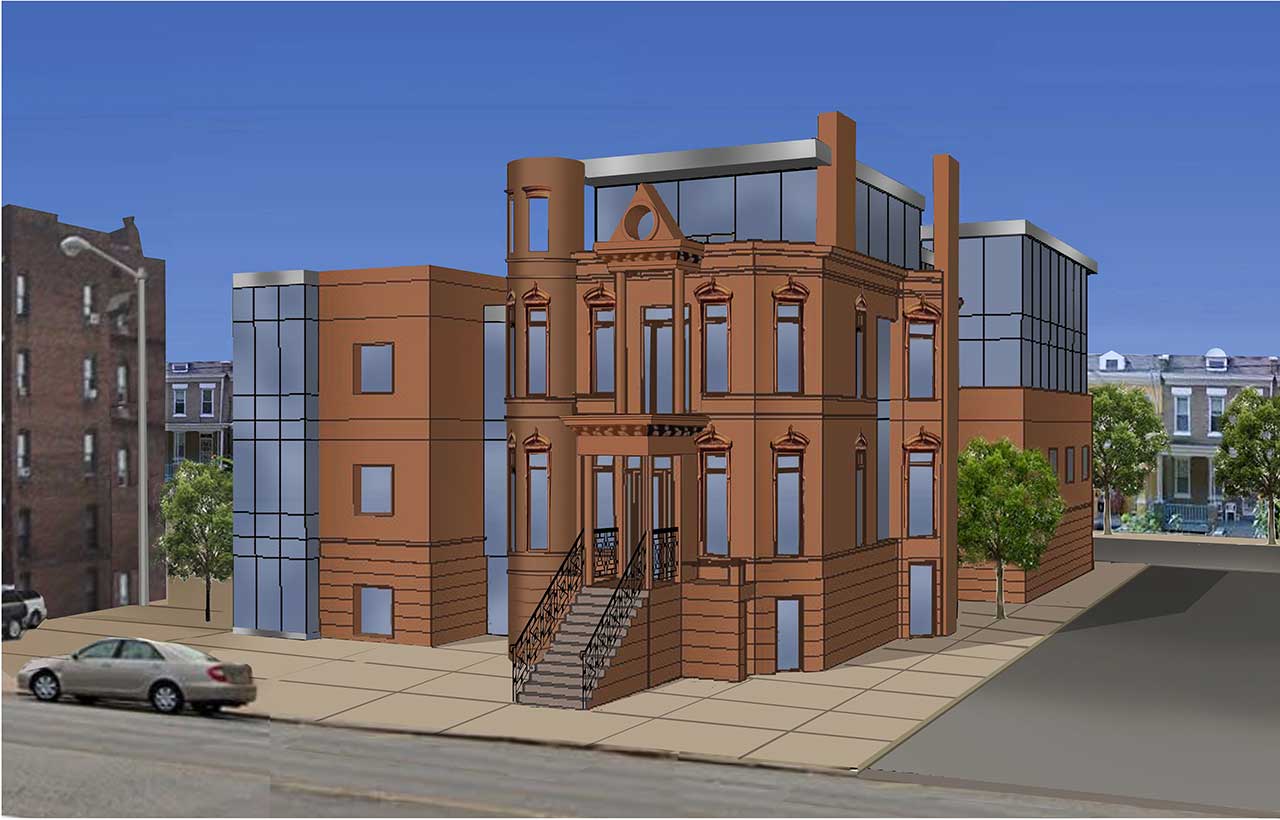 In Colon's proposal, the $7 million renovation would salvage the facade of the Kastner Mansion and surround it with modern buildings.
"Our conceptual plan will make the mansion the visual jewel of whatever we develop there," said Steven Patrick, a designer at Ascendant Architecture & Interior Design, also a member of the consortium.
Although the renderings are still conceptual — Patrick's Metuchen-based firm is not allowed on the premises to take measurements — a few key features are clear: the brownstone turret and signature portico, remain intact. The old mansard roof, which collapsed in the fire, would be replaced with a top floor that includes a balcony overlooking Clinton Avenue.
The plan would seek to expand into the neighboring lots with a three-story building and a parking lot. Owners of both businesses have expressed to Colon a willingness to sell their properties.
In remission for the past two years, Colon has been given a second chance at life, and sees her mission with even clearer eyes. Now, she awaits to see if the city government can show her the same kind of mercy.
"I can take on the project," Colon said. "All they have to do is give us the opportunity."
Related: