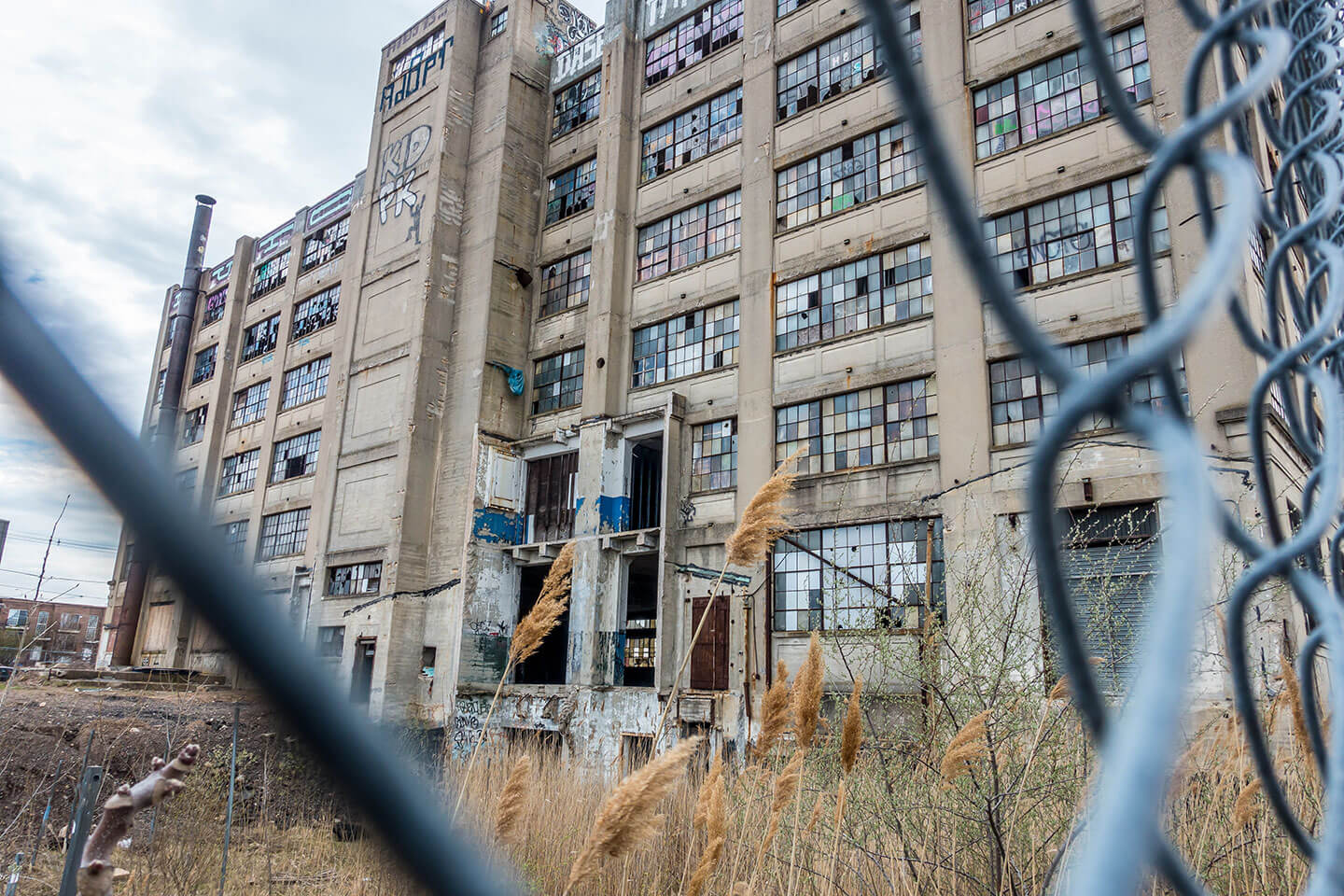 Many relics from Jersey City's industrial heyday still populate its neighborhoods, and there's just about everything in terms of polish. From the pristine Sugar House Lofts to the abandoned majesty of the H & M Powerhouse, finding forward-thinking ways to adaptively reuse historical structures is a challenge many cities need to embrace.
One of JC's more prominent abandoned buildings lies at 125 Monitor Street in the Lafayette neighborhood. The six-story industrial structure has not been in use for many years, but the neighborhood is growing and a plan has been put in place to revitalize the building.
Back in May of 2015, the Jersey City Redevelopment Agency designed Graffiti 125 LLC as redeveloper of the property. The company, a subsidiary of Ironstate Development, presented plans to the agency in June that year that would rehabilitate the structure into a 152-unit residential building featuring market rate and affordable options, also including 139 parking spaces on the over two-acre piece of land.
The city is looking to acquire 125 Monitor through negotiated sale or condemnation, but that's where the problems have begun. Jersey City's Redevelopment Agency filed a lawsuit earlier this month against the owners of the building, claiming that they never responded to the city's request to enter the property back in October last year.
Additionally, the legal filing says that just last month, the Agency received no response to a Notice of Preliminary Entry they sent the property owners, which allows them to exercise their right to enter the premises to conduct an environmental assessment.
But on February 24th, the Hudson-Essex-Passaic Soil Conservation District issued a Stop Work Order at 125 Monitor after an inspection revealed that the owners "failed to maintain the valid soil erosion and sediment control certification" at the premises "prior to any filling, demolition, grading or construction activities."
The city wants a judge to issue an Order granting them access to the building and says in their filing that "based on the prior industrial use and the violations disclosed by the Stop Work Order issued by the District, there is a reasonable basis to believe that the Property may contain contaminated and/or hazardous materials." They've argued they will suffer "irreparable harm" if they aren't allowed in.
Complicating matters, 125 Monitor has been in foreclosure since 2013. It is owned by several entities, including JAR Holdings Urban Renewal LLC, Botanical Realty Associates Urban Renewal and 125 Monitor Realty LLC.
The next chapter in the city's quest to redevelop 125 Monitor Street will play out at a hearing, which is scheduled at the Hudson County Courthouse in front of Judge Jablonski on April 13th.