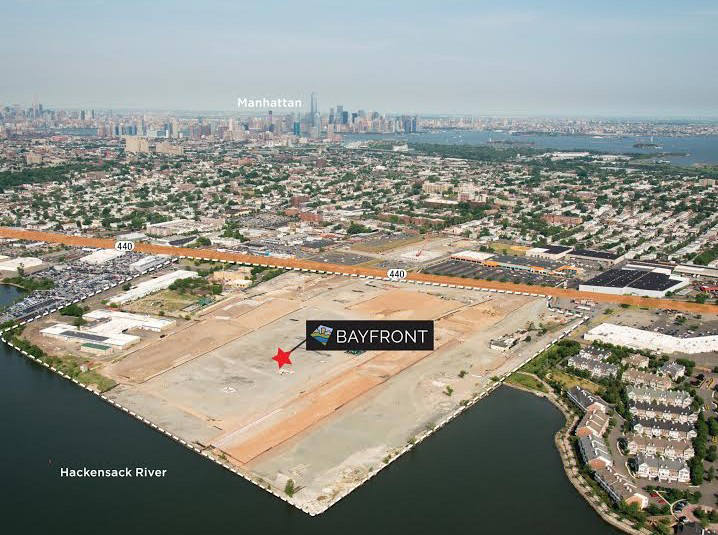 Just west of Route 440 in Jersey City's Ward A, a massive roughly 100-acre lot has continued to sit vacant for years. While surrounding properties have been developed over recent decades into projects such as Society Hill at Droyers Point, the Stadium Plaza Shopping Center, and now University Place, factors such as a chromium contamination crisis have prevented this tract in question from seeing new use.
For the last three years, signs posted at the site along Route 440 have touted plans for a controversial new "place to live, work, [and] play" called Bayfront, with plans for a waterway walkway, shops, housing, and restaurants. However, all the tract contains now is an empty lot. Despite this, over the last year, there has been plenty of discussion and apparent progress on the project, including an agreement that was approved by the Jersey City Municipal Council allowing City Hall to purchase much of the site from Honeywell.
Now, another step has been taken towards planning for development at Bayfront. During its November 28 meeting, the Jersey City Redevelopment Agency (JCRA) authorized a professional services agreement with Perkins Eastman, hiring the Manhattan-based firm for architectural services. The company submitted a design proposal for the property back in October, according to the resolution, and the project is expected to move forward in two phases. For both phases, Perkins Eastman would be paid an hourly rate including labor and expenses, up to $86,000 for Phase I and $66,000 for Phase II.
In a letter to JCRA Assistant Executive Director Chris Fiore regarding Phase I, Perkins Eastman Principal Eric Fang wrote in part that "getting the first phase right is an art in itself and must balance many considerations," adding that "the initial project cannot be so large that it will entail excessive financial risk." Fang also described Phase I as "sort of a neighborhood within the neighborhood" with "a variety of residential products oriented around a central place."
Perkins Eastman's Phase I proposal calls for touring the site, both on foot and possibly by boat, meeting with City Hall, JCRA, and Langan Engineering staff, conducting an analysis of the site, and delivering a conceptual design with presentation materials. All of this is expected to be completed in 10 to 11 weeks.
Four members of the JCRA's Board of Commissioners voted in favor of the deal while two were listed as absent. Rolando R. Lavarro, Jr., who also serves as Council President, abstained from voting, according to the resolution.
Although Perkins Eastman does not have any offices in New Jersey and is among one of the country's leading architecture firms, the company has worked on several other projects recently in Newark and Jersey City. For instance, they are responsible for the design of Ironside Newark, 99 Hudson Street, Vantage, and the Rutgers-Newark Honors Living-Learning Community.
Should Bayfront end up being completed, it would be among the largest projects of its kind in the region and would likely include a stop on an expanded Hudson-Bergen Light Rail System. It would also be Jersey City's first mixed-use development along its western waterfront. All other projects like this have been concentrated near the Hudson River and Upper New York Bay on the eastern side of the city while developments near the Hackensack River and Newark Bay have either been all-residential or all-retail, but not a mixture of both.