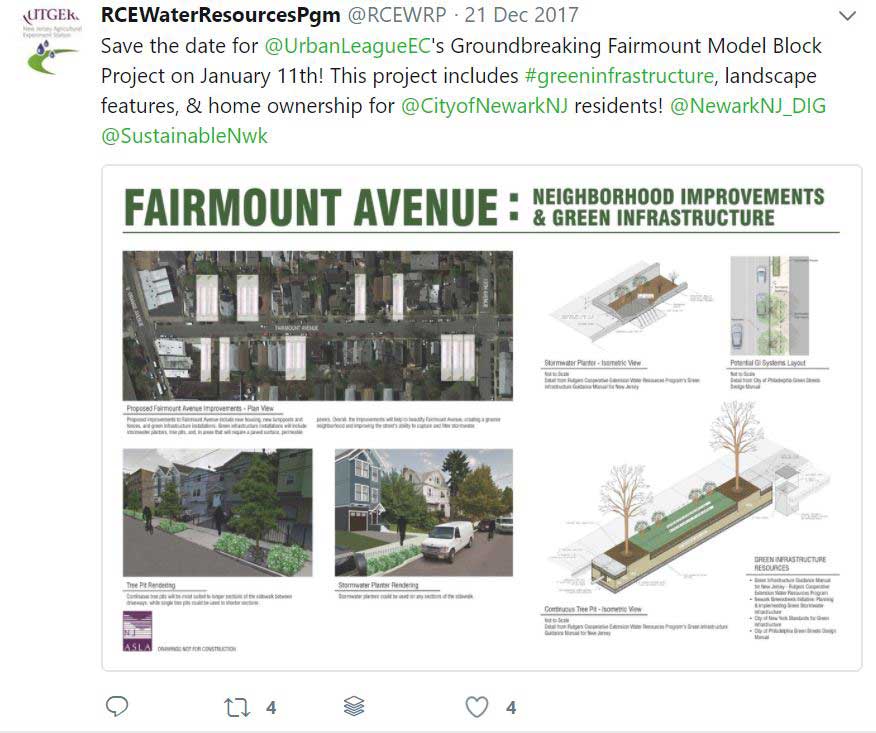 Officials are scheduled to announce plans today to bring a variety of improvements to one Newark neighborhood.
A groundbreaking ceremony will be held for the upcoming Fairmount Model Block Project in the West Ward. The project, which is being developed in partnership with the City of Newark, the Urban League of Essex County, and the Rutgers Cooperative Extension Water Resources Program, "includes green infrastructure, landscape features, and home ownership for the city of Newark's residents," according to Newark DIG.
This multifaceted initiative will center around the Fairmount Avenue corridor and includes plans for the construction of new housing in the neighborhood, as well as the installation of new fencing, lampposts, tree pits, permeable pavers, and stormwater planters.
"Overall, the improvements will help to beautify Fairmount Avenue, creating a greener neighborhood and improving the street's ability to capture and filter stormwater," according to a project document from the New Jersey chapter of the American Society of Landscape Architects.
The news of a Model Block initiative coming to Fairmount Avenue comes after a similar project was launched five years ago just one block west along Littleton Avenue and further south on Seymour Avenue. Those projects were conducted in partnership with neighborhood residents, companies, and organizations such as New Jersey Community Capital and JP Morgan Chase, and involved creating affordable housing at the site of previously blighted properties and streetscape improvements. According to The Star-Ledger, the Littleton Avenue project was funded by a state grant and resulted in a major reduction in reported crimes along the block.