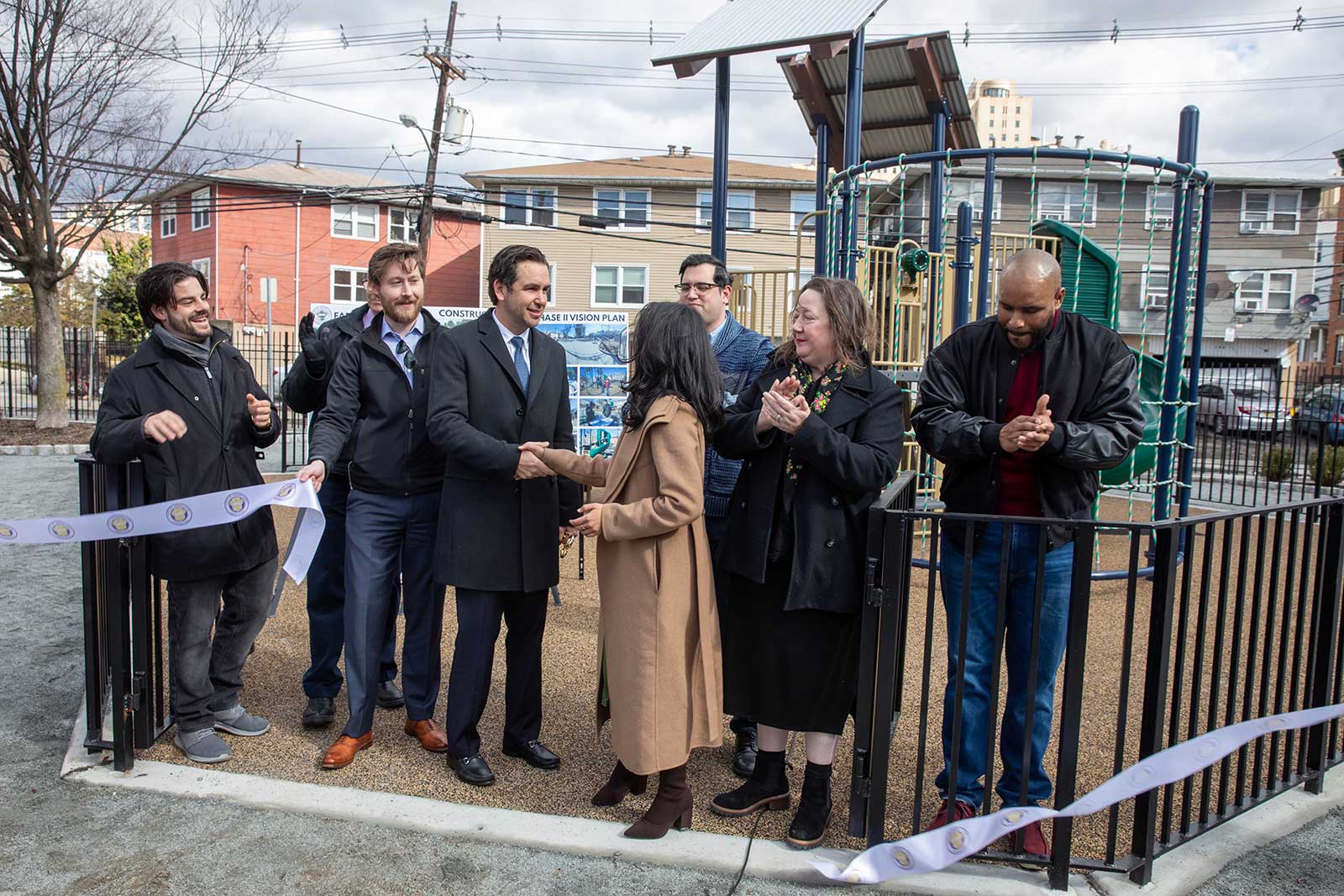 An underutilized stretch that included several small roadways has been transformed into the newest park in Bergen-Lafayette, Jersey City and a further expansion is slated to break ground later this year.
Jersey City Mayor Steve Fulop recently joined several City Council members and other dignitaries to officially open Fairmount Park following the pedestrianization of a cut-through street near Fairmount and Summit avenues. The park, which was designed with input from residents, includes a new playground, benches, and green areas with tree plantings.
Work on the project included a new fence lining the park's perimeter and widened sidewalks around the park, all of which was accomplished while maintaining traffic circulation and existing parking spaces.
"This lot is unrecognizable from 2019 when we first envisioned creating a safe and accessible park where none previously existed," said Mayor Fulop. "Fairmount Park embodies our broader ambitions of identifying innovative approaches to finding solutions to help this great community reach its fullest potential."
The once triangle-shaped lot, which was first converted into a park as a pilot program back in 2019, saw the reconstruction of two small portions of roadway to create one cohesive public park space. The design furthers the city's Vision Zero and sustainability goals, also incorporating stormwater permeability features throughout the lot.
The $500,000 project is just the beginning, as more is in the cards for the space. Jersey City recently acquired a car storage lot directly adjacent to Fairmount Park and a second phase that will expand the greenery by 40% is currently in the design process.
Jersey City is slated to host multiple community meetings before a plan is finalized. Construction on the second portion of Fairmount Park is tentatively scheduled to start this Fall.
The new open space is part of Jersey City's broader efforts to expand and improve more neighborhood parks. Spots like Mary McLeod Bethune Park have been added to the landscape in recent years, while officials announced plans for a one-acre park around City Hall on Grove Street late last year. Several longer-term efforts like Courthouse Park are also in the works.