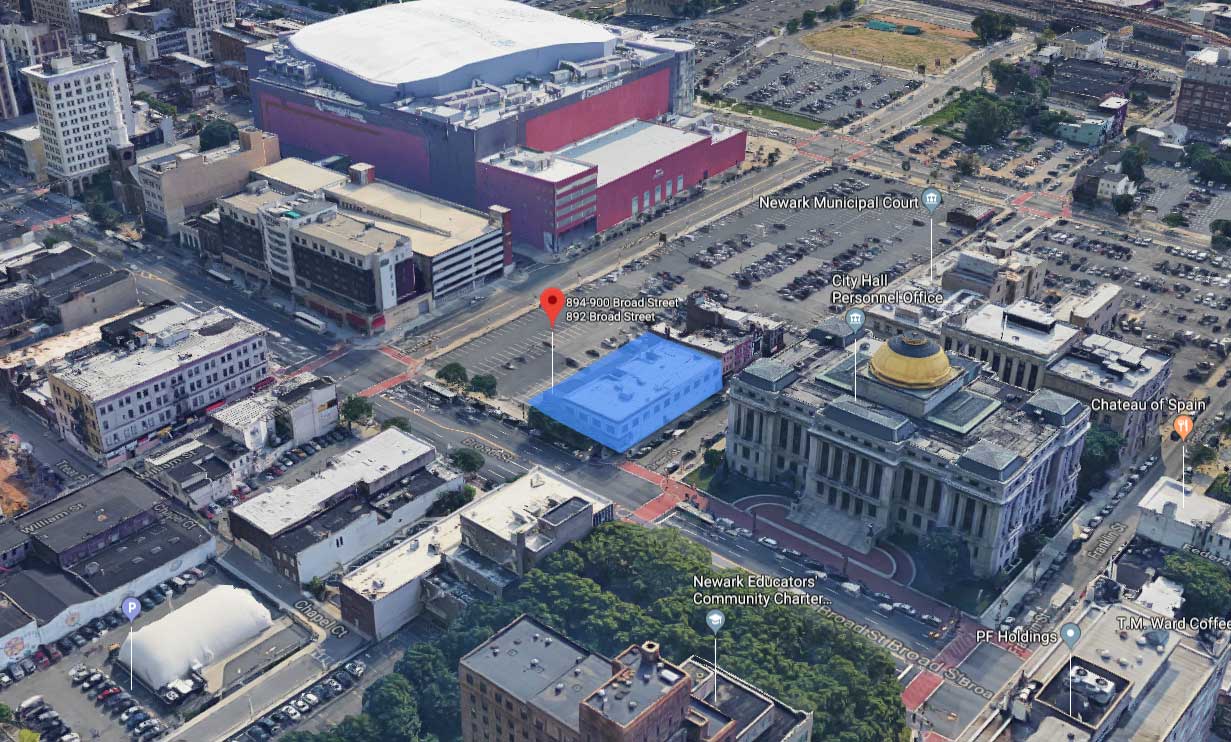 From a vacant lot in the South Ward to historic mansions in the Central Ward to apartment buildings and houses throughout the city, the companies registered out of a nondescript office in a Bergen County suburb are continuing to own a bigger and bigger piece of the pie when it comes to Newark real estate. Now, another firm based out of 900C Lake Street's Suite 11 in Ramsey is apparently behind what could be among the tallest developments to ever be proposed for New Jersey's largest city.
The Ramsey-based LLC in question, Broad Green, has filed an application to construct a 51-story building in Downtown Newark. The proposed high-rise could include 552 residential units, according to a public notice that was released yesterday. A lobby and cafe are planned for the ground floor of the building, which would be located at 892 and 894-900 Broad Street.
It is not yet clear how many feet tall the building would be if approved and ultimately completed. Newark's tallest buildings, the National Newark Building and the Lefcourt Newark Building, the latter of which is now referred to as Eleven80, are both around 35 stories tall and date back nearly 90 years. Other high-rise proposals in Downtown Newark, including the 40-story "Halo" complex on Washington Street and a separate 42-story building plan on Broad Street, have not yet come to fruition.
For the high-rise at 892 and 894-900 Broad Street, Broad Green, LLC is requesting both Preliminary and Final Site Plan approval from the Newark Central Planning Board, along with variances for insufficient lot width, insufficient parking, and excessive front yard setback. A meeting agenda that includes this application has not yet been posted digitally by Newark's Office of Planning and Zoning. However, the notice mentioned that the matter is expected to be heard by the Newark Central Planning Board during a special meeting on Wednesday, July 31, at 6:00 p.m. The meeting will be held at City Hall, which is located directly across Green Street from the site of the proposed development.
City tax records show that Broad Green, LLC is the owner of both the 892 and 894-900 Broad Street tracts. 892 Broad Street is home to a building that contains Haggar's Halal Kitchen. The other property includes a two-story building that was the home of City National Bank before the Newark-based financial institution moved to the Hahne & Co. development. Broad Commons, LLC, a different firm that is registered out of the same office on Lake Street in Ramsey as Broad Green, LLC, paid $10 million for the latter building last year, according to property sales data. The previous owner, an LLC registered out of the same address on James Street in Newark as Assurance Realty Group, reportedly paid $2.069 million for the property less than two years earlier.
Jersey Digs has been following the unconventional activities of the Ramsey-based development firms for close to a year. Using names like CYT Holdings, FDF 3, and Lake Properties 103, the LLCs have spent tens of millions of dollars acquiring properties of all kinds in both Downtown Newark and the city's outlying neighborhoods and subsequently proposing new or adaptive reuse development plans for those tracts.
These companies, which appear to have some links to other firms such as FDF Holdings, FDF Global, and VIVO Management, started buying up land and buildings in Newark just a couple of years ago. Their actions have ranged from paying $6.4 million for the historic but vacant Griffith Building on Broad Street and proposing apartments last year to planning four new 24-unit buildings in the West Ward this summer.
A recent Jersey Digs analysis of Newark tax records found that at least 100 properties in the city are associated with the mysterious developer.
Note to readers: The dates that applications are scheduled to be heard by the Newark Central Planning Board and other commissions are subject to change.
Related: