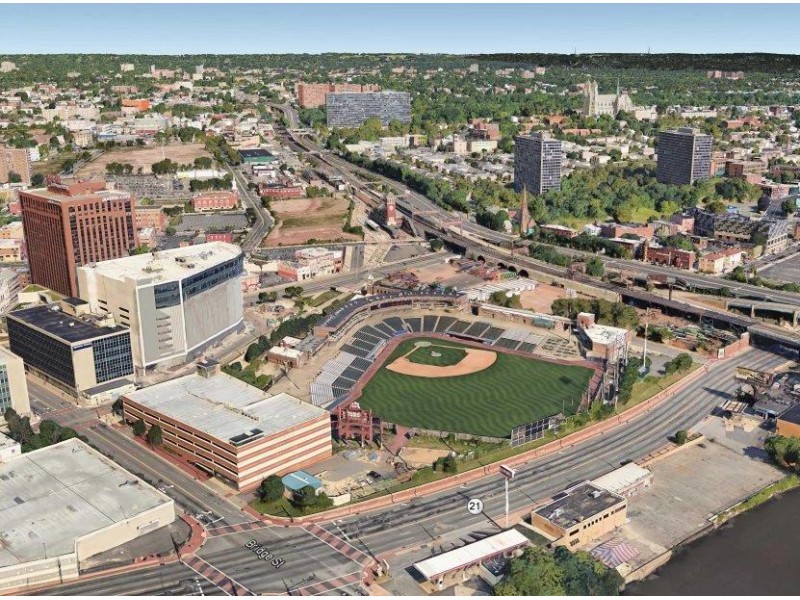 The plans for the redevelopment of the Newark Bears and Eagles Riverfront Stadium property and surrounding area have expanded, and the public will soon get a chance to weigh in on whether it should go forward.
The latest plans now call for 2,526 residential units, 48 live/work units, a hotel with 240 rooms, 102,144 square feet of retail space, a performance space, 2,216,820 square feet of office and commercial space, and 2,923 parking spaces to accompany the existing Essex County Improvement Authority parking garage. The entrance to the new parking facility will be along McCarter Highway/Route 21. All of that is according to a legal notice regarding a public hearing on the proposal.
The 450 Broad Street site is apparently not the only property where developer LEG 450 Broad Street, LLC, an affiliate of the Manhattan-based Lotus Equity Group, plans new development. It has also filed an application for 422 Broad Street, a large vacant lot that sits just across Division Street from the stadium. According to a different legal notice, the company wants to subdivide the tract into three lots in connection with "the development of a mixed-use retail, office, hotel, performance space and residential project" as proposed in the other application.
The 422 Broad Street property was home to the Lincoln Motel and Club Zanzibar until 2007, but has sat empty in the years since except for occasional carnivals and other events. Last year, the Berger Organization proposed constructing a casino hotel and convention center at the site, but the plans fell through when casino legalization outside of Atlantic City was rejected by voters.
The Newark Central Planning Board is scheduled to take up both applications at City Hall on December 4 at 6:30 p.m.
The developer's plan to tear down the former baseball stadium and replace it with a new mixed-use neighborhood was first revealed in March 2016 when the city of Newark and Essex County announced plans to sell the property.
In October 2016, the site was officially transferred for $23.5 million from the Essex County Improvement Authority to the developer. Renderings for the project were released this summer, along with the announcement that the Practice for Architecture and Urbanism (PAU), Michael Green Architecture, TEN Arquitectos, and Minno & Wasko Architects and Planners would be involved.
At the time, Lotus Equity Group founder Ben Korman told Jersey Digs that there were plans for 1,400 residential units, 400,000 square feet of office space that he expected to be largely occupied by tech sector businesses, 25,000 square feet of dedicated live-work maker spaces for local artists and artisans, 2,000 parking spaces, three acres of public space, and an attraction such as a food hall or bowling alley.