The wait for one of Jersey City's most anticipated restaurants is almost over as the barbeque-forward Boots & Bones will be launching drink service on March 17 and unveiling a limited menu over the weekend.
Jersey Digs broke the news last summer about the endeavor, which will be bringing southern barbeque, craft cocktails, and a new lounge to 116 Newark Avenue. We were granted a tour of the space in advance of the opening by co-owners Kenny Caulfield and Jeff Lam, the former of which owns the nearby Six26 lounge and The Ashford, with the latter founding New York City's acclaimed Chinese Tuxedo and The Tyger.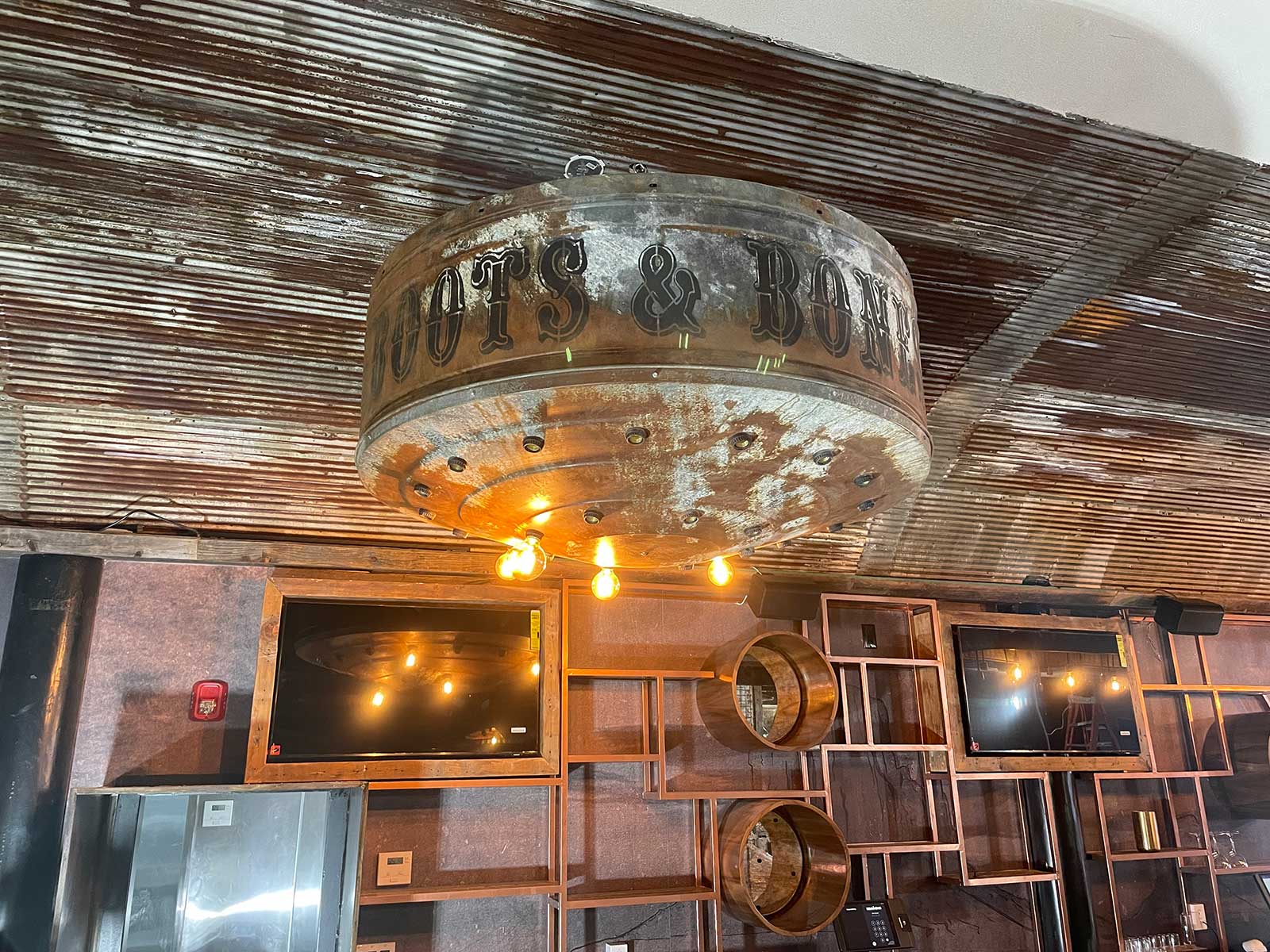 Caulfield notes that Boots & Bones will essentially be the first sight visitors see when they step out of the Grove Street PATH station and wants the restaurant to set the tone for Jersey City's growing dining scene.
He wants to impress diners from all around the tri-state area and provide a quality authentic experience to locals, whom he hopes will stay in Jersey City instead of hopping into Manhattan.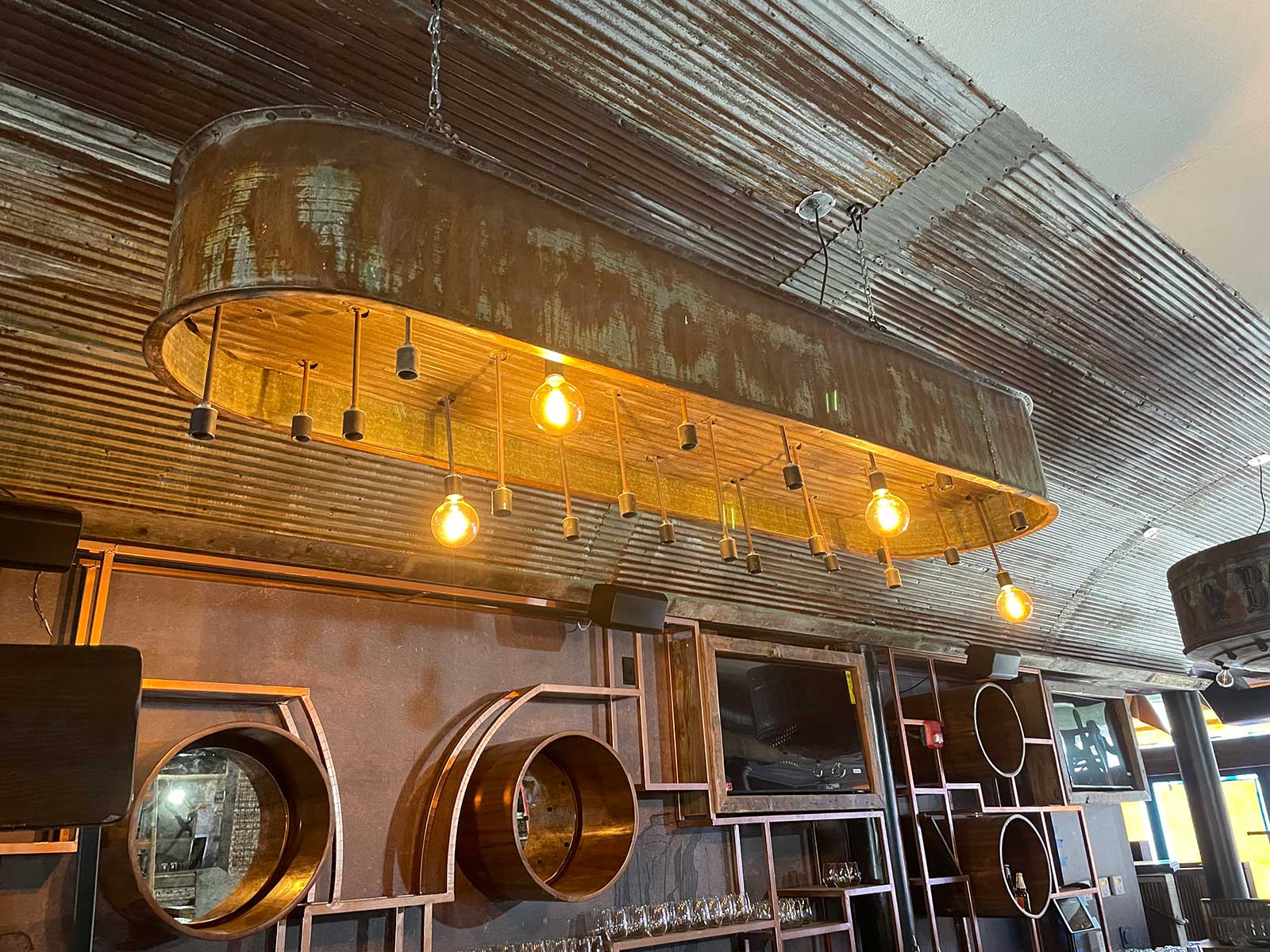 Lam spearheaded the design of Boots & Bones, which he calls "rustic but sophisticated." The space features custom Western-inspired wallpapers alongside repurposed barn woods and weathered metal panels, while a concrete bar is adorned with two massive light fixtures.
Table, bar, and booth seating will be available at the restaurant, which will feature a menu from Executive Chef and Pitmaster Kenny Callaghan. Perhaps most known for his work at New York City's legendary Blue Smoke, Callaghan has put together a menu that has something for everybody despite being a barbeque joint.
A variety of specialties like St. Louis ribs, pork shoulder, beef brisket, smoked chicken, and smoked sausage share the culinary space with a diverse collection of appetizers spanning everything from oysters with cider mignonette to PEI mussels with chorizo fresco.
Main dishes at the restaurant will include Low Country Gulf shrimp & grits, Faroe Island salmon in smoked tomato broth, and a smoked nut-crusted tofu kebabs dish with mushrooms, zucchini, bell peppers, tomato, and rice.
Sides are a must for any smokehouse joint, and complementary dishes on the menu will include pork rind-crusted mac & cheese, sesame seed cole slaw, smoked pit beans with pork shoulder, and chipotle corn bread with honey butter.
The Boots & Bones experience will include a lower-level lounge dubbed Under The Boot that Caulfield hopes will emulate "a shadowy social club." The space will be accessible via the restaurant or by a secret entrance from the street and while Caulfield doesn't love the term "speakeasy," he wants to keep Under The Boot shrouded in a bit of mystery.
Without giving too much away, the restaurant will be placing an actual boot near the lounge entrance in lieu of a sign that they hope will give off "old school NYC vibes." Under The Boot will feature bar and tabletop seating, a light-up sign, and cocktails inspired by the old West that include a purple-hued concoction dubbed Cruisin' For a Brusin' and their signature boot drink with a pistachio-crusted rim.
A deep library of hard-to-find bourbons and other spirits will be featured at the space, as will a small plates menu. The ownership team hopes Under The Boot will become a unique date night spot, as there are no "speakeasy-type" establishments in Jersey City as of yet.
Boots & Bones is slated to soft open their beverage program Friday evening at 5 p.m., with the Under The Boot portion slated for a future launch. A limited food menu will be rolled out starting on March 18 and a more formal opening of the spaces is set for mid-April.
Those interested in future updates can follow Boots & Bones on Instagram at the handle @bootsandbonesjc, while the speakeasy Under The Boot can be found at @underthebootjc.