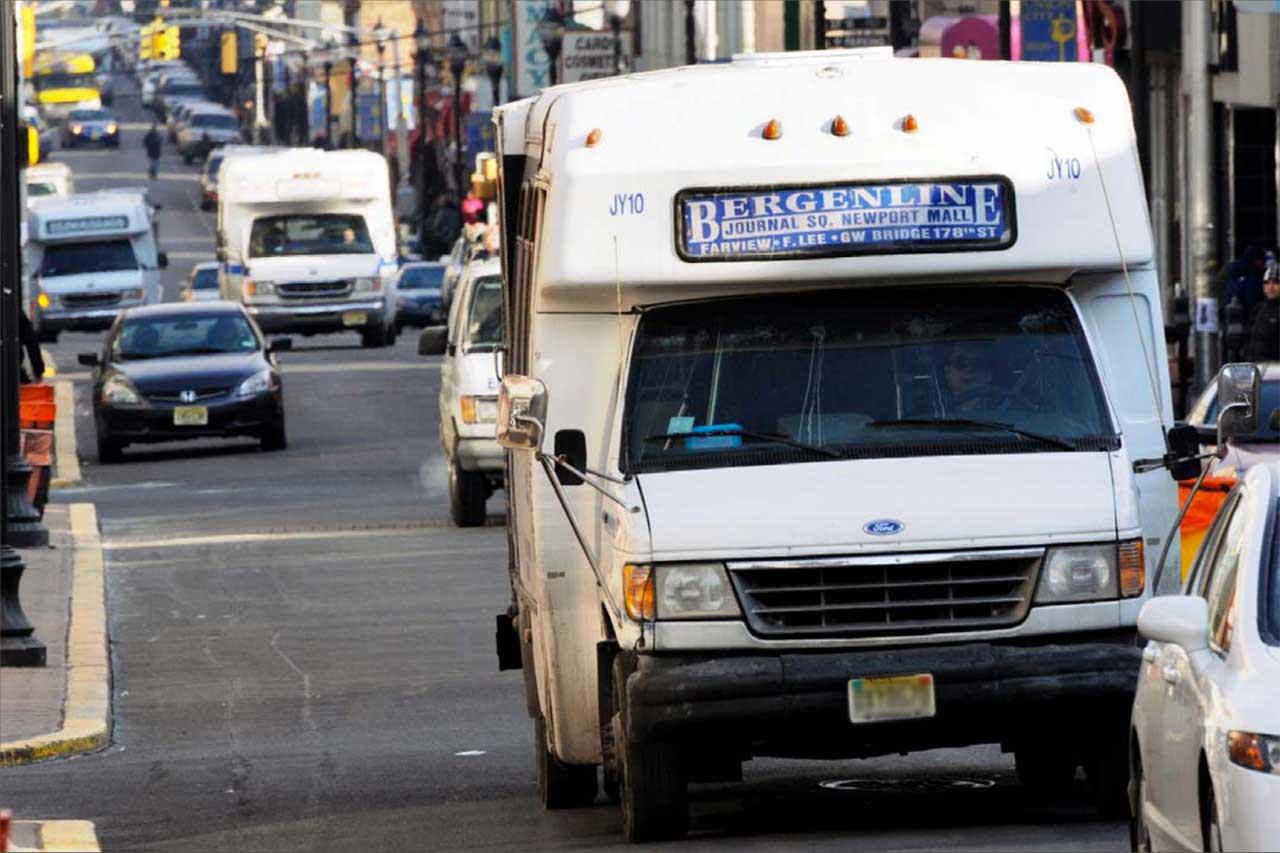 Hudson County, New Jersey, has four separate transit systems: NJ Transit, the PATH, the ferries, and jitney buses. On some busier corridors, jitneys are the predominant form of transportation.
Yet for new residents or people who aren't used to taking public transportation, the jitney system can be confusing, even intimidating. If you live or work near a jitney route, you should know how to take advantage of this unique form of transportation.
Jitneys have a couple advantages over NJ Transit buses: they are often quicker, fares are slightly lower, passengers don't have to stand, and there's no need for exact change. But the biggest advantage is that jitneys run at a very high frequency, making them incredibly convenient.
What is a jitney?
Jitneys are privately-owned buses that provide public transportation in Hudson County, New Jersey, and several surrounding towns and cities. They come in many shapes and sizes, from small minibuses to full-length vehicles. The unifying characteristic of a jitney isn't the type of vehicle, it's the transit service they provide.
Jitneys aren't like your typical bus route. There is no preset timetable or schedule. Most jitney drivers rent a bus by the day and then spend their workday driving up and down the route, picking up passengers. At the end of the day, all of the fares that the driver collects are his or her take-home pay. Other drivers are entrepreneurs who own their own bus.
Tip: This article uses the term "jitney bus," but there is not yet a universal English term for this service.
Are jitneys legal?
Jitneys are commercial vehicles overseen by the New Jersey Motor Vehicle Commission and the U.S. Department of Transportation. They compete with public services like NJ Transit, but this business model is not prohibited. Jitneys have to meet requirements such as vehicle maintenance, proper insurance, commercial drivers' licenses, drug tests, and hours-of-service limits for drivers.
That being said, as in many regulated industries, universal compliance is not guaranteed.
Where do the jitneys go?
In general, most jitney routes copy a similar NJ Transit line. The following NJ Transit buses are along corridors with frequent jitney service:
190- Paterson to New York

171- Paterson to New York

125- Jersey City to New York

128- North Bergen to New York

159- Fort Lee to New York

10-   Bayonne to Jersey City

84-   Jersey City to North Bergen

88-   Jersey City to North Bergen
Another way to understand the jitney routes is to remember the main roads in Hudson County that they follow:
Kennedy Boulevard – Bayonne to North Bergen

Bergenline Ave/Anderson Ave – Union City to Fort Lee

Palisade Ave and Newark Ave – Jersey City

Boulevard East – Weehawken to North Bergen
When do the jitneys run?
Jitney buses don't run on a fixed schedule, but if you are wondering how to catch a bus that has no schedule, don't worry. Most jitneys run every five minutes or so, so you will rarely have to wait long. Some routes like Bergenline have jitneys every 1-2 minutes, so you will be picked up almost immediately. Even Uber can't beat that.
Whether or not jitneys are running at a particular time of day mostly depends on the drivers' work shifts. The disadvantage of this is that it's hard to tell when jitneys are available. As a rule, you can rely on all of the major routes listed above to be running between roughly 6 a.m. and 8 p.m. on weekdays and 7 a.m. and 7 p.m. on weekends.
That doesn't mean jitney service isn't available before 6 a.m. or after 8 p.m. But outside these hours they run much less frequently, and how late they run differs for each route.
Tip: At the Port Authority, the electronic departure boards have rough estimates of the schedule for the Paterson and Kennedy Boulevard jitneys.
How do I catch a jitney?
Like any bus, it starts with heading to the bus stop and waiting there. You'll recognize the jitney when it comes — it will usually have a sign stating a route or destination such as "New York," "Via Bergenline," or "Journal Square – Bayonne."
To hail the bus, hold out your hand. The driver will open the door for you to board. Ask the driver where the bus is going. Simply inquiring "Newport Mall?" or "New York?" will do. Don't pay yet — this comes later.
Tip: Not all minibuses are jitneys. Senior citizen shuttles and paratransit use similar vehicles.
How do I get off?
Jitneys don't have a button to press or a cord to pull when your stop is coming. Instead, use your voice. Say "next stop!" and the driver will pull over at the next bus stop. If you're sitting in the back, you might have to shout. Sometimes it's easier to move up to the front before asking for your stop.
Pay the driver as you exit the bus. Unlike NJ Transit buses, the driver will be glad to make change for you.
Tip: The exception to pay-as-you-leave is that sometimes you'll be asked to pay when boarding in New York.
What does it cost?
Jitney drivers charge slightly under the NJ Transit fare. The charge for short distances is $1.50. Fares to and from New York are $3 or more. On some routes, there is a poster inside the bus describing fares between different points. If you are unsure of the fare, just ask.
There are no monthly passes and no discounts for kids or seniors. Jitneys are cash-only.
Where can I find more information?
For new riders, the best way to find out more is by talking to other people at the bus stop. Veteran commuters will know all about the jitney route that passes your stop, how often it runs, what it costs, and will be glad to help you out. Passengers on the bus or the driver are also usually willing to answer questions that you may have.
About the author: Axel Hellman is an expert on the North Jersey jitney bus system and maintains a website with information about jitney routes, maps, fares, and schedules. More information can be found at www.jerseyjitneys.info.