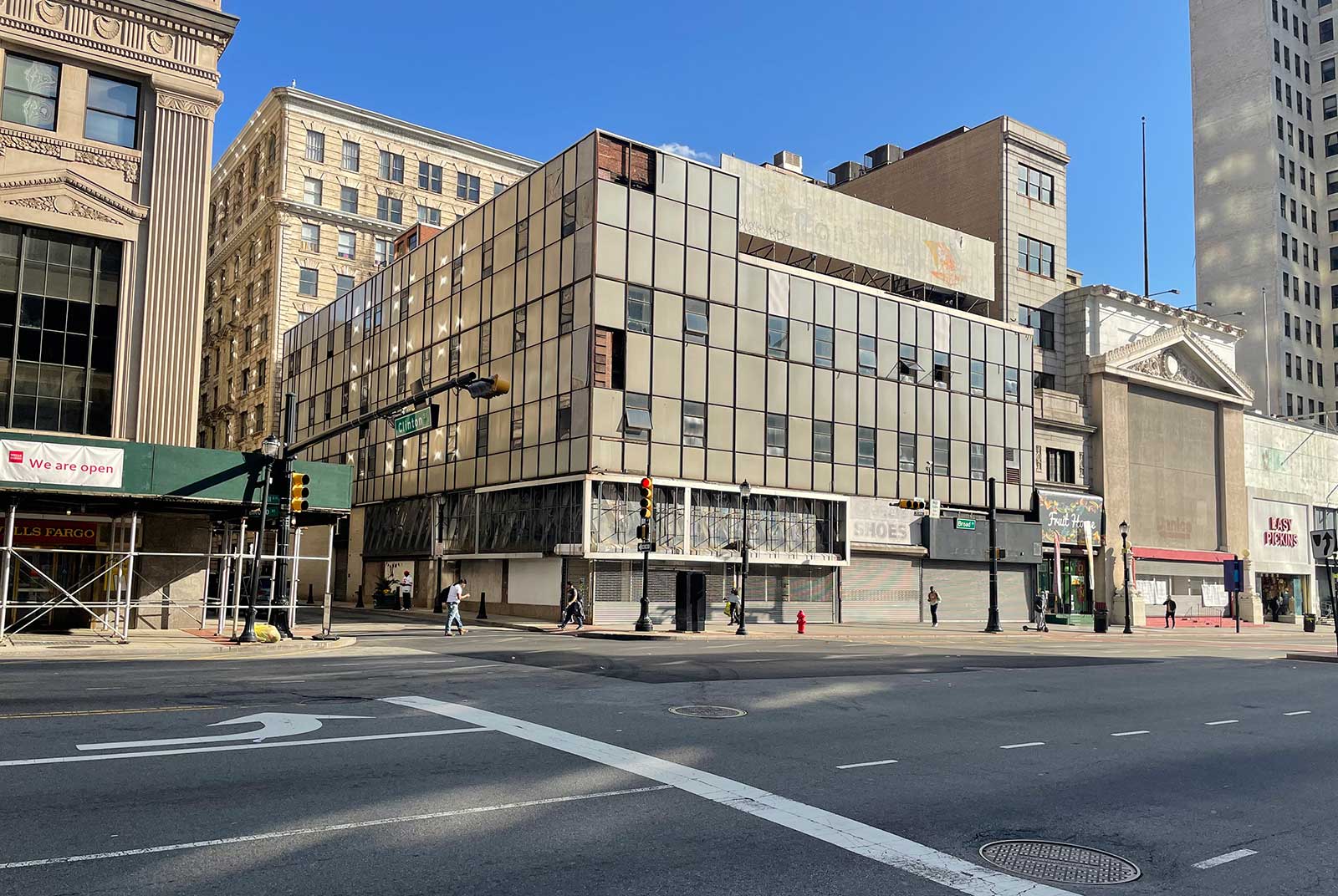 One of the more prominent developers in Downtown Newark has full approvals in place to revitalize a corner property along Broad Street that will add a sizeable storefront to the neighborhood.
Per our reporting from earlier this month, an office building at 756-762 Broad Street is slated for a major renovation and vertical expansion. The property is owned by Paramount Assets, a company that has converted a number of historic office buildings such as 15 William Street and 40 Clinton Street into residential towers.
Built in 1919, the brick-and-limestone structure was originally four separate buildings. The properties were later consolidated during the 1960s into one office complex called the British Overseas Airways Corporation Building, but the land has been vacant and covered in a faux-façade material exterior ever since.
The plan to remove the outer glass panels currently on the building and add three more stories was recently approved by both the Central Planning Board and the Historic Preservation Commission. Paramount Assets recently released an image of what the revamp will look like at the property, which will include 77 residential units.
Drawn up by Wall Township-based Higharch Design, the new building facade will consist of brick, limestone, and stucco. Paramount promises a "beautiful, detail cornice" as part of the project, which will include a 10,000-square-foot storefront on the ground floor.
The residences at the future complex will be entered on Clinton Street and will consist of 68 one-bedroom spaces plus four studios. A lobby and residential amenity area is included on the first floor, while the second floor is set to feature a gym and lounge area.
The project, which falls within both the Living Downtown Plan and the Four Corners Historic District, was granted variances related to insufficient historic building setback, insufficient parking, insufficient shade trees, and insufficient illumination at the building entrance. A groundbreaking date for the development has not yet been announced.