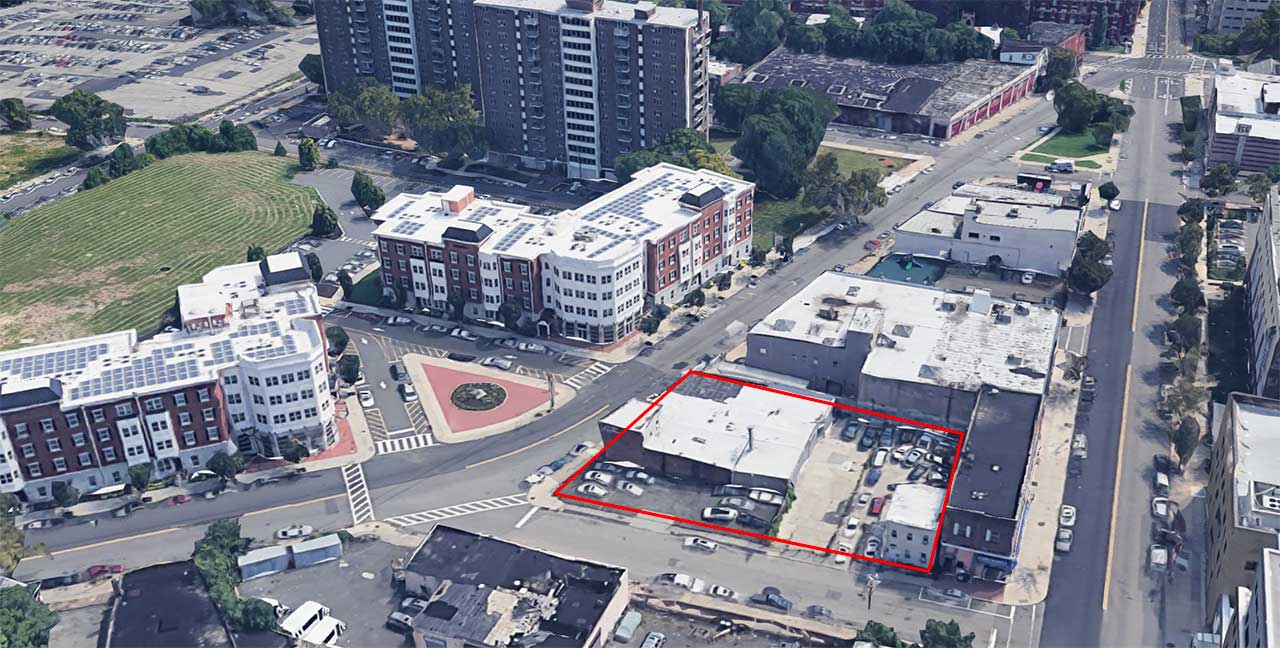 A mixed-use tower could potentially be constructed just north of the New Jersey Institute of Technology campus in Newark should a new application be approved.
KS 50 Sussex Avenue LP is proposing a 15-story building at 50-54 Sussex Avenue and neighboring 18 Hoyt Street in the University Heights section of the Central Ward. The developer's plans call for 203 residential units, 2,475 square feet of retail and commercial space, 4,690 square feet of amenity space, and 16 surface parking spaces, according to a public notice.
The notice mentioned that 62 of the units would be studios, 99 would include one bedroom, and 42 would contain two bedrooms.
The premises are situated across Sussex Avenue from the Baxter Park Apartments. The 50-54 Sussex Avenue parcel has contained Shinsei Karate-Do & Fitness, International Beauty Salon, and Jeffry's Auto Body in recent years. A two-story house stands at 18 Hoyt Street.
Municipal tax filings list the owner of both properties as Dionisio Ramos, who uses an address in San Sebastián, Puerto Rico.
Although it is not yet clear if KS 50 Sussex Avenue LP is associated with other recent proposals across the city, several firms including "KS" in their names have sought approval for additional projects in Newark over the last year. For instance, KS 66-80 South Orange Avenue, LP is behind a proposed development near the Springfield Avenue Marketplace.
The latter company is registered out of 556 Market Street in the Ironbound. KS 66-80 South Orange Avenue LP's recent application to the Newark Zoning Board of Adjustment associated the business with KS Group, LLC and named Daniel Spiegel as a member and authorized signatory, while a certificate from the New Jersey Division of Revenue and Enterprise Services listed that purpose of the company is to "purchase and develop real estate in New Jersey."
The Newark Central Planning Board is scheduled to hear the application for 50-54 Sussex Avenue and 18 Hoyt Street during a Zoom meeting on Monday, August 17 at 6:00 p.m., according to the notice.
Note to readers: The dates that applications are scheduled to be discussed by the Newark Central Planning Board and other commissions are subject to change.
Related: