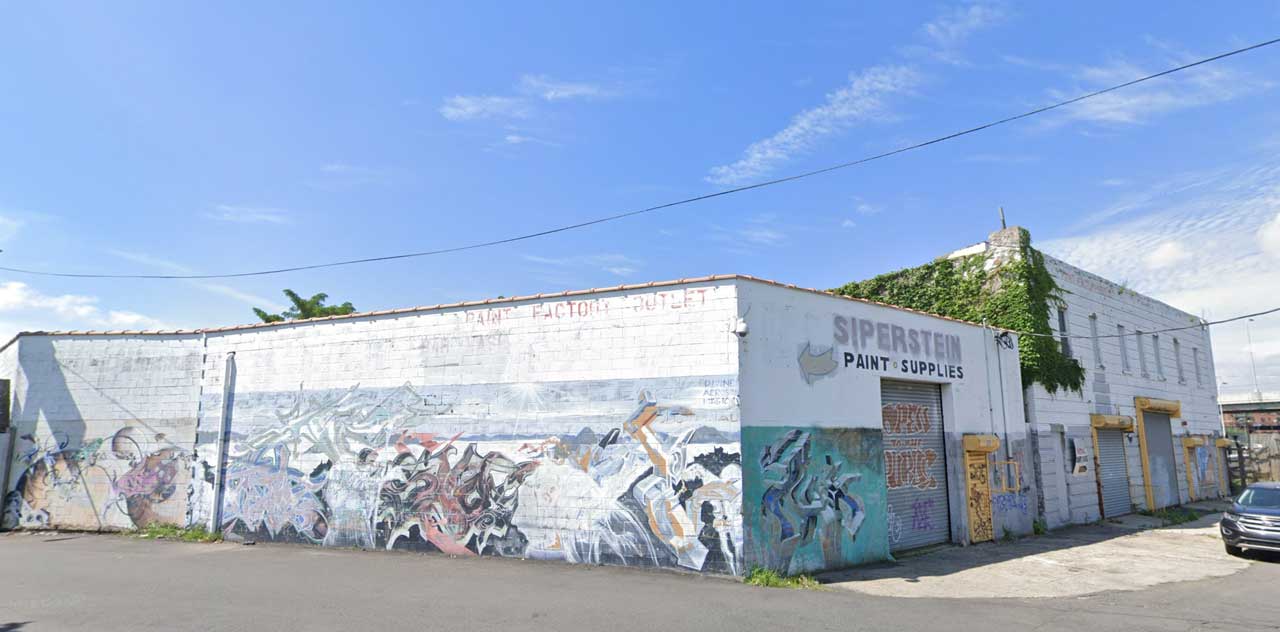 An industrial building adjacent to one of Jersey City's major gateways could be torn down and replaced with a mixed-use development under a new proposal.
Last month, an application was submitted to revitalize several parcels at 205-211 Bright Street. The properties consist of vacant warehouses and a small rear lot that formerly housed a paint factory outlet for Siperstein's, once one of the largest family-owned paint supplier chains in the region.
While the company now operates out of the Fords section of Woodbridge Township, their Jersey City legacy is still on display via an iconic "ghost sign" that sits atop a Montgomery Street building a few blocks away. Their slogan of "Great Price Great Advice Since 1904" can be seen by thousands of drivers daily who arrive Downtown via the Columbus Drive exit off I-78.
While that property and the ghost sign are slated to stay put, Hoboken-based Six Boro Holdings is seeking to demolish the Bright Street buildings. A ten-floor development sporting 128 residential units is envisioned on the land in a building that would additionally include 12,000 square feet of commercial space and 3,830 square feet of common indoor recreational space.
Designed by MVMK Architecture, the planned development would rise 105 feet at its tallest point and is slated to utilize a tiered layout that includes six-story sections. Renderings of the proposal have yet to be released, but a parking garage with 128 spaces is included in the plan.
The living spaces at the potential development would skew a bit smaller, with the project set to include 32 studios, 69 one-bedrooms, 22 two-bedrooms, and five three-bedroom units. No affordable housing component is listed on the application, which was submitted to the city's planning department on February 8.
Formerly known as Schmitt Capital, Six Boro Holdings is behind several local developments that include a 40-unit adaptive reuse project at 380 Communipaw Avenue currently under construction. The company's latest proposal falls within the Bates Street Redevelopment Plan and does not appear to require any zoning variances as currently pitched.
The city's planning board will still need to sign off on the plan before Siperstein's old home meets the wrecking ball and a date when the application could be reviewed has not yet been announced.