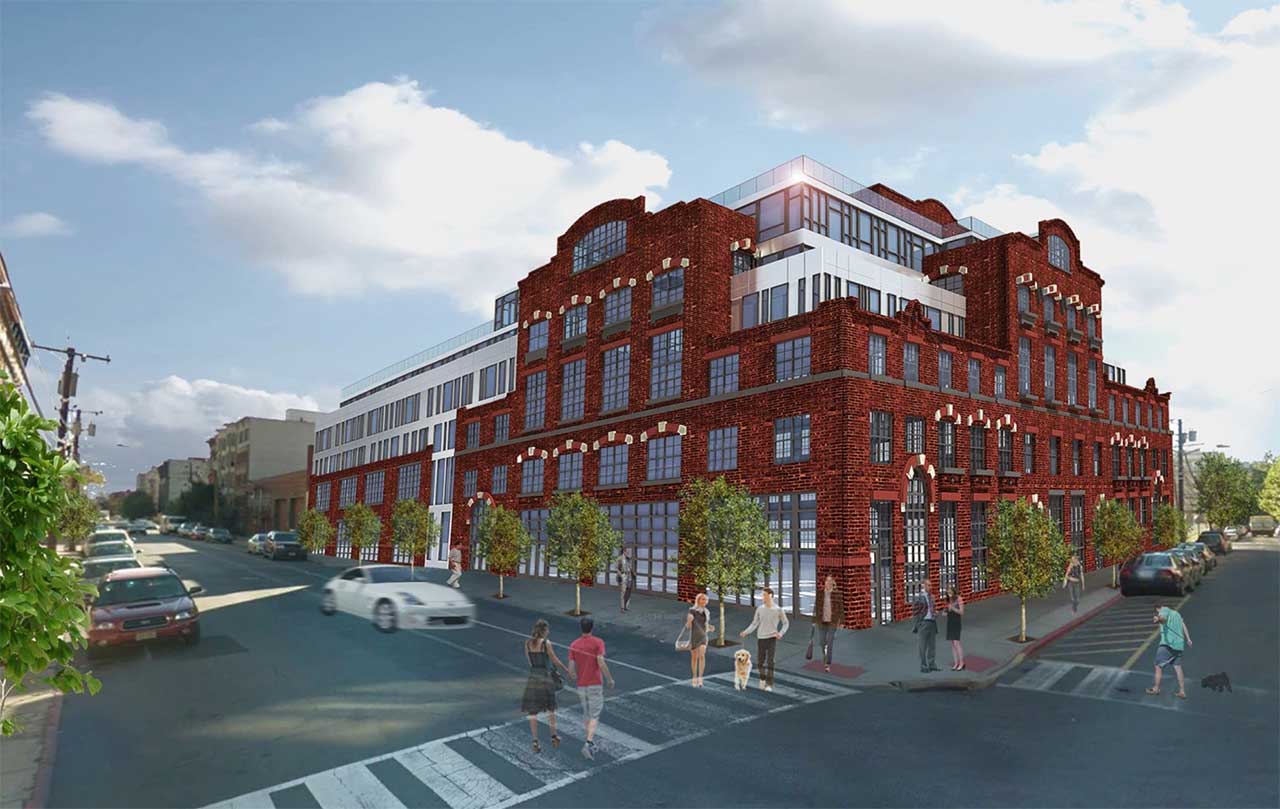 Half a decade of planning and preparing has finally yielded to tangible headway at a significant adaptive reuse project in the Mile Square City, an expansion of which is starting to rise from the century-old structure.
The $120 million Wonder Lofts development was first approved back in December 2015 and sought to revamp a U-shaped industrial building at 720 Clinton Street into a mixed-use property. Commonly referred to as 'the Wonder Bread building' by locals, the historic complex rose from the ashes of a 1909 fire and served as home to John Schmalz's Sons Model Bakery for decades.
Years later, the factory became part of the Continental Baking Corporation and Wonder Bread was baked inside of the building. Portions of the property also lodged a knitting mill and a dog daycare center before a company called Parkwood Development gained approvals to expand and revitalize the structure into a 68-unit condominium project including 2,375-square feet of ground-floor commercial space.
Since that time, Bloomfield-based Prism Capital Partners has taken over the project. The renovation of the property, drawn up by Hoboken-based MVMK Architecture, will preserve the building's entire façade, chimneys, a smokestack and the factory's water tower while adding new sections made of composite metal panels with large glass windows. The project will be LEED Gold Certified and sport a historical plaque in addition to 119 parking spaces.
Amenities in the Wonder Lofts will include terraced outdoor space on the roofs of the structure and a 4,000-square foot center promenade with a pool. The plan will also see construction of a new four-story building across the street at a former parking lot that will sport six affordable housing rental units.
Work has been ongoing over the last year to stabilize the structure and restore much of the original brick and stone on the outside of the building, which is currently covered in scaffolding. Curved archways and many of the building's original details have been left intact, while cuts have been made to accommodate the installation of new windows along 8th Street, set to be the entry point for the retail space.
Prism will soon begin vertical construction on another project across from the factory at 731 Clinton Street that is now included in the overall Wonder Lofts development. Initially given approvals separately back in 2017, plans for that parcel call for a five-story, 15-unit development inside of an L-shaped building with 14 parking spaces.
The corner lot was home to a modest one-story garage that was once used as stables for horses that delivered the factory's baked goods by horse-drawn buggy during the late 1800s. That structure was torn down earlier this year and work has already begun on the new development, which MVMK Architecture also designed.
Industrial brick similar to the red façade of the now-demolished garage will be utilized on the new building's exterior, while glass components will feature on the higher floors and street-level corner. All the condominium spaces in the elevator-equipped building will be three and four-bedroom units ranging in size from 1,700 to 2,100-square feet.
Notable details of the second Wonder Lofts building include an extensive green roof and environmentally conscious elements like electric car charging stations, spray foam insulation, and an underground stormwater retention system.
Prism's overhaul of Wonder Lofts has created quite a busy block along Clinton Street, which saw an Italian eatery called Il Tavolo di Palmisano open earlier this year and is set to welcome Hoboken Children's Theater during 2020. An estimated completion date for the Wonder Lofts has yet to be announced.