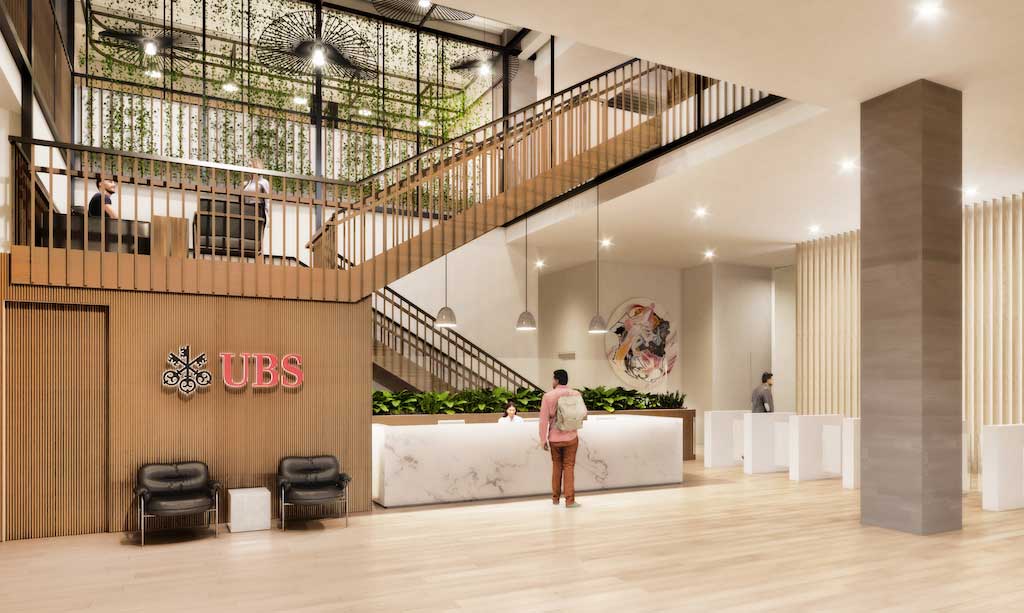 WeWork design arm, Powered by We, is set to redesign the UBS Wealth Management U.S. Headquarters in Lincoln Harbor, the designer recently announced. The project has a 2019 start date and is set to redesign 100,000 square feet of office space across three floors.
"The way people work is undergoing a fundamental shift, and more enterprise leaders are recognizing the correlation between physical space and performance," Dave Fano, chief growth officer at WeWork said in a news release. "We know from operating more than 280 workspaces around the world that every company is different, with its own unique culture, vision and team."
The UBS campus at Lincoln Harbor is the 30th Powered by We client. The company will redesign the lobby, a multi-purpose common room with a learning and development center, and a UBS IT and digital group workspace.
The campus at Lincoln Harbor houses over 4,400 UBS employees.
"Today more than ever, we must partner closely across all of our businesses and functions so that we deliver even more value to our clients," Marc Montanaro, head of HR, Wealth Management Americas, and the Americas at UBS said in a news release. "By partnering with WeWork to create this modern, community-focused workspace, we aim to increase employee productivity, encourage more frequent interaction, and attract the next generation of talent."
WeWork said it intends to "reconfigure UBS's meeting rooms to encourage greater collaboration, add more multi-functional space to support different ways of working, and incorporate amenities for employee wellness."
The company also said that upon completion, it will use data collection to continuously reconfigure the space.
Powered by We is enterprise partners with Facebook, Nasdaq, and Pinterest, to name a few. According to Wired, the company's Powered by We and WeLive — a flexible stay apartment service — programs are key to the future growth of the company.
In June of this year, WeWork also launched WeMRKT, a service for retailers and food and beverage vendors currently active in New York City.
The Lincoln Harbor neighborhood is also set to welcome Hartz Mountain's and The Maxal Group's Harbor 1500 development in the early fall.