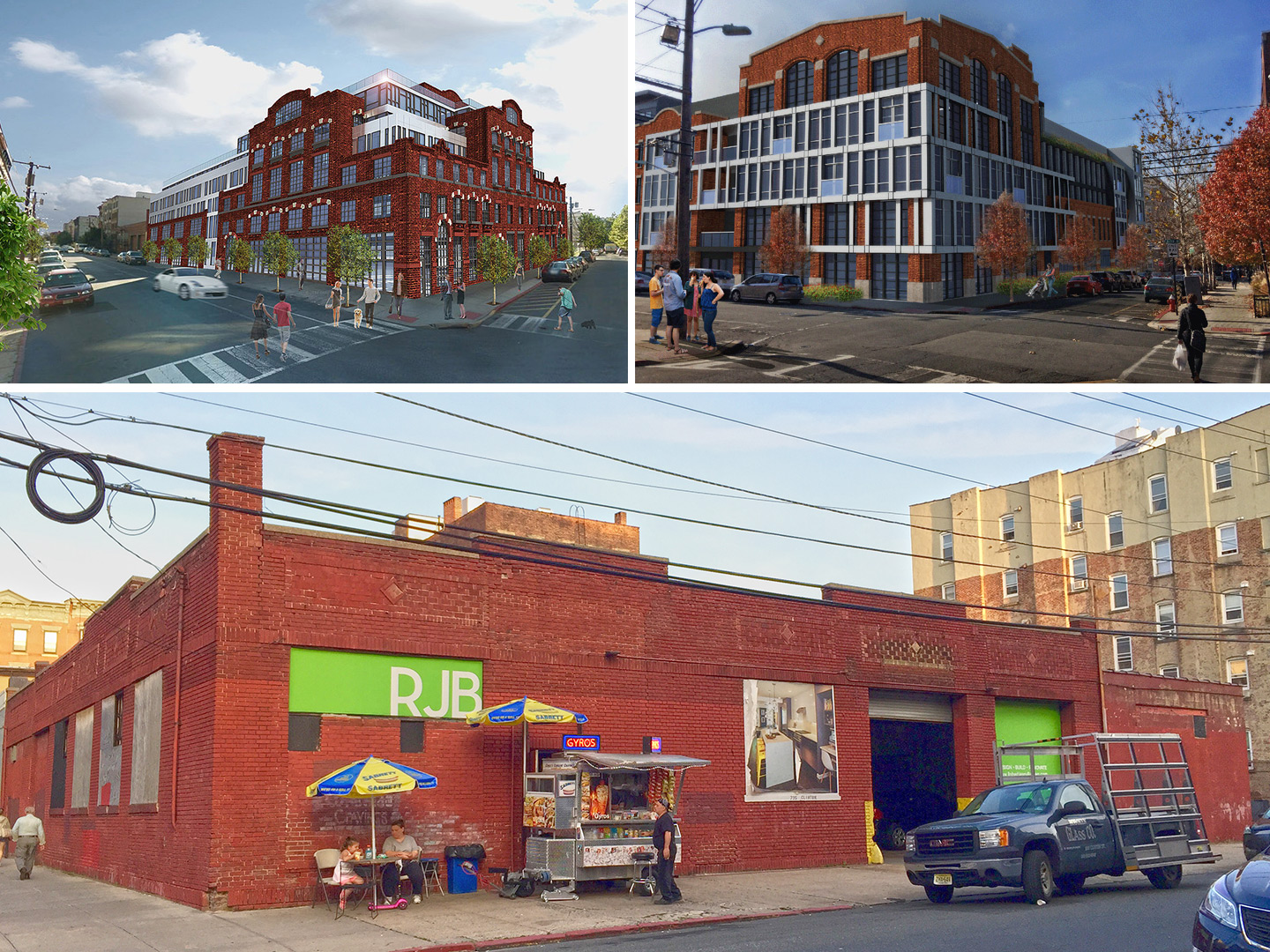 Two developers are looking to add significant residences and storefront spaces to Hoboken's central core, which could potentially create a new retail corridor in the geographic middle of the city.
Hoboken's Planning Board recently approved an application for a new mixed-use development at 726 Grand Street. The site, originally home to the Cooper Hewitt Electric Company in 1910, has a tortured history. A group of artists purchased a former factory on the property in 1993 and converted it into loft spaces. But a few years later, the building, which was once used to manufacture vapor lamps for General Electric, was discovered to be contaminated with liquid mercury, forcing its demolition. The land was eventually remediated in 2001 but has remained vacant ever since.
EGAM LLC, a three-person investor team, will now construct a 28-unit building on the property. After the site is capped, it will be developed in two phases, with Phase One consisting of 12 units and 730 square feet of retail space and Phase Two comprising the remaining 16 units plus a 1,300 square foot storefront.
The U-shaped building will feature a combination of brick and glass façades for a "quasi-industrial" look. Both storefronts will face the 8th Street side of the building. The project will seek LEED certification and have units that range from one to four bedrooms, with the biggest four-bedroom space topping out at 2,345 square feet.
726 Grand is designed by local architecture firm Minervini Vandermark, who also drew up the plans for one of Hoboken's most prominent redevelopment projects taking place just across the street at 720 Clinton. That development, dubbed the WonderLofts, is a condominium conversion of a former Wonder Bread factory that will feature 68 units and an additional 2,375 square feet of retail space. The plan, being undertaken by Parkwood Development, will adaptively reuse almost all of the original structure, with the new sections of the building consisting of composite metal panels with large glass windows.
Additionally, Parkwood just won Planning Board approval earlier this month for more development in the neighborhood. Across the street from WonderLofts lies a modest one story garage. The red building at 731 Clinton Street was once used as stables for horses that belonged to the Schmalz family, who delivered their breads and baked goods by horse and buggy to points around the city back in the 1800s.
A plan to demolish the garage and replace it with a five-story, fifteen-unit, L-shaped building was greenlit by the Planning Board on May 3rd. While no renderings of the project were made available, Minervini Vandermark has also designed this development, which will have several unique features including electric car charging stations and an extensive green roof with 5 private roof decks.
All told, the three projects will add 117 residential units and 4,405 square feet of retail to the neighborhood, which has seen development slowly start to pick up in recent years. 2014 saw the opening of The Continental at 715 Grand Street, a 14-unit condominium building, and Gotham Grand, an eight condo building at 720 Grand Street, was completed last year.
While no timelines have been announced for the latest projects, the flurry of activity the last few months indicates that growth is coming soon.