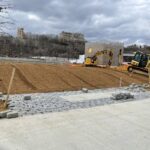 Almost three full blocks are being transformed into the largest green space in Hoboken featuring a great lawn, central fountain, sports fields, and more.
Hoboken's 5.4-acre northwest "pop-up" park will close Monday, September 9, so that the city can construct a permanent park and ice rink.
A construction timeline has been revealed for what will be the city's largest green space..