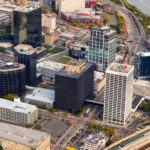 Seeing an "opportunity and obligation to fulfill on the potential is here," Onyx Equities is relocating a portion of its workforce to One Gateway Center in Newark.
The 'Ice & Iron Greenway' would travel along the former Boonton Line in Essex and Hudson counties.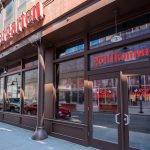 Newark's 'restaurant row', just outside the Prudential Center, welcomed a new a beer garden last month. Named Redd's Biergarten, the new 7,000 square foot establishment is run by the same folks behind Redd's at Metlife Stadium.
The Halal Guys, the innovative Halal food restaurant, are opening a new location in Newark at 72 Halsey St. We can only hope they bring one to Jersey City!
Newark may be getting a new residential project that's built entirely out of shipping containers. Spearheaded by development partners Cor10 Concepts and Community Asset Preservation Corporation as well as C+C Architecture, the new project hopes to promote home ownership and rebuild distressed communities.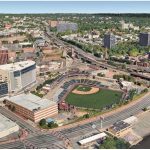 The Bears & Eagles Riverfront Stadium in downtown Newark is going private. Lotus Equity group has agreed to purchase the stadium from the City...
A historically significant but long-shuttered landmark on Newark's most prominent street is getting a welcomed facelift. The Hahne & Co. building, a hulking, pre-WWI edifice...